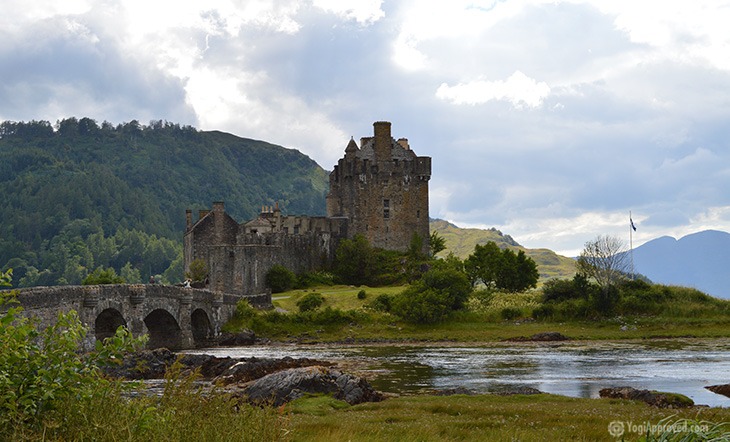 Why Yogis Will Appreciate the Magic of Scotland
Scotland isn't your typical vacation getaway. If you're headed there, it is pretty much guaranteed that you will get stuck with at least a few rainy, overcast days, even in the middle of summer. You're going to have wet feet, cold fingers, and impossible-to-fix frizzy hair. However, it is the perfect spot for a holiday (as long as you're not expecting to get a tan). The yoga community is full of people who are open, accepting, and always ready for an adventure, making Scotland the perfect holiday location for those who practice yoga. Here are some of the perks of Scotland that yoga practitioners in particular will appreciate:
Magic and Superstitions
An air of wonder and mystery overlies much of Northern Scotland. Legends and tales tell of water pixies, fairies both good and evil, and beings that can transform into different appearances. The magic seems to hang in the air, as the fog, mist, and dreary landscape bring superstitions and tales to life. When you walk around the misty landscape, it is easy to understand how tales were born, as looking around causes you to shiver in wonder. Scotland feels magical.

Some people may laugh at these superstitions and whispers of magic; however, yoga practitioners will find them interesting since they align with the yoga lifestyle. Scottish superstitions are often about respecting nature, other individuals, and yourself— all things that the yoga community emphasizes. In addition, there are many superstitions about the power of plants. For example, the thistle, which is now the national emblem of the country, is supposed to have protective qualities. White heather, which is much rarer than the common purple heather, is supposed to bring good luck. Beliefs such as these emphasize that there are many ways to augment your physical and mental self— a belief that yoga practitioners tend to accept with curiosity and respect. Sometimes the effects of yoga feel like magic, too!
Rain and wind
Too often, people take sunny beach vacations. But after a while, scorching hot vacations by the sea begin to get a bit, well, predictable. You'll hang around by the beach, inhale the fresh ocean breeze, and drink maybe a little too many pina coladas. You'll come back with your yearly fix of hanging out in a polka-dot bikini satiated. However, Scotland is unpredictable. The sky can be clear and blue one moment, then suddenly you're caught in the middle of a torrential storm that somehow wasn't forecasted. In the North, especially in the coastal regions and the islands, the wind blows so hard that sometimes it's difficult to close a car door once it's been opened. Many people would view this as crappy vacation weather. But a good dose of rain and wind is refreshing. It's great! It cleanses the air and the soul. Scotland's weather creates an adventure that many yoga-goers will appreciate, as you'll come back with soaked shoes, a well-used raincoat, and many fantastic memories of dealing with the weather and sipping hot cups of tea to warm up. It's also a great reminder that a little rain doesn't need to stop you from having a good time!
Lochs
Ahh, the classic lochs (lakes) of Scotland— they are beyond this world. Although most people who do not live in Scotland instantly think of Loch Ness due to the infamous monster, there are actually thousands of lochs across the country, each with its own charm. The cool waters are refreshing and peaceful. It is easy to find solitude at a loch, where you can take a dip, admire the landscape, close your eyes for a snooze, or even look for underwater sea creatures if you'd like (and, of course, do some yoga on the shores!). The lochs of Scotland are so beautiful that you'll forget all about the problems in the "real world." Visiting a loch creates that same sensation of relaxation and wonder that you experience after a good yoga session.
Delicious Food
It's simple: the food in Scotland is amazing. And I'm not just meaning the traditional Scottish food (although black pudding certainly is delicious). Food from the supermarket is of a much better quality than food in the United States. Treats are not as sickly sweet and tend to contain less sugar, preservatives, and chemicals.

Yoga practitioners naturally care about their bodies. Scotland makes it easy to munch (and munch and munch!) without worry, because you don't have to go out of your way to search for healthy options. As you're scurrying around the bustling streets of stony Edinburgh or hiking the grassy coastal trails of Arbroath, you can feel good about grabbing a brand-name snack from a corner store. And moreover, your body just feels great from eating. If you're looking for a place to make your body healthier while having an amazing time, Scotland is the perfect spot.


Castles and History
Who doesn't love castles? Scotland is just overflowing with them: small ones, enormous ones, ruined ones, and ones that look like pictures out of a fairytale book. They provide a deep sense of history, and, let's be honest, they're simply fantastic. They give Scotland a lovely lived-in feel; it is easy to feel the lingering presence of the people who used to inhabit the beautiful, stony castles and ancient monasteries. The castles create a consciousness of how precious time is and how we must respect, appreciate, and preserve ways of the past in our ever-changing technological world. Scottish castles and their history, much like yoga, remind us that we can embrace the past while moving forward into the future.

A trip to Scotland will be one of the best vacations you ever take. It won't be a typical vacation, but typical is so overrated. Scotland will create an abundance of hectic, adventurous stories to tell to your friends (or really whoever will listen). You can combine your love for yoga with your need to treat yourself to a (well-deserved) vacation. So grab your passport, hop online and snag a cheap plane ticket, and live life to the fullest, because Scotland has everything you need for an adventurous and refreshingly different vacation.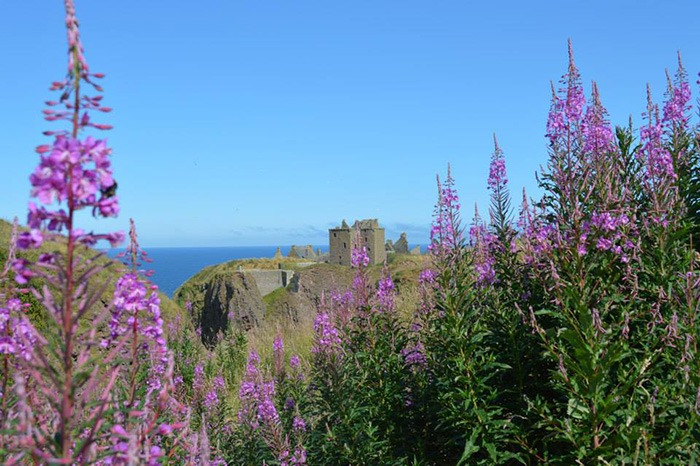 Images: Eirinn Norrie
This article has been read 588 times. Share it and spread the love!