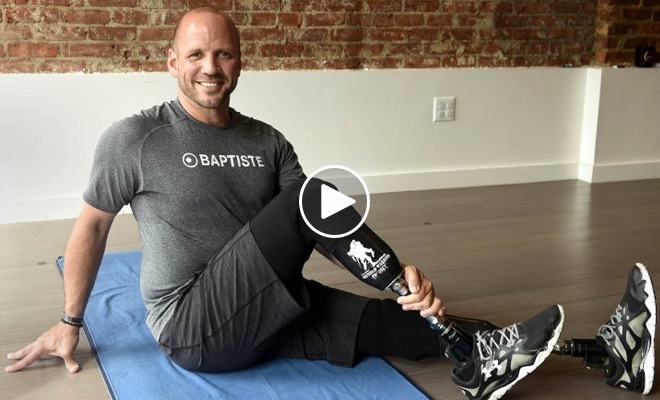 Wounded Veteran Saved By Yoga (Video)
In honor of Veteran's Day, we want to celebrate a brave veteran who lost both of his legs after an improvised explosive device (IED) attack in Iraq. The retired Army Sergeant Dan Nevins became an inspiration to us all when he did not give up or lose hope after a catastrophic injury that left him with metal prosthetics on each leg. Instead, he persevered and became a yoga teacher!




Dan was an avid runner, but after his injury in 2004 – a brain injury and loss of both of his legs – and subsequent depression, a friend suggested that he try yoga. While at first he was hesitant because he thought yoga was for women, he soon learned that yoga was just the right fit for him.

Yoga taught him that he can do whatever he puts his mind to, and that he can be an inspiration for others to rise up, achieve their dreams and make a positive impact on the world. Dan's courage to overcome his setbacks and find a new life for himself is an example for us all. In 2008, Dan received the George C. Lang Award for Courage, the highest award bestowed by the Wounded Warrior Project. He credits the Wounded Warrior Project for his rehabilitation, positive mindset and passion for helping fellow warriors on their path toward rehabilitation.



Today, he uses his story as a motivation for his students, showing his students that feelings of being stuck or a loss of control can be overcome. He is a powerful presence in the yoga class and he ignites passion and drive in his students, both on the mat and in their everyday lives. If Dan can practice yoga day in and day out without legs, what is holding you back from committing to your practice? What is limiting your potential?




Yoga changed Dan's life and taught him that he can do whatever he sets his mind to. When times are tough and things aren't going as great as you'd like them to be, remember Army. Sgt. Dan, and consider his bravery and how he overcame adversity. Let Dan be your inspiration to make the most of your situation and not to feel pity for today, but look toward tomorrow with hope. Happy Veterans Day from your friends at YouAligned.com


Images: CBS Video Screen Shot and DanNevins.com
This article has been read 656 times. Share it and spread the love!