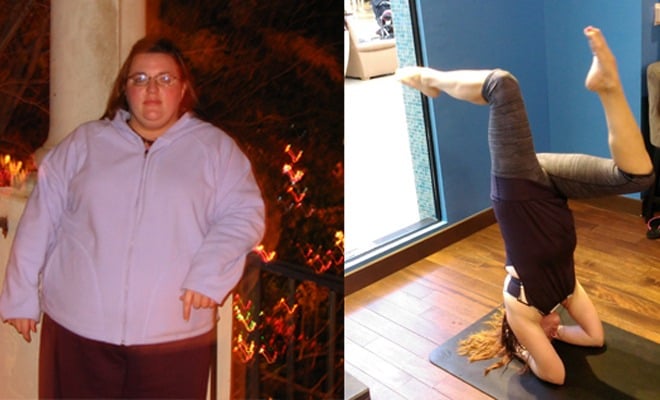 Weight Loss and Yoga: A Journey Towards Finding Myself
I would like to think this isn't a story about weight loss because, for me, it's about so much more than that. I admit that losing weight was the catalyst for dramatic change in my life. But, in the end, weight loss is not what truly led me to find me. Because more than anything, that is what this story is about: finding myself.
Change, however, has to have a starting point. My starting point dates back to November 25, 2005: the day of my gastric bypass surgery. The day my journey to discovering myself began.


Read on for My Weight Loss Journey and How I Found Myself Through Yoga
Part One: It's Time For a Change
I was 30 years old, 5' 4" and weighed 253 pounds. I was fat, miserable, and uncomfortable inside and out.
The morning of my surgery I was ecstatic. I had been dying to be skinny my entire life. I KNEW that becoming skinny was going to change my life. All of my problems would soon be solved. I would be happy, free, and most importantly…skinny!
While my family and friends were worried about me having such a risky surgery, the only thing I truly feared was not having it. It wasn't all about getting skinny though; I was also worried about my health. A lifetime of being overweight and unhealthy was starting to take a toll on my body.
I was the model patient after surgery. I followed the instructions my surgeon and nutritionist gave me religiously and lost 105 pounds in eighteen months. There is no doubt that I was a gastric bypass success story.
I should have been incredibly happy, proud and on top of the world, but I was anything but that.
Two years after my surgery I found myself incredibly depressed and on the brink of suicide. Depression and anxiety is not uncommon for gastric bypass patients.
Losing the amount of weight equivalent to a small adult changes your life in profound ways. Ways that no one can truly prepare for. The world not only looks and feels different…the world also treats you differently.
In addition, you have to learn how to cope with everything in a different way. Eating your way through stress and fear is no longer an option. In fact, eating too much after this surgery is incredibly painful.




I was completely lost and had no clue who I even was anymore. As the cliché goes, I had hit rock bottom.
As part of my therapy program, my doctors all encouraged me to seek some form of exercise to help relieve my anxiety and depression. Wanting desperately to feel better, I pushed past my natural laziness and followed their suggestion.
It was springtime in Arizona and I wanted to try something that I could do outside so I tried jogging. I had always hated it as a child but this time something good clicked inside of me.
After a few months of jogging an hour each day my depression started to lift. I was not doing great, but I was at least able to rejoin society. I enrolled at ASU and began working on my Bachelor's degree.
I did well in school but mentally I was still struggling. Without warning, the smallest little thing could turn a good day into five bad days. Anti-depressants and anti-anxiety medication truly just made me worse.
I went through several different medications but each one had bad side-effects and all of them made my mood swings stronger.
Despite the mood swings and emotional roller coasters, I managed to graduate. I knew I needed something more….something different….something better to help my mental state but I had no idea what that was. It wasn't until I broke my foot and was no longer able to jog that I went looking for that something.

Part Two: Falling In Love With Yoga 
I have often told people that I found yoga, but looking back, I think yoga found me. I desperately needed something. I didn't know what that something was, but I was incomplete and drowning. My plan of being skinny "fixing" me had failed.
I was skinny and life was still not perfect. I was beginning graduate school and knew that the stress would bring on mood swings. Due to my foot injury I could no longer jog, so I knew I needed to find something different.
I had thought of taking a yoga class in the past but could never bring myself to do it. It wasn't until a close friend of mine suggested that I take private lessons that I finally gave it a try. I not only felt more relaxed after, but I had fun. Even when jogging had made me feel better, I never had fun.




After taking a few private lessons, I decided to seek out a studio to see if I enjoyed the group environment. I had always avoided studios because group environments triggered anxiety attacks.
I bought an unlimited one-month pass on Groupon to a nearby studio. To my pleasant surprise, the group environment didn't bother me at all.
The strong sense of community that I have found in yoga studios has become one of the aspects of yoga that I love most.
I quickly fell in love with yoga and when my Groupon ran out, I bought an unlimited monthly membership right away. Yoga had taken ahold of me in ways I didn't yet fully understand, but one thing was for certain: yoga was doing good things for me.
I noticed physical changes in my body immediately. I felt lighter, healthier, less sore, more flexible, and I had a lot more energy.


More importantly, I noticed changes in my emotional well-being immediately.
My mind was much more calm and peaceful. Historically, my mind was always busy chattering about my worries and fears. But through yoga, I found brief yet blissful moments where I felt nothing but happy and at peace.
Believe me, I know that seems hard to believe. I was skeptical when my friend told me of yoga's healing capabilities but I found first hand that it really is true.
I wasn't the only one who noticed the effects yoga had on my emotional well-being. A couple months into my yoga practice, my loved ones noticed how much happier and calmer I was.
My moods were much more even-keeled and small issues didn't have to turn into a downward spiral. I didn't understand why yoga was having this effect on me, but I was sure thrilled it was!
The student in me wanted to know why yoga was so good for me though. I wasn't ok with simply knowing that it worked for me. I began to sense that there was much more to yoga than just breath and movement.
There was something deep, meaningful, and beautiful about yoga and its history and teachings that I was absorbing in those classes that I didn't yet understand…but that I suddenly wanted to.

Part 3: The New Me
About three months into my yoga practice, I knew that I wanted to attend yoga teacher training. I didn't really have a desire to teach yoga, but I desperately wanted to know more about this beautiful ancient practice.
I was a graduate student at ASU and my schedule was already full. The idea of taking on a yoga teacher training program while in graduate school seemed completely insane. How was I going to manage both of those while working part-time and maintaining a social life?
Even more concerning: would I be able to maintain my mental stability taking on so much? I was worried that anxiety attacks and bouts of depression would be triggered by too much stress and not enough rest.
I won't lie: the nine months that I spent "double majoring" in yoga teacher training and graduate school was the most stressful time of my life. Life outside of school was tumultuous to say the least.
Despite the insanity that was my life during those nine months, I was never happier or more at peace. Don't get me wrong. Mentally, I had some really ugly days. But yoga and my yoga teacher training program brought much needed balance into my life.
I was blessed to be surrounded by fifty beautiful souls two nights a week for nine months straight during my training. The room we lived in was always filled with unconditional love and warmth and an unending amount of understanding.
We could walk into that room having had the worst day and feeling beat down by the world and walk out feeling grateful for life and full of love. I had incredible love and support from my boyfriend as well. He constantly pushed me to follow my heart and find peace.
No one has ever been more supportive of me finding happiness, whatever that means. Without his love in my life I would not be the person I am today.
Through yoga, I learned what love and acceptance truly means.
For me, it means being the best me that I can be every single day. It means never giving up, but also sometimes letting go. It means accepting humans—and most importantly ourselves!! – for who they are at their core despite their flaws.
I am still learning to accept me—all of me—for who I am, and I am still learning to live in love every day. I am still learning to let go of the past and the future and be present every day, and I am still learning to be just me. And the best part is? That's all ok.
Two years ago this month I took my first yoga class. I have lost 25 pounds and an unknown amount of inches around every part of my body. The ironic thing is that I don't care about the numbers anymore.
The girl who stood on the scale in November 2005 only cared about the numbers. She would have got on the scale every single day after yoga class counting every ounce lost or gained. Thankfully that girl has become wiser to what is truly important: love, acceptance, and peace.
Namaste, Elisha


Show Elisha some love for sharing her amazing journey with us in the comment section below. Do you have an inspiring story you'd like to share? Leave it in the comments below – we love hearing from you!
This article has been read 8K+ times. Feelin' the love!