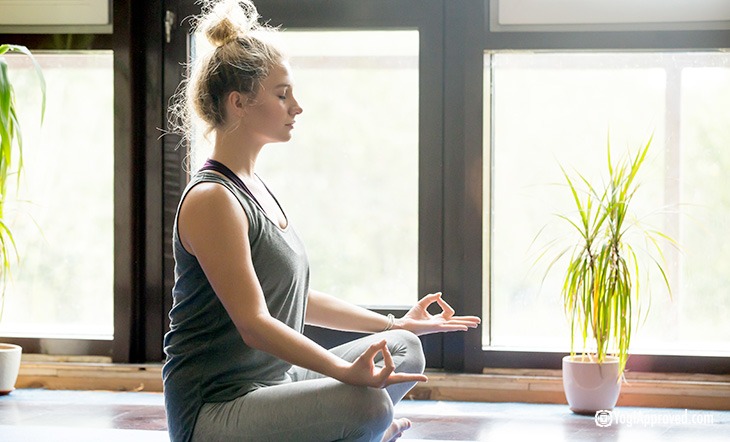 15 Questions Beginners Frequently Ask About Yoga (Answered By An Instructor)
Thinking of trying yoga? Have questions that are holding you back? You are not alone. What do I need to start yoga? What if I'm not flexible enough for it? What if I get hurt? Is it effective? How will it help me? What if I'm not as good as everyone else in class?

Trying something new can often be intimidating, especially when it comes to yoga, and it is normal to have questions and reservations. So let's answer some of the most frequently asked questions to make you feel more prepared for your first class.

Here are 15 questions beginners frequently ask about yoga:
1. What is yoga?
Yoga is a philosophy originating in India and is at least 5,000 years old. The word yoga comes from the Sanskrit word "yuj" meaning, "union" or "to bind." Yoga is all about uniting your body with your mind through a series of physical poses, breathing techniques, and meditation.

Yoga invites the practitioner to become more self-aware, and in so doing, establish a deeper connection with self.


2. What are the benefits of yoga?
Yoga has mind-body effects that will benefit practitioners of all backgrounds, including pregnant women, kids, and the elderly. The practice is more than just stretching your body and toning your muscles – it helps ease stress, calm your mind and restore the body. Yoga has even been shown to boost your metabolism and lower your risk of chronic diseases.

For more information about the benefits of yoga, read This is Your Brain on Yoga.


3. What if I'm not flexible?
You do not have to be flexible to practice yoga. A consistent yoga practice will help make your body more flexible, open and mobile. Just because you're not flexible doesn't mean you cannot do yoga. Yoga will help you make your body more flexible and strong.

Just be careful and take it slow when you're first starting out. An important part of yoga is being able to listen to your body and know when to back off to avoid injury. If you are worried about flexibility in your yoga class, don't hesitate to use props like yoga blocks and yoga straps to make the poses more accessible.


4. Are there different types of yoga?
There is not just one style or discipline of yoga. To simplify the different yoga styles, you can think of two basic groups: the slower yoga classes (gentle yoga and restorative yoga) and the faster/challenging yoga classes (vinyasa and Ashtanga).

Slower classes incorporate more stretching and longer-held poses while the more challenging classes focus more on flowing, balancing poses, etc. If you are interested in learning more about the different styles of yoga, check out 14 Yoga Disciplines Defined and Explained.

If you are not sure where to begin choosing a style of yoga, then Take the Quiz to Find Out.


5. What if I don't know how to meditate?
Meditation is not as easy as it looks – you really have to relax your body to clear your mind. Meditation can be intimidating to a beginner, so be sure to approach your meditation practice with no judgement or expectation, and practicing yoga is a great place to start!

If you are interested in learning more about meditation, search for meditation classes in your area. Not sure what a meditation class would be like? Check out A Guide of What to Expect at Your First Meditation Class.


6. What is Savasana?
Savasana is one of the most important yoga poses in a yoga class because it is where you can really feel the healing and strengthening benefits of your practice. Savasana is also a great opportunity to find stillness, relieve stress and relax mind and body.

It can be really tempting to fall asleep in Savasana and many wonder if it is okay to take a quick nap. Try to stay awake if you can, but if you do fall asleep, no one will kick you out of class. If you want to learn more about the benefits of Savasana, check out 10 Lessons You Can Learn From Savasana.


7. Do I need to practice yoga every day?
It's really up to you how often you practice. Obviously, the more you practice yoga the more benefits and results you will feel. Practicing for about an hour, two to three times a week is ideal. Start slowly and gradually increase your practice as you are ready.

As a beginner, take this opportunity to notice how your body feels after you practice yoga, and how it feels if you skip a few days. You may notice your body and mind begin to crave your yoga practice and you look forward to attending class.


8. Do I need to wear something special to yoga?
It is simple – wear what makes you feel comfortable that won't restrict your movements. Most women wear leggings and a tank top and most men wear athletic shorts, but this is not a requirement.

There are some great yoga brands for both men and women when you're ready to invest in quality clothing. Guys can check out Our Favorite Yoga Clothing for Men and ladies can check out 10 Yoga Brands You Need to Know for great ideas.


9. What do I need to bring to yoga class?
Depending upon what style of yoga you choose, you'll typically only need a mat and water for your yoga class. Many studios have yoga mats available to borrow or rent if you do not yet own one. You can also bring a hand towel if you sweat a lot.

Consider bringing a change of clothes for after class, especially if your class will be heated. And if it is a hot class, you'll also want a yoga mat towel. It is always best to call the studio or check the website for more information before your first class.


10. Can I eat before my yoga class?
Just like most physical activity, you want to avoid eating right before class. Yoga can consist of twisting, bending and turning upside-down. So a full stomach can easily become upset during your practice. It is best to drink plenty of water throughout the day to keep your body hydrated and have a small snack two hours prior to class.

You can eat light meals like yogurt, crackers, nuts, smoothies or juice before class or check out What to Eat and Drink Before and After Yoga for more ideas.


11. What is "OM" and do I have to chant?
In yoga, OM is known as the "sound of the Universe." Some instructors invite the class to chant OM together before and after class to center through sound vibration. Not every class includes chanting and it is completely up to you if you feel comfortable participating. Chanting does become more familiar the more you practice it but even just listening to the vibrations will benefit you.

Dig deeper into the meaning of OM and check out OM: The Meaning Behind the Sacred Chant + 6 Surprising Benefits.


12. What if I don't know the names of the yoga poses?
There are hundreds, if not thousands of yoga postures, so do not feel you have to know them all. It is important to listen to the cues from your instructor and if needed, look to a fellow yogi for a visual.

If you hear your instructor use a different language to name a pose, he or she is using Sanskrit. Sanskrit is the ancient language most yoga poses derived their names from, check out A Quick Guide to Sanskrit for a great breakdown of the poses and their meaning in Sanskrit.


13. How is yoga different from other kinds of exercise?
Many people think of yoga just as a way to stretch, improve flexibility and possibly gain strength. Although there are many physical benefits from yoga that are similar to other physical activities, yoga differs in its wealth of benefits to your mental health and spirituality.

Beyond the physical movement, it incorporates conscious breathing, meditation, mindfulness, purification techniques, body awareness and more. Yoga is a practice and entire lifestyle – not just an exercise to make your body physically fit.


14. Do yoga teachers touch the students?
Many yoga teachers offer assists during class. These gentle assists can be "hands-on" adjustments or offering a student a yoga prop. Both assists help the student find better alignment and gain more benefits from the yoga poses.

At the beginning of the class, many teachers will mention they use hands-on assists and give students the opportunity to quietly opt-out if they wish. If you know you are not comfortable being touched, simply mention this to your instructor before class.


15. What if I don't want to start at a studio?
If you do not want to begin at a yoga studio, many gyms and community centers offer classes as well. If you are not comfortable with a public setting, no worries. We are fortunate enough to have access to yoga classes online to practice in our own home. There are many online streaming sites or free YouTube channels available to get your yoga journey started.

Have you heard of YourStudio from YouAligned.com? We now offer amazing yoga video bundles to enhance not just your yoga practice, but your health and wellness too. Check out YourStudio here to access our video bundles.


Most new beginnings can be intimidating and scary, but true change is always at the end of your comfort zone. Hopefully now you feel more comfortable to give yoga a try and are more open to the experience. Namaste!

Have the same questions been holding you back from trying yoga? Did this article make you feel more comfortable to give yoga a try? Leave us your feedback in the comments below and let us know if you have any other questions to get your yoga practice started.

Take this Intro to Yoga Program with Leah Sugerman
Beginner Yoga Basics is a 6-class yoga program designed by international yoga teacher trainer Leah Sugerman. In this program, you will learn key foundational poses, alignment and anatomy as well as the history and philosophy behind the yoga practice.
Yoga Program
With Leah Sugerman
This article has been read 7K+ times. Feelin' the love!