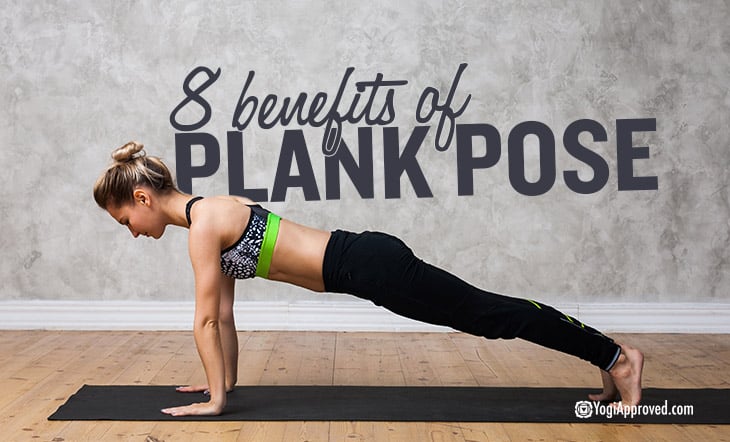 8 Reasons You Should Be Practicing Plank Pose Daily
What if we told you practicing one pose every day could improve your strength, physique, mood, and more? That's right! The almighty Plank Pose has tons of benefits for your body, and all you need to practice it is yourself. Although it may not always be easy, it's sure to provide you with health benefits that can last you a lifetime.

Plank Pose, or Phalakasana in Sanskrit, is a strength training pose that works all major abdominal muscles, while also strengthening your shoulder, chest, neck, glute, quadriceps, and back muscles. Also known as an isometric exercise, this pose works to contract the muscles by solely holding one steady, fixed position.

How to Practice Plank Pose
When done with proper form and alignment, Plank Pose becomes a force to be reckoned with. To ensure you're getting the most burn for your buck follow these simple steps for the perfect Plank!
Begin in the top of a push-up with your elbows directly under your shoulders
Engage your abdominal muscles to squeeze your belly button up towards your spine while maintaining a neutral back
Contract your quadriceps and gluteal muscles to firm your legs
Keep your shoulders drawing away from your ears, and heels over the balls of your feet

Not sure how long you should hold your Plank Pose? Stay until you feel you can't keep proper alignment anymore, or try holding it until you feel your muscles starting to burn and your body starting to shake/quiver – then hold it another 15-30 seconds.

8 Benefits to Practicing Plank Pose Every Day
1. Strengthens Your Core
When it comes to building core strength, Plank Pose reigns supreme due to its ability to work all four muscle groups in the stomach . . . oh, you thought you only had "abs?" Plank strengthens the rectus abdominis (visual "six-pack" muscles), transverse abdominis (deep core stabilizing muscles), and the internal and external obliques (hip and back mobilizing muscles).

Looking for more yoga tutorials and yoga tips? Check out our full library of Yoga articles here

2. Increases Muscle Definition
Along with your abdomen, Plank Pose also strengthens the muscles in your shoulders, chest, legs, and back. The functionality of this pose combined with the isometric hold helps strengthen and build lean muscle to increase overall muscle definition on the body.


3. Heightens Metabolism
The muscle strength and mass that can be attained through Plank Pose offers another incredible benefit to go along with those stronger and more defined muscles . . . a faster metabolism! When you increase your muscle mass, you boost your resting metabolic heart rate, in turn resulting in greater calorie burn, according to Exercise Physiologist Katie Heimburger.


4. Reduces Back Pain
As your abdominal muscles become stronger, the body becomes less reliant on the overuse and overextension of the back muscles. Instead, your body resorts to the now stronger core for everyday activities and exercise, which reduces pain in the lower back.

For more on strengthening your core to combat lower back pain, check out these poses!


5. Gives You Better Posture
Achieving better posture is most easily done by ensuring the spine, mid, and upper body muscles are strong and healthy. As you practice Plank Pose, the back, chest, shoulders, abs, and neck engage and work hard to organically adjust your body's natural alignment.


6. Improves Balance
The isometric hold used during Plank Pose encourages your body to manifest stability as a whole. This, in turn, creates an overall improvement in your balance and coordination. Learning to keep your body stabilized during this difficult horizontal hold ultimately enhances your ability to stabilize in the more natural vertical state.


7. Enhances Bone and Joint Health
Plank Pose allows you to engage in weight-bearing physical activities while reducing the harsh and painful side effects often associated with exercises such as jumping and running.

When you perform Plank, new living bone tissue is created, resulting in both healthier and stronger bones. The physical activity done during this exercise also promotes circulation in the joints, which allows the bones to move past one another in a smoother fashion.


8. Boosts Mood and Relieves Stress
Practicing Plank Pose, or any physical activity, releases a neurochemical substance in the brain called endorphins, which are known to increase feelings of happiness and decrease feelings of stress. This pose can also aid in tension relief, as your body is encouraged to stretch and lengthen when performing the pose.

Plank Pose: The Takeaway
With such diverse and rewarding benefits, it's easy to understand why Plank Pose is so popular among yogis and exercise enthusiasts alike. Whether you're just starting out or adding time onto your already killer plank, remember that quality always beats quantity (or time). The moment your form begins to falter is the moment it's time to take a step back and try again tomorrow.

Ultimately, enjoy your practice. With time, you will grow stronger and steadier. And when that time comes . . . add on another 15-30 seconds to your Plank Pose. 😉


Ready for to Test Your Plank?
Take this class with Michelle Stanger on YA Classes. Not yet a YA Classes member? Try it out for free for 14 days.
Yoga Class
With Michelle Stanger
This article has been read 200K+ times. Wowzers!