Good Morning! Quick + Easy Energizing Yoga Sequence (Video)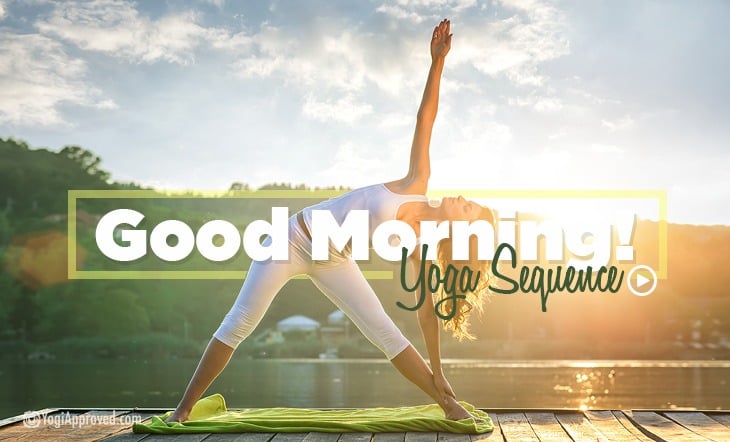 Got energy? Would you like some more energy? I think it's safe to say that we all have one thing in common – we are tired! Often, our fast-paced mentality makes us feel guilty if we're not completely exhausted by end of day, as if we didn't do quite enough.

I would like to challenge you to create a few moments of space in your morning routine just for you. I promise it doesn't take a long time to practice this energizing morning sequence. Incorporating time – even if only a few minutes – for yoga can change your day . . . and if you allow it, could change your life.

Meet me on your mats as I lead you through a quick 3-minute energizing yoga routine to start your day off right. (Remember – you can practice this sequence longer simply by repeating each step as many times as you'd like.)

Start your energizing morning yoga sesh:
Come to standing at the top of your yoga mat
Place your feet together or hip-width distance apart
Next, bring your palms together at heart center and bow your chin to meet your fingertips
Close your eyes
Take a deep breath in and out. Continue to concentrate on deep, steady breathing throughout your practice
Lift all ten toes, spread them apart and place them back down on the earth. Repeat this as many times as it takes for you to get grounded
With your eyes closed, head bowed, and firmly rooted to the earth, set your intention for your day, the rest of the week, month, or even the entire year if you would like – this is your practice, so choose the intention that fits your current needs
Gently open your eyes and blink a few times to awaken the body
Inhale, filling the belly, raise the biceps near the ears for Upward Salute
Take a gentle Standing Backbend by pressing your hips forward, keeping legs straight and strong, and extending up through the fingertips
As you exhale, hinge at the hips as you bring the palms through heart center into a Standing Forward Fold
Next, come into a low squat as you sweep the earth with the back of your hands
Inhale back to Standing Upward Salute
Exhale into Standing Backbend

Repeat this sequence as many times, and as fast or slow, as you would like.

Here is a video for you follow along to:



Doing this once or twice will begin to get the blood circulating and your body moving; doing this for a longer period of time will build heat in the body and create a gentle yet challenging flow.

Each posture should deepen as you flow through the sequence, each time gaining more strength and flexibility, while stretching and opening muscles, and lubricating joints throughout the entire body. Enjoy the transitions in between the poses as much as you enjoy the individual poses themselves, and remember to move with your breath. You may even create a mantra or affirmation during this time, or simply listen to your breath in silence as you move and flow.

This morning yoga sequence will awaken every cell in your body, mind and spirit. Inhale and receive energy as you exhale and release exhaustion. Inhale the new breath and new day as you exhale yesterday and old things.

Remind yourself that you are strong and powerful, and that you can conquer anything that comes your way today – and always!

Namaste, yogis.

This article has been read 8K+ times. Feelin' the love!