Are You Making This HUGE Mistake In Your Yoga Classes? (Hint: It's Not About Alignment)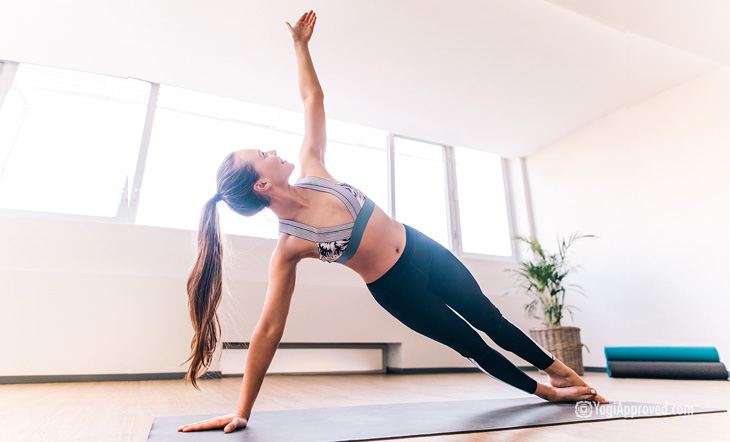 Change is hard. Mistakes are inevitable. And you may have to become really uncomfortable before you are ready to change.
Sucks, right?
No worries! You're stronger than you know. It took 4,000 miles in a rented RV and hundreds of interviews with yoga teachers for me to figure out how to get the most out of yoga.
And to figure out the one mistake you can correct right now to enhance everything you are already doing in your yoga class.
"What?!" You cry, "I'm showing up. I'm doing the poses. What in the world are you talking about?"
Awesome. Good for you! Pat yourself on the back for carving out the time, getting your mat and stretchy clothes, and finding a yoga class nearby.


So What's the Secret for How to Get the Most Out of Yoga?
Before the secret is revealed, get ready to be accountable. And, simply prepare to grow.
There's an incredible moment when you realize that growth might be easier than you think. Just reading and embodying the idea that yoga brings magic to your life encourages us to get to yoga daily.
But where are you going wrong? You're in a one-way relationship. That never works. So how to get the most out of yoga?
Here's the secret: Carve out the time to stop and really get to know your yoga teacher.
That way you make yourself a priority. Also, take the time to express your appreciation for your yoga teacher so that they are invested in your progress. Tell your teacher if you have any injuries and what you are hoping to accomplish in their class.
You'll be amazed at how excited they are by your goals! It's human nature. They're now focused on helping you because it's now a two-way relationship. You've reached out to them. Now they know just what to do to give you the best yoga experience possible.


Get to Know Your Yoga Teacher? Really? That's It?
You shouldn't just take my word for it. I interviewed hundreds of yoga teachers. They're all cut from the same cloth: They became teachers because they love helping people. They want to see you grow.
I became so obsessed with learning why, I rented an RV and embarked on a yoga road trip. On my road trip, I traveled up the west coast of the United States practicing with and interviewing a different yoga teacher every day.
I learned from some of the teachers that I interviewed that most of the students in their classes had not introduced themselves. But, yoga teachers are dedicated to your growth. They thrive when you do. They want you to love your experience on your journey. That is why they teach yoga.

Yoga teachers are dedicated to your growth.

So, the one mistake you can correct is to get to know your yoga teacher. It won't simply be a class any more, you (and your teacher) will be accountable.
Yoga is the most powerful system I know to offer you a lifetime of less stress and a healthy direction for a balanced life. You are designing your life. By accepting accountability, your life begins to change. Your reality is created by the choices you are making.
What are you waiting for? Reach down deep into your heart and ask yourself if you are worth it.
Spoiler: You are. You don't have to struggle in isolation. When you find that things are becoming unmanageable, reach out to your yoga teacher for guidance.


Here Are 10 Important Reasons You Should Get to Know Your Yoga Teacher:
1. Wisdom
They help you sort out and clarify your values.

2. Mental Benefits
They help you achieve a better, richer life. Strength and flexibility are guaranteed from yoga, but it's the mental benefits that will keep you coming back for more.

3. Speed
Good teachers work hard to get you moving toward what you desire quickly.

4. Accountability
They are experts at changing behavior.

5. Direction
Their value is measurable. You will see progress quickly. Great teachers point the way, allowing you to discover insights for yourself.

6. Growth
Even if you are comfortable, yoga and a "real deal" yoga teacher can help you step out of your comfort zone. Here's the truth: there's only growth when you are out of your comfort zone. Great yoga teachers make change attainable in a safe way.

7. Overcome Obstacles
A yoga teacher will hold space for you to name your fears, give you tools to act despite them, and change the way you feel about them.

8. Intuition
A great yoga teacher will show you how to listen to your intuition and apply that to your life.

9. Acknowledgement
Having someone validate your success and progress can be empowering. Your success will be acknowledged and celebrated.

10. Healthy Path
Get yourself back on track. If you have been engaging in destructive behaviors, a yoga teacher can guide you back to a healthy path. To have the courage to ask for help is a sign of someone who is ready to do the work. A yoga teacher can listen to your issues in an unbiased and supportive manner, and help you create an action plan.


So, Go Ahead and Get the Most Out of Yoga: Get to Know Your Yoga Teacher!
And if you're just starting and/or making a change to find a new yoga teacher, make sure to check their credentials. Do your homework. Ask the studio or gym if they are certified. Certifications matter.
Even if it's yoga in the park that you found on a social site, they should be proud to share with you how long they have been teaching, where they studied, and who they are certified by.
In the new social online world, there are many peacocks posing in dangerous positions because they saw someone else do it. Proper alignment and attention could make all the difference in how long you practice.
You don't want torn muscles, blown out shoulders, or your knees replaced because of unhealthy sequencing. Learn from the best and you'll practice for life. Once you've studied your roadmap, you're on your way to living a life full of endless potential!
This article has been read 10K+ times. Bada bing!