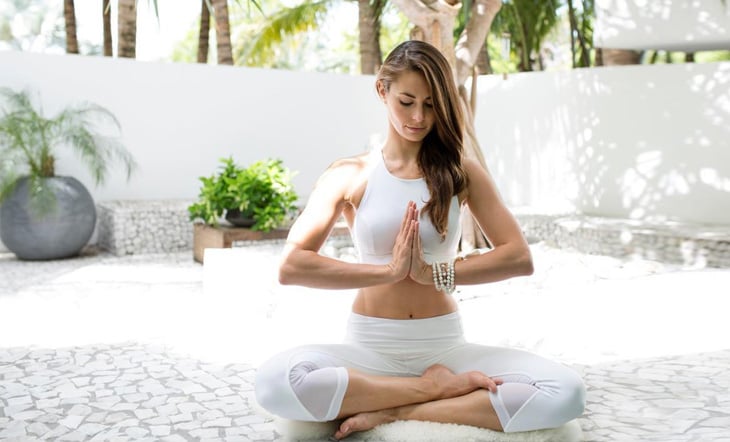 @jenniferpansa
Use These 6 Pro Tips to Take the Perfect Yoga Photo
If you love practicing yoga, or have the slightest bit of interest in starting your own practice, your Instagram feed is most likely flooded with beautiful and inspiring yoga photos. It's incredible the magic that so many yogis create in their yoga photos!

To capture the perfect yoga photos, you don't need an expensive camera, nor do you need a professional photographer. All you need is your phone and your imagination.

Want to learn how to take the perfect yoga photo every time? These simple photography tips will have you taking yoga photos like a pro!


Follow These 6 Pro Tips to Take the Perfect Yoga Photo:
These six tips will help you take the perfect yoga photo – anywhere, anytime – and curate a beautiful Instagram profile along the way.

1. It May Be Obvious But Prep Before You Pose
Getting into a more advanced pose for a photo can be tempting, but knowing your body is the first step to taking that perfect photo. Just as you would in your normal yoga practice, stretch and prepare before diving into the pose. It'll help you access the pose safely and correctly. Taking time to warm up is obvious but an important reminder for us all.

Pro Tip: Check out some of these stretches that can always be incorporated into your practice!

2. Consistency Is Key
Like many successful Instagram influencers do, maintain consistency throughout your Instagram feed by capturing multiple photos in a single location, outfit, colorways, etc – this makes posting throughout the week much easier. Be intentional about creating a consistent theme or filter all throughout your Instagram feed.

Pro Tip: Use your favorite photo editing application to choose a single filter to apply to all of your photos and keep your theme and aesthetic consistent.

3. Create Balance In Composition
Balance in composition means that a photo is balanced and harmonious in all of its elements. You want to aim for symmetry, whether's in an obvious form, or a more creative expression of balance in what the shot features.

Balance comes in many forms: from the objects that are being portrayed, to abstract aspects like colors, light and shadows, lines, etc.

Pro Tip: Check out these Instagram profiles for inspiration:
4. Explore Your Camera Settings
It might sound obvious, but before you take your photo, clean your camera lens. If you have an iPhone 7 or higher, your phone should have the portrait mode option). If you have an older iPhone, High Dynamic Range (HDR) is the best option.

Do some quick research on Google and YouTube about tips for taking photos with your specific device. Explore the different settings you can use for both taking and editing a photo. There are plenty of great tutorials on YouTube for any device out there. It doesn't take much digging to find a quick and helpful tutorial with plenty of valuable guidance.

Pro Tip: Many yogis use timers or video to capture their practice in motion. If a 10-second timer isn't enough, take a video and screenshot your favorite still (or stills) throughout.


5. Embrace the Basics
Sure, photos of yogis with crazy flexibility are beautiful to look at, but don't think it's the only option for taking the perfect photo. Striking a simpler pose like Warrior I or even Easy Seated Pose with a mudra can be just as beautiful too.

Recommended Read: Common Mudras, Their Meaning, and How to Practice Them

To make a simple pose more interesting, focus on the location or the things you surround yourself with in the photo. Sometimes, the simpler, the better.

Pro Tip: Don't be afraid to utilize the same pose in multiple photos at multiple locations – it can be a great way to create consistency in your posts (see #2).

6. Consider the Lighting
Probably the most important aspect of taking a great photo is the lighting. Try to take your yoga photos during 'golden hour' – you've got two time slots per day: one hour after sunrise, and one hour before sunset. This is that perfectly lit time of day when the lighting is soft and makes everything look magical.

Pro Tip: Use a reflector to help you achieve that 'golden hour' lighting any time of day.


Now You're Ready to Take Yoga Photos Like a Pro!
Whether you've been practicing yoga for ten years or you're just beginning to dive in, a teacher or a student, a yogi who wants to grow their Instagram following or just someone who wants to track progress, taking the perfect yoga photo can be rewarding not only for you, but also for your followers.

Everyone's practice is different, and everyone has something different to offer to the yoga community. Sharing your yoga photos shares a little piece of you and your practice to the world, so don't be afraid to be yourself, and have fun doing it!

Have questions or additional tips to share? Please comment below!

Images: @jenniferpansa
This article has been read 10K+ times. Bada bing!

RikkiLynn Shields
RikkiLynn is an alchemist of intuition and a self-made storyteller creating art and chasing dreams. This coffee-loving yogi and full-time college student from New Jersey found her true love for yoga after fracturing her foot. Yoga taught her to live her life less out of habit, and more out of intent - now she hopes to inspire others to do the same.
You may also enjoy

Here are ten rockstar yoga men to follow on Instagram who show us that persistence and positivity can yield some amazing results.

Jillian Grabarczyk