Curious About Kundalini Yoga? Learn All About This Unique Yoga Discipline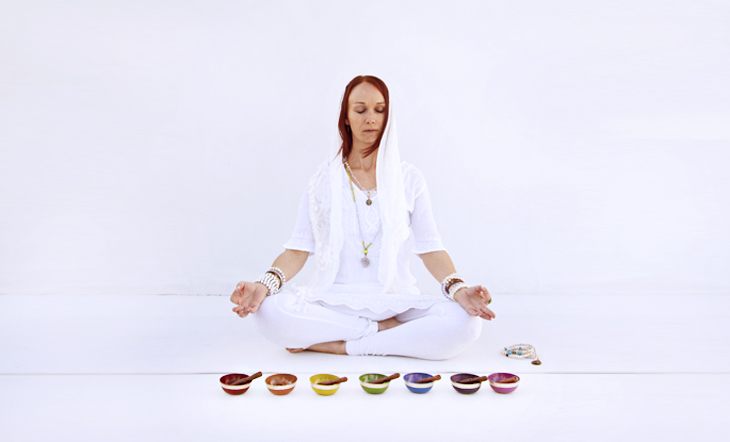 Kundalini Yoga was brought to the West by Yogi Bhajan in 1968. In fact, this practice was previously only available to selected yogis, and therefore, rather secret.
But Yogi Bhajan's goal was to train more teachers instead of gathering a bunch of students around him.
Since first being introduced to the West, the practice of Kundalini Yoga has become more and more popular and many people have deeply benefited from this unique yoga practice.


What Is the Origin of Kundalini Yoga?
Kundalini Yoga has been practiced for thousands of years. It's a tradition with a long lineage passed down through many teachers.
It speaks of a "golden chain" as a link to all previous and current teachers. This gives Kundalini Yoga a deeply spiritual aspect.
It is believed that practicing Kundalini Yoga can lead you to your awakened inner identity.
Curious to learn more? Check out this Introduction to Kundalini Yoga


What Does "Kundalini" Mean?
The word Kundalini comes from Sanskrit and is translated as "rolled up; sleeping snake power." Every human being carries this power, the Kundalini energy or consciousness energy, within him or herself. It is a creative force.
The Kundalini is also called the nerve of the soul, which can be awakened. With the awakening of this energy, the yogi attains a higher level of consciousness. Therefore, Kundalini Yoga is also often called the "yoga of consciousness."
Kundalini Yoga represents the highest technique that can awaken your consciousness and your soul. Through this process of awareness, you can unfold your very own truth that naturally lives within you.
The practice is considered a safe way to activate this creative force within you – without losing your hold on the earth.


What Happens in a Kundalini Yoga Class?
Kundalini Yoga teachers follow a certain framework in classes. The chanting of mantras is an integral part of Kundalini Yoga, which always finds its space. Through chanting, vibration is generated, which has an energetic effect on your whole system.
The main part of a Kundalini Yoga session is determined by Kriya (exercise series). Here you will find a world of possibilities. The special thing about a Kriya is that it contains very concrete guidelines for the asanas to practice.
Practice These 7 Kundalini Yoga Poses and Kriyas to Focus Your Mind and Balance Your Body
A Kriya explains what is done, in which order, for how long, and what the effects will be. Each Kriya has a specific goal.

Teachers follow a certain framework in classes.

The asanas contained within a Kriya are often characterized by a special dynamic. There are some exercises that seem simple at first glance, but only during practice (preferably over several minutes), they reveal where the challenge lies.
After the series of exercises is completed, there is always a longer phase of deep relaxation so that the body has the space to integrate the experiences made through the Kriya.
Afterward, meditation is practiced. Again, the possibilities are almost infinite, so a teacher may offer any number of different meditations.
Here Are 5 Things to Expect in Your First Kundalini Yoga Class


Here Are 10 Essential Characteristics of Kundalini Yoga:
1. Dynamic Asana
The asana practice in Kundalini is always dynamic in nature.

2. Mind-Body Connection
Kundalini Yoga works directly and quickly on your body-mind-soul system.
Mind-Body Connection: What It Is and How It Impacts Our Wellness In Yoga and Beyond

3. Mantra
Mantras are used at various points throughout the practice: always at the beginning and end and sometimes during the Kriya or meditation.
What Are Mantras and Why Do We Use Them In Yoga?

4. Breath
Most asanas are connected to the breath. For example, when you turn to the left, you inhale; and when you turn to the right, you exhale.

5. Pranayama
Pranayama (breathing exercises) are consciously applied and used before or during the Kriyas.
What Is Pranayama and What Are the Main Benefits? Here's Your Quick Guide

6. Kriya
The Kriya is the core of a Kundalini Yoga practice. It works specifically on certain parts of the body and pursues a specific goal.


7. Relaxation
No Kundalini Yoga lesson passes without a long, deep relaxation after completion of the Kriya.

8. Meditation
After deep relaxation comes meditation. At this point, the body is optimally prepared for meditation and it is an important aspect of the practice to combine both elements of the body and mind work.
Here Are 6 Key Benefits of Meditation (Backed by Hard Science!)

9. Drishti
During the exercises, different focus points are indicated for the eyes. The focus is most often on the "third eye center," which is the point between and slightly above the eyebrows (also home to the Sixth Chakra).
What Is a Drishti and How Can It Improve Your Balance In Yoga?

10. Sat Nam
In addition to using other mantras, the mantra "Sat Nam" is prevalent in Kundalini. This is allowed to vibrate in the mind during the practice of the Kriya in connection with inhalation and exhalation.
Sat Nam means "I am truth" or "truth is my identity."


The Takeaway on Kundalini Yoga
Now that you have an impression of Kundalini Yoga and can perhaps get a better picture of it, ask yourself the following question:
Has any yoga practice ever allowed me to penetrate into the depths of my being and supported me in the process of becoming conscious?
I can tell you from my own experience that Kundalini Yoga brings this power with it – if you are ready for it. It is always up to you how deep you go, how much you open yourself up for the processes that are stimulated by yoga, and how honest you are with yourself.
Feel invited to take a step further into these special experiences of Kundalini Yoga and simply experience this type of yoga for yourself.
What Is Sadhana? Here's Your Guide to This Kundalini Yoga Practice
This article has been read 1K+ times. Feelin' the love!