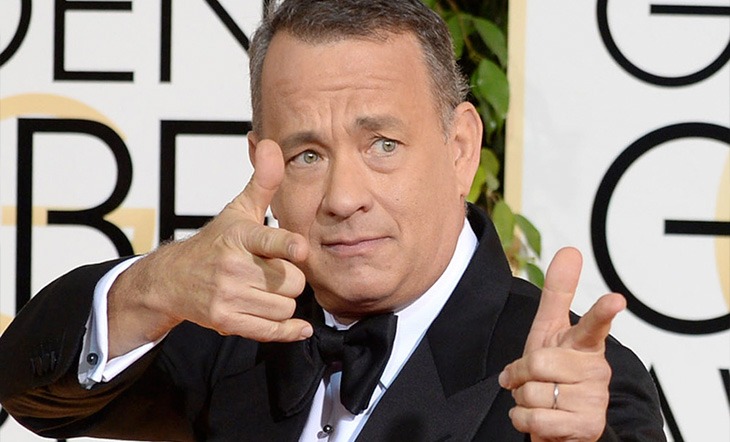 Tom Hanks Endorses Yoga (It's Officially Mainstream)
These days, just about every celebrity seems to do yoga. Miley Cyrus, Russell Brand, Adam Levine, Sting and pretty much any athlete under the sun have been seen striking an asana, but it wasn't official until now.

The newest celebrity to praise the benefits of yoga is none other than Tom Hanks. In a recent interview on the British morning show, Lorraine on Monday, Tom said, "I started doing the yoga, it's the greatest thing you can ever do." The 59-year-old actor claimed he turned to "the yoga" to help with "aches and pains."

Quite the endorsement!

He attributes his great physique to his morning yoga routine, or what he calls his "glorified sit-ups." But best of all, he boasts that he no longer has those aches and pains due to his "stretching." Tom likes to use other words to describe his yoga practice, because he says he feels that the term yoga comes with some negative connotations.

"You don't want to go, you know, (too new age-y). You don't want to put on yoga pants and burn incense and have wind chime music while you're doing it… I view it as glorified sit-ups, that's what I say. Because when you [say], 'Oh, I do yoga now', they automatically go, 'Oh and are you reading Siddhartha?'"

While he does not want to appear to be too new age-y, he admitted to knowing what Siddhartha is, so he understands the spiritual roots of the practice. He does not want to be one of those a-typical "new age-y" yogis who wear yoga pants (umm they are comfortable though!), burn incense (it smell so good Tom) or practice to chime music (relaxing and mind-clearing).

Get with the yoga program Tom! Wear your comfy yoga pants, pour yourself a kombucha, be ultra spiritual and enjoy the finer things that yoga and a yogic lifestyle have to offer. Hey, we can't complain. At least he has the asana part down!


This article has been read 2K+ times. Feelin' the love!