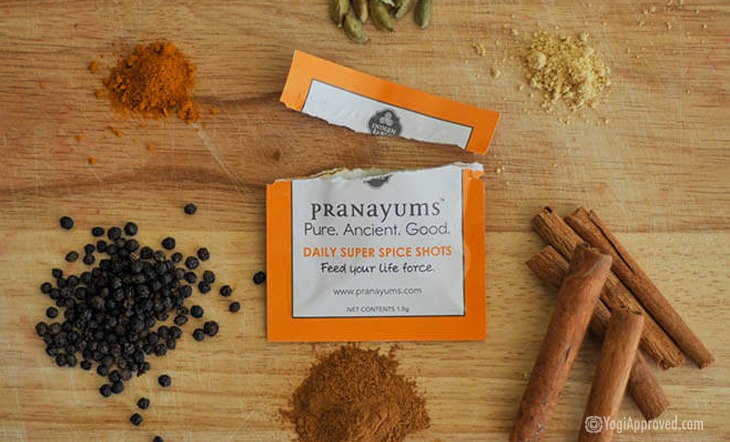 Pranayums Packets: Try These Ayurvedic Spice Packets For Delicious Wellness on the Go
We've all heard of superfoods like acai, kale, goji berries, and blueberries – all getting so much attention for their incredible health and wellness benefits.

But have you heard of super spices? In the Ayurvedic tradition, there are a handful of spices that offer a boosted level of nutrition. Spices such as cinnamon, turmeric, black pepper, cardamom, and ginger are a few of the super spices that pack a lot of antioxidants and anti-inflammatory properties.

While it's easy to simply take a pill, we can't lose sight of the importance of getting nutrients in our daily diet. That's the best part about spices – they add flavor and dimension to any dish, yet also bring you the health and wellness benefits that you need as part of a balanced and healthy diet.

While it's easy to simply take a pill, we can't lose sight of the importance of getting nutrients in our daily diet.

Enter Pranayums, single-serving packets of premeasured super spices, so you can get your delicious nutrition on the go.


Super Spice Health Benefits Overview
Support immune system function
Support healthy digestion
Anti-inflammatory

Pranayums packets are a yummy blend of turmeric, black pepper, cardamom, ginger, cinnamon, and licorice root. The flavor is balanced, and makes a great addition to everything from Greek yogurt, to toast, peanut butter, shakes and smoothies, salads, soups, and protein dishes.

Wellness Benefits of Each Pranayums Spice
Cinnamon: One of the highest antioxidant levels of any spice, cinnamon supports heart and brain health, and is powerfully anti-inflammatory.
Turmeric: Decreases inflammation to the brain specifically, and is excellent for memory aid, recovery after stroke, and cancer prevention.
Black Pepper: This spice aids in the body's ability to absorb turmeric. It has antibacterial properties and helps improve digestion.
Cardamom: In the same family as ginger, cardamom eases digestive issues like nausea, bloating, gas, and constipation.
Ginger: Fights free radicals and with its antiviral properties, ginger also combats cold and flu, and eases nausea and motion sickness.

With our fast-paced lives, we often don't have time to cook every meal for breakfast, lunch, and dinner. But this shouldn't be an excuse for not getting the nutrition your body needs.



In our modern world of convenience, it's important to find realistic ways of incorporating wellness. Toss Pranayums packets in your purse or briefcase, keep some at your work desk, gym bag, and even your car. Pranayums are designed to help you stay healthy on the go.

To learn more about Pranayums, visit their website and check out their Super Spices page to learn more about their wellness benefits.

Try a one month supply of Pranayums here.

*Advertorial
This article has been read 764 times. Share it and spread the love!