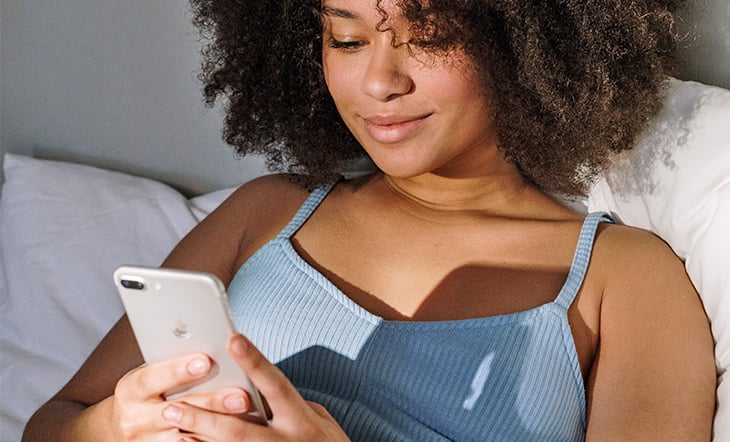 From Relationships to Reparenting, These 16 TikTok Accounts Give Valuable Life Advice
Life advice comes in many forms, so if you love finding inspiration on social media, we've found the 16 best TikTok accounts for life advice.
You know those TikTok accounts that share inspirational messages and valuable, relatable life advice? This article shares the best of them. From humor to inner child healing, entrepreneurship to relationship advice and more, these TikTok accounts have a lot to offer.
Before we get started, you may be thinking TikTok for life advice, really?! We get it! To be honest, we did too. But when social media is used as a resource for information, motivation, and inspiration, that's using it in a positive and productive way.
In the age of social media, it is a part of our daily life – there's no changing that reality. What we can change is how we consume social media. When we use it for our personal growth and development, for finding inspiration and motivation, social media can be an impactful resource!
5 Healthy Habits to Cultivate a Mindful Social Media Presence


16 TikTok Accounts to Follow for Life Advice:
Each TikTok account offers something unique from an individual who has committed their page to dishing out life advice that is supportive, helpful, and practical. From humor to psychology, relationship advice to entrepreneurship, there's something for everyone!

1. @iamjennawahl
Mission: Helping others respond vs. react to emotional triggers
Follow if you're looking for life advice on: Inner Child Healing
You're not childish for wanting more joy, inner peace, and creativity in your life. You just need to listen to your inner child to get there.
That's what Jenna's TikTok account helps us do.
She asks BIG questions like, "Do you," "Did you know," and "Do you get triggered by," which allows our LITTLE self to answer, activating a healing process for our whole self.
So, what does the five-year-old you want to feel safe, loved and heard by the adult you right now?
Want to learn more about reparenting and inner child healing? Reparenting: A Guide to Reframe and Respond to Your Child Self

2. @yogi_bryan
Mission: Helping the world release their F's
Follow if you're looking for life advice on: Letting go of all your f*cks to feel like the badass you are through comedy, yoga and meditation
Yes, he swears, but we swear his meditations work to let some shit go and remind us of who the F we are. Plus, he's funny AF.
From his skits about his brain reminding him that we're all going to die while he's meditating (which we see how this one doesn't land quite as well in writing as it does in his hilarious video) to pretending to call the yoga police about people leaving Savasana early, Yogi Bryan doesn't take himself or life too seriously.
So if you're ready to inhale, "I don't" and exhale, "give a F*ck" to help him accomplish his life's mission, then head over to his TikTok account right f*cking now. 🙂
Take a guided meditation with Yogi Bryan on YA Classes!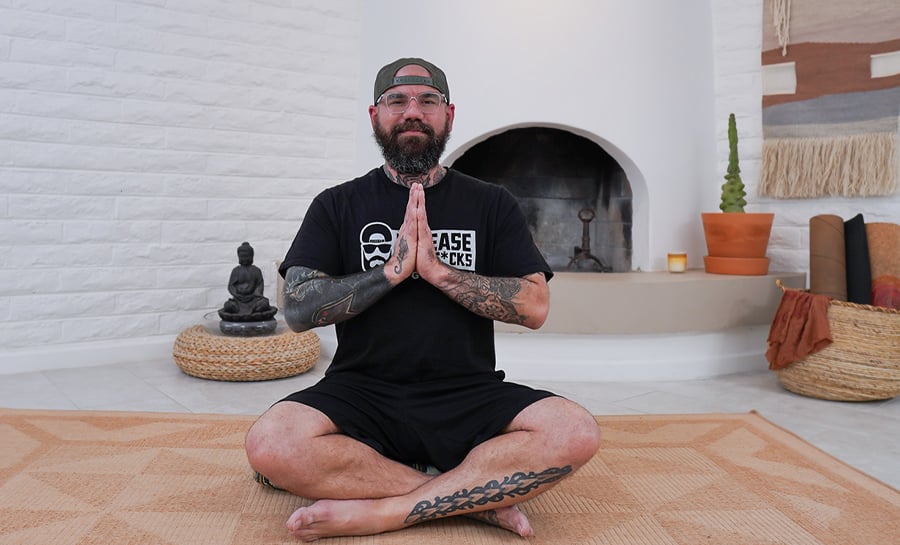 3. @anjuamaximo
Mission: Helping women activate their divine feminine energy through sensual movement
Follow if you're looking for life advice on: How to move your body to truly embody the Goddess that you already are
Mamma, Goddess, Queen, Woman.
Do you feel the power behind those words when you say them? That's exactly how Anjua wants you to feel – powerful and empowered, and that's why she's made it on our list of best TikTok accounts!
Through somatic dance and movement, Anjua guides women in exploring the sensations held within their bodies to find pleasure without fear of judgment from society at large. Her account provides a safe space for curiosity about how sensual movement connects back to expressing yourself authentically in your day-to-day experiences.
The only thing hotter than watching her body vibrate in her videos is how high-vibe and turned on by life you'll feel after following her lead.

4. @ketaloren
Mission: To be the big sister you never knew you needed
Follow if you're looking for life advice on: Having perseverance, determination, grit, defiance and trust that there is light in your journey
Sunshine in human form. A light bulb in the flesh.
These are Keta's own words describing the rare people she meets. But they perfectly describe how we feel about her rareness.
As the summary of her book, Gutter Kid describes, she spent years in foster care, was ejected from the juvenile justice system, was addicted to drugs and was a victim of human trafficking – all before she was nineteen.
She changed her dark past into an amazingly bright future and her inspiring, uplifting and heart-melting words will help you do the same.
She typically starts her videos with, "I don't know who needs to hear this…" but we know who needs to hear it.
All of us.


5. @yankellyvilla
Mission: To spread love, vibes and all things magical
Follow if you're looking for life advice on: Taking the messages you receive from the divine very seriously, but not yourself
This TikTok-er is a booty-shaking, goofy acting, tarot-reading multi-dimensional healer.
You can't help but fall in love with Yankelly's genuine, fun-loving spirit or how she's guided by spirit to help.
She's beautiful from the inside out and reminds us to search for the beauty all around us every day.
Within minutes of watching her videos and witnessing her follow her heart, she'll melt yours and you'll understand why she's on this list of TikTok accounts to follow.

6. @the.truth.doctor
Mission: To serve the truth as a no-BS therapist
Follow if you're looking for life advice on: How to cope with mental health struggles and being a human
Dr. Courtney has been dubbed, "The relatable mental health professional we've all been waiting for" and "The pioneer of the new HUMAN First mental health movement for millennials and Gen-Z."
On TikTok, she provides a much-needed voice for those seeking mental health treatment through role-play and trend-based videos acting as her clients and the main character, The Truth Doctor.
She normalizes concepts that we're constantly being told by society are not normal – like simply feeling our own feelings – that is the type of medicine her account offers.
Don't just take our word about why we love this TikTok account for life advice. We prescribe you a daily dose of her videos to see for yourself!

7. @laurenfrontiera
Mission: To teach tapping (EFT) with magic and soul
Follow if you're looking for life advice on: How to access your intuition more clearly, align with your soul's deepest truths, and live your most expansive lifetime
Lauren, aka the intuition coach, is tapped into her intuition and helps us tap into our own, literally, with tapping.
She is a certified Emotional Freedom Technique (EFT) practitioner.
After following along with one of her videos, you will feel lighter and freer in your body, your heart will feel more open, and your wisdom keeper within will be ready to manifest your soul's desires!

8. @flexnfly
Mission: To empower other women to seek their own success, joy, and wellbeing
Follow if you're looking for life advice on: Travel, Wellness, and Entrepreneurship
Youmie Jean Francious is the woman behind FlexNFly. Over the past year, she grew her TikTok from several hundred followers to over 14,000. And she did it all with her charismatic videos where she shares so much of herself – but through the lens of empowering messages, inspiring reminders, and informative chats.
Youmie is generous and vulnerable, and she brings so much realness and inspiration to everything that she speaks on. The @flexnfly TikTok account focuses mainly on solo female travel, entrepreneurship and an insider look at her company, along with general motivational tidbits that always leave you glad you stopped by.
There's also no shortage of fun dance videos and her irresistible challenges to get up and join her. In short, if you want to feel good, feel seen, and find daily motivation, @flexnfly is the best TikTok account for you!
Youmie is also a YA Classes instructor, and you can check out her popular Mantra Mindset program below!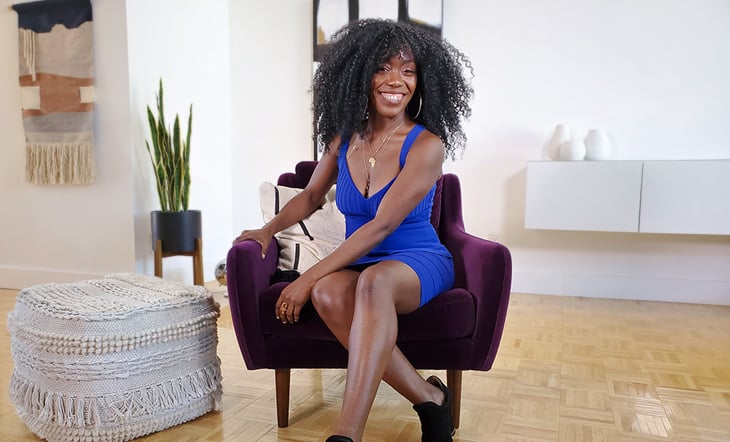 9. @ken10hollywood
@ken10hollywood

To the people who have followed my journey and supported me all this time, please know I appreciate you so much. I just can't stand to hear these empty platitudes anymore. Ireland was a reality check for me and I just don't think I'm going to meet someone and get married. I'm not looking for words of comfort. I just need time to grieve the life I thought I would have. I've decided I need to move on with my life and I unfortunately don't see TikTok as part of that future. I'm still fragile, I'm still at my breaking point and comments right now are just really triggering so please, I'm asking to refrain from reaching out. My page will stay up, I'm not deleting it. I'll also be posting 2 hostel tours from Lisbon, Portugal as well as The Canary Islands as I have contracts in place already, so feel free to stick around for those. I really am sorry, I just need to look out for myself right now.
Mission: To destigmatize being a late bloomer in love and to share her love for solo traveling
Follow if you're looking for life advice on: Love. Life. Travel.
Kendra has traveled to more than sixteen countries across four continents alone but she's not alone when it comes to loving love!
She's a hopeless romantic and she is not shy about sharing her story – about her search for the perfect love story – as a virgin!
Speaking of love…
We love her authenticity and personality and we know you will too!
She gives away so much valuable advice about going away.
If you're looking for hacks for finding the perfect hostel, tips for staying safe abroad solo, or how to correctly pronounce that country, then you'll want to travel to her account right now!

10. @st.finnikin
Mission: To elevate others to re-member
Follow if you're looking for life advice on: How to reclaim the brilliance within you and heighten your imagination, especially through sound healing
St. Finnikin is a writer, musician, producer, sound engineer, photographer, videographer and creative director.
His TikTok account offers life advice about the power of our human nature through the lens of his personal experience, music, art and nature.
He shares soulful sounds on TikTok as well as on his podcast, Energy Hospital. He says, "I believe mindfulness paired with imagination can lead to profound breakthroughs in self-healing. I use storytelling and music to take you out of your living room, car, bed, and into a world of newness and peace."
His music is an immersive sensory experience you'll have to feel for yourself. To conclude, the artful ways he reminds us to breathe will take your breath away and the vibrations of his music will raise your vibration!

11. @thedailyvictorian
Mission: To provide useful, relatable yoga tutorials through the (literal and metaphorical) lens of her personal experience
Follow if you're looking for life advice on: Yoga for mental health from a relatable, charming and intelligent soul sista
Victoria is a yogi, student of philosophy and Hinduism, and bi-sexual.
On her TikTok account, she shares her positions on a range of spiritual and mental health topics as well as actual yoga positions.
So, if you want to learn what namaste really means, how to do a headstand or how to love on your whole self more, then this account is for you!

12. @qveenherby
Mission: To share weekly pick me ups, new music drops and good vibes
Follow if you're looking for life advice on: How to tune into your bad bishhhh vibes through high vibe tunes
Qveen Herby is a queen with a good heart who stole our heart!
She shares words of inspiration that sound like music to our ears when we need it most, but she also shares her music with our ears on this account too!
She wants all of us to have main character energy in our lives so much that she wrote a song that we can sing as an affirmation, "Seriously, like have you seen my silhouette? It's giving main character energy. Like grab the bags and start the jet!"
And, on the days where you may not be feeling it, she offers aura cleanses while telling us how dope we are. She says, "I encourage you to follow your intuition. You literally came to this planet to be a bad bish, and that ain't easy and I am here to support you."
Mic drop for this amazing TikTok influencer.

13. @thickthighyoga
Mission: To represent yogis of all shades, shapes and sizes
Follow if you're looking for life advice on: How yoga can help strengthen, heal and relieve stress for every body
Saisha is a certified 200 hour yoga teacher, wellness coach and creator.
She loved that yoga made her feel challenged and strong, and so she strongly wanted to challenge the lack of examples of yogis that look like her.
Head over to her TikTok account or website Thigh-brary for classes and tutorials for all bodies. For a double dose of inspiration, check out her headstand video to the sound of Qveen Herby's song mentioned in #12.

14. @therapyjeff
Mission: Saving relationships one video at a time
Follow if you're looking for life advice on: How to identify green and red flags about work relationships, parental relationships, friendships, and most importantly, the relationship with yourself
You may have to start by having an unhealthy relationship with this TikTok account by binge-watching every video to learn how to be a healthy person who has healthy relationships!
Jeff has a master's degree in marriage and family therapy and a bachelor's degree in child and family development. He uses this education to educate his viewers on what and what not to look for in a variety of relational contexts.
We love this TikTok account because though the topic may not sound funny, Jeff's approach to helping us understand ourselves and those around us is comical!

15. @kirsten_warner
Mission: To spread positivity and help others love the life they have
Follow if you're looking for life advice on: Getting unstuck and getting back the energy, fun and sense of purpose your younger self used to have
This TikTok influencer is a joy spreader, life and mindset coach, and mom of teens with the best conversations for GenXers!
Some key life advice Kirsten's TikTok account shares:
While we have to get older, we don't have to feel old
An empty nest can mean it's time to fly again
We're always only one decision away from creating a life we love
She's bringing in a new age for how we think about aging and her energy, infectious smile and dance moves, while she's doing it, will never get old!

16. @jessrgreenwood
@jessrgreenwood

Replying to @chothulu #greenscreen I found it! This is the best book I've read on feminine energy, dating, getting a man and general female empowerment. I've studied this subject for a while and this book isn't everything but it's a great place to start. However, it's long and it can be tough to find the gems of wisdom, so I'm putting together a series of what I think are the most important pieces of information. #datingadvice #datingabroad #feminineenergy
Mission: To Eat, Pray, Love her way through Croatia and Italy
Follow if you're looking for life advice on: Ageism, women empowerment, gender roles in different countries and dating in different countries.
Ever wondered what it is like to date in another country?
Ever wondered what it's like to be a woman who is dating in another country?
Ever wondered what it is like to be an older woman dating in another country?
Well, you can stop wondering and start wandering over to Jessica's TikTok account to find out!
She packed her bags to leave the country and now unpacks her experiences with everything from American stereotypes to Italian catfishes and female hormones to gender roles in Europe.


Want Our Advice? Follow These TikTok Accounts and Stay Motivated!
Have you ever been scrolling on TikTok so long that you come across the video of the man telling you it's time to take a break?
If you answered yes, we're not judging. If you answered no, then yes, we're serious, that's a real thing.
Either way, the point is, it's time to take a pause from reading about the best TikTok accounts. Count ten tick-tocks on the actual clock and then continue going about your day.
The next time you feel like you might break, take a quick sixty-second TikTok break to watch one of their inspiring, motivational videos! And don't forget to get social on their media by giving them a follow! We hope you enjoyed our list of the best TikTok accounts to follow for valuable life advice to help you live your best life.
What TikTok Influencer accounts do you watch for a laugh, dopamine fix or reminder that you are magic? Let us know in the comments below – we love hearing from you!
This article has been read 1K+ times. Feelin' the love!

Abbey Acevedo
Abbey Acevedo is a Youtube motivational speaker, audiobook narrator, poet, caffeine junkie, student of life, and lover of all things related to self and soul development. By harnessing her natural superpowers - her voice and words - Abbey is lighting the way for those on their way to the light!
You may also enjoy

Here are 10 meditation and mindfulness apps & websites to help you cultivate mindfulness, peace, and positivity in your everyday life.

Kasia Litwinski