These Top 10 Meditation Apps Are Worth the Download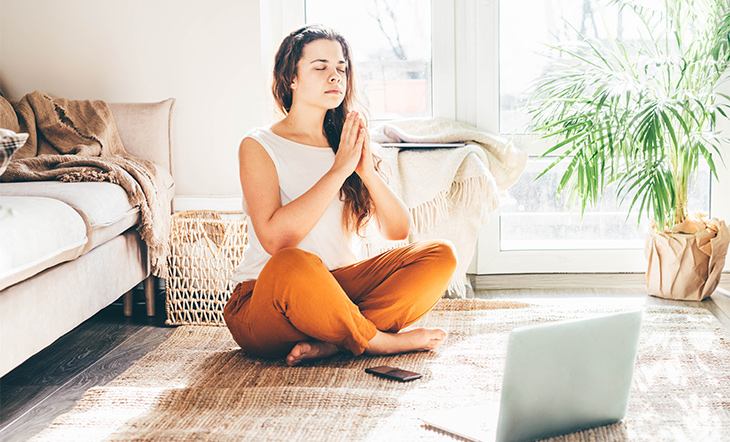 There is a sea of meditation apps to choose from, so we've done the downloading and the digging for you to bring you the top 10 apps for meditation.
It can be difficult at times to keep up with the fast-paced life of modern society. Catching your breath is often the only break you get, and that's already asking for a lot. As a result, it may seem even more daunting a task to set aside time for meditation.
There are only 24 hours in a day, and 7 days in a week – often it seems like not enough time to get everything done that we need to. What about the time for ourselves? What about the time we all need to relax our minds and rejuvenate our souls?
There are several ways to maintain mindfulness when in transit between all of life's demands. Let's face it – we're already glued to our smart phones and computer screens. Why not put them to work for us to help carve out that much-needed you time.


Here Are the Top 10 Meditation Apps Worth Downloading:
Here are 10 meditation and mindfulness apps & websites to help you cultivate mindfulness, peace, and positivity in your everyday life

1. Happify
This app is designed to make you happier by funneling the "science of happiness" through technology. It's main features are activities and games based on scientific research that suggests there are five essential skills for happiness: savoring, thanking, aspiring, giving, and empathizing.

You'll like it if: If you are someone who struggles with happiness, Happify is a great option for you. The app's visually pleasing design is simple and user-friendly.

How it works: You complete simple tasks that aim to focus your attention on coping. Techniques include writing down what you are grateful for, writing about how to manage stress, and playing mental games. The app uses brain-training mechanics to help you relieve stress.

happify.com


2. Omvana
Omvana is an app that provides one of the largest collections of meditation sessions currently available. You choose from a selection of famous authors and renowned teachers that provide guided sessions.

You'll like it if: You enjoy customizing and personally tailoring your meditation sessions to fit your individual needs and desires.

How it works: You are given your own mix board that enables you to do anything from recording your own sessions, to mixing 2 sessions into one. This app is really great because it has a selection of narrated lessons by thought-provoking leaders and public speakers.

omvana.com



3. Brain.FM
This app is designed to declutter your mind with various sounds. It's main features are: audio brainwave training, personalized brainwave training, and meditation sessions. The app tracks your progress and shows data on habits like productivity, focus, and hindsight.

You'll like it if: You love to plug in your headphones and shut off the outside chatter to help increase your focus and productivity throughout the day.

How it works: Brain.FM works by playing 30-minute clips of brainwave-altering sounds to help you focus on work, sleep, meditation, anything! Once you sign up you have three options: focus, relax or sleep, pick a variety of themes, and then hit play!

brain.fm


4. Mindfulness App
This app is designed to take a moment and reset during your busy day. It's main features are a daily delivery of mindfulness inspiration to your phone/tablet in the form of tips, exercises and teachings.

You'll like it if: If you create reminders for just about everything from remembering to do laundry, to reminding yourself to take a 5 minute walk because you have been sitting all day – this is the app for you.

How it works: Mindfulness is a simple, basic mindfulness app that allows you to set reminders for meditations, body scans, and more. This app provides statistics to help you measure your progress in metrics.

mindfulness-app.com


5. Joyable
The Joyable app takes a different approach to mindfulness, tackling the mental health side of things by offering mindful tactics to help issues like social anxiety and boost your self-confidence.

You'll like it if: You feel helped and supported by having an objective coach there to guide you through issues like social anxiety.

How it works: You will be assigned to a coach, beginning with a 30-minute phone call to discuss your social anxiety with your coach and set goals to work towards. You touch base on a weekly basis while completing online activities to help you cope with your anxiety.

joyable.com


6. Calm
This is a subscription-based platform with the sole purpose of helping you reduce your stress. This app will immerse you in scenes of natural beauty and bathe your mind with relaxing music and nature sounds.

You'll like it if: You have particular meditation goals, such as better sleep, deep concentration, inner peace, etc. The app offers a wide variety of goal categories.

How it works: Calm intends to clear your mind with guided relaxation sessions, meditation music, and premium programs that focus on a range of areas from sleep, calm, self-esteem, and more.

calm.com


7. Mindful.org
This app is designed to be the go-to place for insight, information and inspiration to live mindfully. It's main features are a bi-monthly magazine called Mindful, MindfulDirect videos, and the website itself which provides approachable mainstream mindfulness practices.

You'll like it if: You want to dive into the practice and philosophy of being mindful.

How it works: Mindful.org is a space that offers personal stories, advice you can use, and news you can share. The insights found here speak to anyone from the rookie meditator, to the expert exploring new ways to cultivate mindfulness in their daily life.

mindful.org


8. Headspace
This app is designed to be your own personal trainer to help you de-stress by exercising your mind. It's main features are animations about how the mind works and tips on how to sit quietly and breathe. It also allows you to set meditation reminders and track your activity.

You'll like it if: You're looking for meditation made simple. Headspace is known as the app that cultivates modern meditation.

How it works: This slickly-designed app provides 10-minute meditation sessions with co-founder Andy Puddicombe. He provides relatable instructions like "Don't force your breath, your body already knows how to breath."

headspace.com


9. YA Classes
This app (and website), by yours truly, houses hundreds of premium online yoga, fitness, and meditation classes. Both our iOS and Andriod apps are of the highest rated apps on this list. With hundreds of 5 star reviews from our students. We also plant a food-producing tree for every class you take. So you can feel even better about getting on your mat with us.

You'll like it if: You're looking for beautiful guided meditation and yoga classes with top instructors from around the world and you like the idea of planting a tree every time you practice.

How it works: Start a free 14-day trial to see if this app is for you. After the trial you can continue on a monthly or annual plan. You can download the app, watch the classes on your television and even download classes to watch them offline.

yaclasses.com

10. Stop Breathe & Think Kids
This app is for children ages 5 – 10. This app allows children to check in with how they are feeling and provides a "mission" to help them create a force field of calm. Encourage your kids to Stop, Breathe & Think with this fun and easy to use app—designed to help kids discover the superpowers of quiet, focus and more peaceful sleep.

You'll like it if: Your looking for a way to introduce mindfulness to your child.

How it works: Your child will choose their current emotional state by clicking on emojis. They will then follow along with interactive activities that cultivate mindfulness, presence, and calm.

stopbreathethink.com/kids

There you have it – 10 awesome apps and websites that can help you stay calm, find peace, and remain positive when the going gets tough!

Take one of these meditation classes today
Have you tried one of these apps or websites? Do you have another suggestion that wasn't on the list? Please share your thoughts + experience in the comments below – we love hearing from you!

This article has been read 411 times. Share it and spread the love!