8 Top Wellness Apps You'll Want to Download Today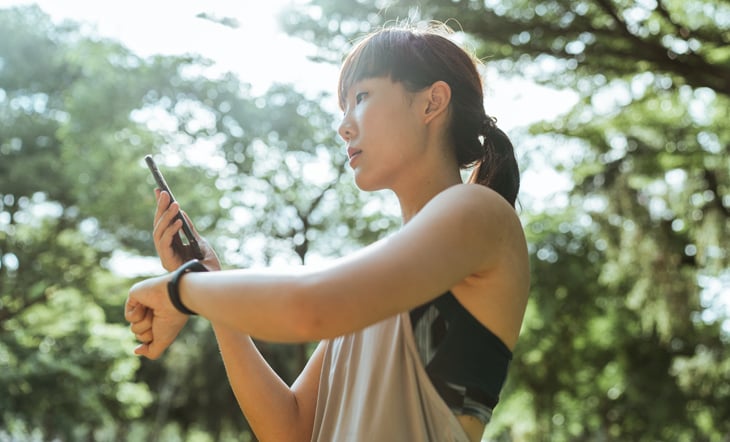 If you're wondering, the answer is yes – there is a wellness app for that! With technology and insight available at our literal fingertips, humans are increasingly connected to our devices. But could that be a good thing if we're spending time on wellness apps?
Sure, we could all spend a lot more time off-screen, but when there are so many incredible apps to encourage, inspire and amplify our wellness, this must be a good thing.
After a year like 2020, the digital world was catapulted into the hands of millions as we all turned to our screens for distraction, connection and even medical advice.
The wellness industry is a $4.5 trillion (yes, with a T) industry that has gone global. With app stores available on all phones, anyone with a smartphone and an internet connection can access wellness apps to weave their digital and IRL experiences together.

We've curated a short list of eight wellness apps that we use, love and recommend to all our friends.

Wellness apps are forecasted to exceed 1 billion downloads in 2021. That's 1/7th of the total world population!
Wellness apps are incredible for a few reasons, but the main reason is that they remind us to be intentional with our time and energy. It's all too easy to go through each day in a hurried rush.
And after the dark night of the soul we all experienced in quarantine last year, it's high time to focus on self-love and soul-care with wellness apps. And, who doesn't love a notification reminder to breathe or stretch from time to time?
While it can be a bit overwhelming to find a wellness app in the vast sea of the app stores, we've curated a short list of eight wellness apps that we use, love and recommend to all our friends.


Here Are 8 Wellness Apps You're Going to Want to Download Today:
Download these wellness apps today to align your mind, body, soul and scrolling!

1. YA Classes: On-Demand Yoga
Find your om at home with YA Classes! YouAligned.com's sister, YA Classes hosts an impressive class library and is just the thing to help you maintain health in your body, mind and soul.
On-demand classes including yoga, fitness, movement and mindfulness are taught by world-class instructors and can be accessed from your phone or computer.
And the best part, better even than their top-notch quality? YA Classes plants a tree for every class you take! So not only are you bettering your body, mind and soul, but you're also bettering the planet!
Practice on YA Classes FREE for 14 days!
Explore the hundreds of premium online yoga, fitness, and wellness classes and full programs on YA Classes.

2. Saged
Illuminate your spiritual journey with Saged! This app is focused on making spirituality accessible, in every stage of the journey, with radical inclusivity, in just a few minutes a day. With daily rituals, community groups, live classes, masterclasses and courses, Saged is the total package for your spiritual journey.
Saged Premium offers access to four live moon circles a month plus additional live classes led by renowned practitioners on a range of topics. Saged is more than an app – it's a global community devoted to your spiritual expansion.
Try Saged Premium FREE for 7 days!
Having a hard time managing boundaries with your devices? Read this: Addicted to Your Devices? Here's How to Combat the Negative Effects of Technology

3. The Fabulous
The Fabulous is not only fun, but it's backed by some serious science to help you create a thriving daily routine for well-rounded wellness. "Fabulous uses behavioral science to help people make smart changes and build healthy habits," states their website.
This app will help you cultivate self-discipline, create structure in your life, go deep within and connect to a community. Inspired by the methods followed by top athletes and entrepreneurs, The Fabulous knows a thing or two about getting results.
Download The Fabulous for empowering structure!


4. Shine
Who doesn't want to shine?! The Shine app is an incredible creation that helps you calm anxiety through daily self-care skills that are catered to you.
It was "Best of Apple 2020" and for good reason! This app is a huge leap in mental health and wellness, and it's got a gorgeous interface.

Wellness apps remind us to be intentional with our time and energy.

The therapists and teachers on The Shine app are some of the best in the biz and are 100% relatable humans, rather than meditation gurus sitting on their mountain top (of money) telling you what to do. Doesn't that sound refreshing?
Calm your anxiety today with The Shine app!

5. Daily Workout App
Exercising daily can be a major challenge, especially when you're short on time. That's where Daily Workout App comes in handy with workouts ranging from five minutes to 30 minutes. With instructions on how to do each workout and options for targeted workouts, you can get a lot out of both the free and paid versions.
Get moving with Daily Workout App!

6. The Pattern
The Pattern is "eerily accurate" as described by users, including Channing Tatum. Astrology is 100% a tool to bring more wellness to your life and The Pattern is blowing people's minds around the world.
It not only reads you like a book, but you can connect to friends, lovers and family to better understand your connection, challenges and chaos.
Feel like there's a karmic connection between you and a friend or romantic partner? The Pattern will tell you all about it in addition to daily insight and more. This is so much more than horoscopes, it's a scope into your cosmic soul.
Blow your mind with The Pattern!

7. Talkspace
Talking about mental health had a moment in 2020, and Talkspace was one of the leaders in the digital mental health space.
As we move into the normalization and necessity of therapy, the stigma is being broken and people around the world are using apps like Talkspace to get the help they need. And who doesn't need therapy?! Users can access therapists 24/7 and even use insurance for care.
And with more and 60,000 5-star reviews, you know they're doing something right.
Get your mind right with Talkspace!

8. Waterminder
Let's face it, we all need to drink more water.
H2O benefits every part of the body, but especially the mind. Waterminder takes the complication out of figuring out how much water your body needs and even tracks your consumption throughout the day.
Didn't drink enough by noon? Waterminder will remind you to drink up and stay hydrated. Benefits of being properly hydrated include better sleep, better cognition, less stress, more stamina, better digestion and the list goes on.
Wellness (Apps) at Your Fingertips!
With so many highly-rated and intelligent wellness apps available, there's no excuse to not tend to your mental, spiritual, physical and emotional health. In just a few minutes a day, you can take small steps to change your life in big ways over time.
Change doesn't happen overnight. And it's rarely the big, explosive events that make real and lasting change. It's the baby steps, daily shifts and consistency over time that's really going to help you make the change you want to see in your life.
Nothing is more important than your health, as we've all learned through life experience recently. When you are devoted to you incredible things happen and life feels easier.
Change starts within, and wellness apps are a perfect way to start making that change happen!
This article has been read 1K+ times. Feelin' the love!