4 Pillars of Holistic Health and Wellness + How to Harmonize Them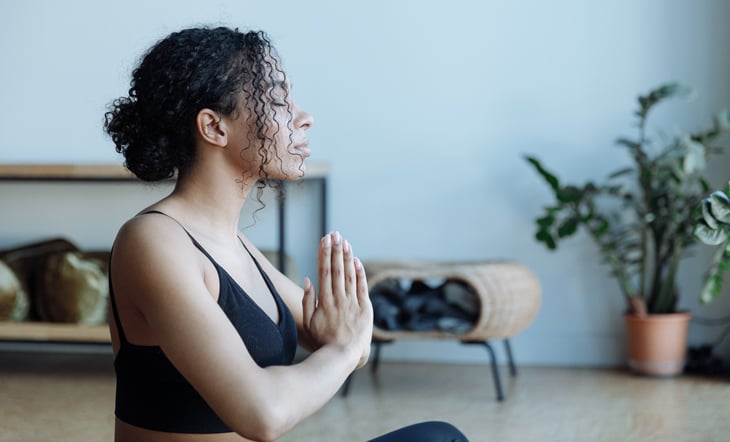 When you hear "holistic health and wellness," do you think of alternative medicine, naturopathy or the integration of Eastern and Western medicine?
Simply put, the definition of health is the absence of sickness and dis-ease. While this definition is true, it lacks the understanding that optimal health is more than just avoiding the flu; it is a goal to be achieved holistically.


What is Holistic Health and Wellness?
Holistic means "whole," and it recognizes an individual has many components.
Which means assessing these components more expansively through wellness that includes the wealth of the body, vitality of the breath, peace of mind and a healthy expression of emotions.
Note: The journey to wellness is more comprehensive and personalized. It is not one-size-fits-all. It is unique for each individual as their environment, personality and genetic makeup determine what wellness means to them.
Holistic health means all areas are healthy, thus achieving wellness. When aiming towards optimal wellness, holistic health consists of four central pillars: Physical, Mental, Emotional and Spiritual.
Read on for the rundown of these four pillars and a few practices to strengthen each one.
Get Inspired With This Woman's Holistic Health and Wellness Journey: How Yoga, Meditation and Holistic Living Has Benefited My Family


These Are the 4 Pillars of a Holistic Health and Wellness Lifestyle:
1. Physical
When we think of physical wellness, we think of exercise and fitness. While regular physical activity is essential, your body needs more than everyday movement. Other aspects of your body need attention too.
Physical wellness includes proper sleep (seven to nine hours uninterrupted), good hygiene, and a healthy diet.
There are other practices to make this particular pillar stronger:
Release stress with a leisurely activity like getting a massage, going on a hike or binge-watching a TV series
Avoid or minimize the overuse of harmful substances like alcohol and cigarettes
Visit your doctor regularly for medical examinations
2. Mental
When an individual possesses a healthy state of mind, they have the mindset to cope with the stresses of life. Being in a healthy psychological state permits you to perform productively and enables you to make impactful contributions to your community.

Holistic health means all areas are healthy, thus achieving wellness.

Mental and physical health go hand-in-hand, and these practices help with the ongoing process towards holistic wellness:
Be present by focusing on one thing at a time, like observing your surroundings when taking a walk or listening to your friends when spending time with them
Dedicate an afternoon or an evening to engage in something you genuinely enjoy doing that is fun and just for you
Set and stick to boundaries around your personal and professional life to not overextend yourself; this includes being okay with saying "no" sometimes
How Yoga Affects Your Mental Health (According to a Holistic Psychotherapist)
3. Emotional
Emotional wellness encompasses the ability to navigate our emotions in a healthy way. The ability to healthily navigate your emotions means identifying, assessing and effectively expressing those feelings to others.
When our feelings are in flux, strengthening this pillar is essential to help us better manage those emotions to achieve serenity in what we are feeling:
Journal to not only identify and process your feelings but measure your progress and growth whenever you read and reflect on earlier entries
Create a list of those close to you that you trust to contact when times are tough and need support
Talk to a therapist whose insight as the third party can counsel you as you feel your way through your emotions
4. Spiritual
Wellness in the spiritual body is a personal path of overall wellness; therefore, it will look different to everyone on it.
Commonly, one sees spirituality as a sense of purpose, direction or meaning in life. Spiritual wellness is not about a specific religion or belief system. It is about personalizing the journey.

When aiming towards optimal wellness, holistic health consists of four central pillars: Physical, Mental, Emotional and Spiritual.

Depending on how individuals define it, they can cultivate spiritual wellness through meditation, prayer or other practices connecting to a higher power:
Become mindful of your intentions and pay attention to how they guide your actions
Prioritize a small amount of time to yourself free of activities, distractions, and interruptions for quiet and stillness
Align yourself with your life's values to help in making the decisions in your everyday life easier
Wellness Books: 10 Must-Haves to Add to Your Library
Build Up Your Pillars of Holistic Health and Wellness
Achieving optimal health is about acquiring wellness from a holistic approach – experiencing harmony between the four pillars: physically, mentally, emotionally and spiritually.
While the overall objective requires a holistic approach, the process is personal in figuring out which needs your attention the most. Then, work on strengthening the pillars to build a solid foundation for living your healthiest life and being your best self.
As mentioned above, the approach to holistic health and wellness constitutes four pillars: Physical, Mental, Emotional, and Spiritual.
This concept can break into six more: Environmental, Financial, Intellectual, Nutritional, Occupational, and Social. Stay tuned for my follow-up article that will dive into all ten pillars of holistic health and wellness.
This article has been read 5K+ times. Feelin' the love!