12 Steps to Create a DIY At-Home Wellness Retreat for Yourself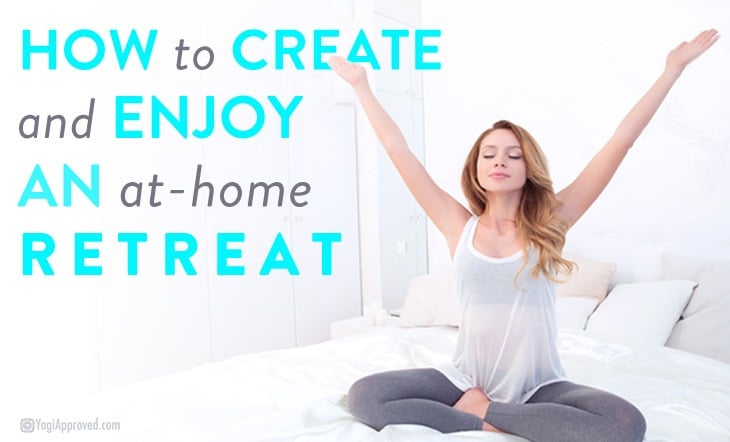 Have you been craving one of those all-inclusive, week-long wellness and yoga retreats, but keep coming back to the same conclusion that most of us do? That conclusion being, "I don't have the time or the money."
These retreats are probably worth every penny and should be a priority in our over-worked, over-stressed, and over-booked schedules. We all know that if you don't have the time for self-care and relaxation, then you are the prime candidate for a retreat – or really, a break of any sort!
Assuming that one truly cannot swing a retreat or a weekend getaway, let's take a look at an alternative: An all-inclusive, at-home retreat. Duration: To be determined by YOU.


Here Are 12 Steps to Create an At-Home Wellness Retreat for Yourself:
Here is a list of steps, activities, ideas, and comforts that will make your at-home retreat a spectacular day (or several days if you can swing it!).

1. Book It!
Open your calendar, take a look at the month ahead and find ONE day – ONE single day (at the least) – and take a red pen and put a big red circle around that day.
Make the appropriate arrangements, have your kids schedule a sleepover at their friend's house, and tell your significant other to make plans without you. Make the arrangements and book it. Plan a day devoted solely to you.


2. Prepare Your Space
Pick a room in your home where you feel comfortable. Clean and de-clutter the room prior to your retreat to avoid any distraction.
Put on your comfy loungewear, light some candles, and pull out some cozy throw pillows and blankets to make it extra retreat-like. Also, make sure you do all necessary grocery shopping the day before.

3. Cut Off All Communication
Ditch the TV, laptop, cell phone, iPad, etc. Use this time to detox from all of the technology that we constantly inundate ourselves with. Get back to the basics.
Follow these steps to do a technology detox

4. Practice Yoga
Indulge in a nice yoga practice. You can create your own, just doing what feels good to you in the moment, or for some great free yoga practices, visit Yoga with Adriene on YouTube.
She offers a variety of practices that will be just what the retreat doctor ordered. I enjoy a "Morning Flow with Adriene." This video will energize you, get the blood flowing, and help calm your mind. You'll have to break the no technology rule, but it will be worth it. Just don't check your emails or social media.
Find your om at home with our online library of classes too! Check out YouAligned.com Classes for lots of free and premium online yoga, barre, and fitness classes

5. Meditate
Whether you take five minutes to simply close your eyes and breathe deeply, or set yourself up for a nice long meditation session, take time in your at-home spa day to simply breathe, be still, and go inward. This inward stillness is so relaxing, calming and grounding – a perfect way to stay present.
Treat yourself to a guided meditation complete with breathwork! Check out our Guided Pranayama and Mindfulness Meditation

6. Hydrate, Hydrate, Hydrate!
Let your day be a cleansing, detoxifying, relaxing day. Use this "you" time to flush the body of all of the junk that has accumulated over time. The benefits of drinking water are endless.
You will leave your retreat feeling lighter and cleaner. Also, we've all heard the trending term "teatox." Prior to your retreat, grab a couple of your favorite teas. I recommend a chamomile tea with fresh lemon or roasted dandelion root tea which is good for detoxification of the liver.

7. Treat Yourself to an Exfoliating Face or Body Scrub
Use one that's created from a few simple ingredients. One of my favorites is a mixture of sugar, fresh lemon juice, and almond oil. 
Check out this site for some awesome scrub recipes.

8. More Essential Oils Please!
Have your essential oils ready, put a few drops in your candles, and/or apply some to your hands or pulse points (wrist, neck).
Use them in your yoga practice or meditation. Combine them with a mantra for the day. Do anything you like with them! For relaxation, I recommend lavender essential oil.

9. Take a Hot Bath
Nothing relaxes the mind and body like a hot bath. Use some or your essential oils and Epsom salts to create your very own bath salts!
Check out our 5 Easy Bath Salt Recipes You've Gotta Try!

10. Get in the Kitchen
Cooking can be a very therapeutic and mindful experience. Find a healthy recipe and replicate it. Use fresh ingredients that you enjoy and go for it!
Be mindful of the smells, tastes, and sense of touch as you cook.


11. Crack Open a Book
Hit the library or Amazon prior to your retreat and get that book you've been wanting to read. I say a retreat calls for a book focused on introspection. I recommend anything written by Dr. Wayne Dyer!
Want more reading inspo? Check out these 5 Books to Boost Your Mood

12. Journal Your Little Heart Out!
Journaling and recording thoughts can be extremely healing and restorative. Purge yourself of all of the thoughts or stresses that you have going on, or simply make a list of the blessings in your life.
Sometimes writing down all of the good things that we have in our lives makes such a difference in our perspective. And if you can, do this outside, on a porch, balcony, swing, or throw a blanket down in your yard. Try to immerse yourself in the nature around you!


Enjoy Your At-Home Wellness Retreat!
We all lead busy lives. But taking care of ourselves should always remain a top priority.
While we can't always make time for that dream retreat, we can easily carve out a day to give ourselves the R&R that we deserve. Have fun creating an at-home retreat that is perfect for y.o.u.! You're worth it!
Just finished your at-home retreat? Have more ideas to add to the list? Share your at-home retreat experiences in the comments below!
This article has been read 10K+ times. Bada bing!