5 Reasons Why Yoga is Perfect for Introverts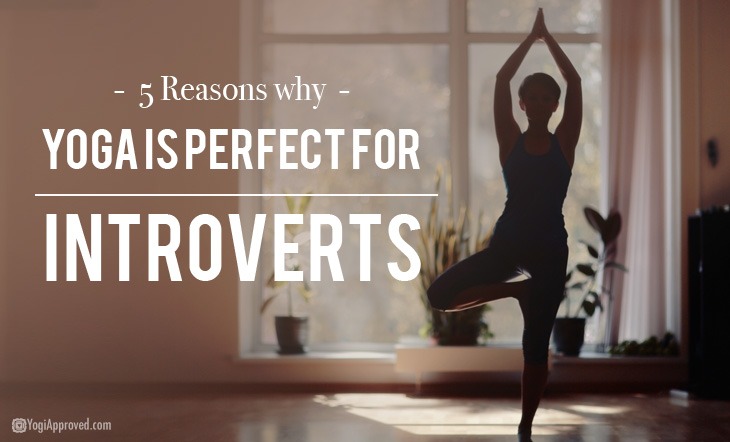 If you are an introvert like I am, your idea of an awesome Friday night involves snuggling on the couch with your dog or cat, a hot cup of tea, and a good book. Sometimes, this might even stretch into Saturday, then Sunday, and by the time the weekend is over, you realize you never left the house. As introverts, we need less social stimulation than our extraverted counterparts; extraverts gain energy from being around other people while introverts need alone time to recharge their batteries.

Sometimes, being an introvert is tough. We can be misunderstood for being aloof, disconnected, or loners. It can be tough to make new friends because small talk seriously sucks. Our need to have time to ourselves can sometimes be mysterious and even frustrating to our extraverted friends and family. Sometimes, we feel bad about our weird, introverted ways. We feel we need to change to become more outgoing, more social.

If you are an introvert like me, yoga can be one of the best things you can do for yourself. Everyone can benefit from taking up a regular yoga practice, but it can be especially beneficial for introverts.

Here are 5 reasons why yoga is so beneficial for introverted people:
1. Yoga gets you out of the house
If an introvert indulges their desire to be alone too much, they may never leave their house. Don't become a hermit – go to yoga instead! Yoga is an extremely healthy activity you can enjoy that doesn't require much small talk or group interaction. Yoga can make you feel really awesome, inside and out. It's a great workout, it reduces stress and anxiety, and it helps cultivate mindfulness – things you can't get from vegging out alone on the couch.

2. Yoga supports your naturally introspective and contemplative nature
Introverts are naturally introspective and contemplative people. Introverts need to spend time with their own thoughts to recharge their energy. The yogic idea of Svadhyaya, which means "self-study" in Sanskrit, encourages introspection. Svadhyaya suggests that the answers we seek may be found within. In practicing yoga, we actively look within ourselves to find answers. We work on listening to our body and our mind, and finding ease within both. For introverts, yoga can therefore guide our natural inclinations to be introspective. We learn to harness the power of self-study to find the answers we need most from yoga.

3. Yoga is a great way to connect with others
Through yoga, you will find kindred spirits. Introverts are often stigmatized as being loners but that is not necessarily true – we need friends just as much as extroverts do. We simply find that forced social situations can be very taxing. If you've ever been to a house party and found yourself foregoing human interaction to make friends with the hostess's cat, you might understand what I mean. Yoga is a very low-pressure environment where you can connect with others. Find the right yoga teacher or studio, and you will quickly become part of the yoga "sangha," which means yoga community.

4. Yoga can be practiced anywhere
For those nights when you really don't want to leave your house, cultivating your own home practice is fun and easy. Nowadays, online classes are widely available, many of which are free. You can also experiment with making your own yoga routine or flow. Crank up the tunes, wear whatever you want, and shake your asana without stepping outside your front door.


5. Yoga doesn't judge
Sometimes, friends and loved ones just don't understand your introverted ways. It can be hard for extroverts to understand an introvert's need for solitude. Especially in the age of social media, introverts are made to feel like they are different or wrong when they don't always want to socialize. Yoga can help with this too. Yoga can help us find acceptance in who we are. We learn that it is ok to be an introvert, just as it's ok to be an extravert. We can learn to let go of judgments about ourselves and others. Through our practice of yoga, we learn the truth: we learn that we are all the same, deep down.

For introverts, taking up a regular yoga practice can be incredibly beneficial. Despite our natural proclivity to shy away from highly social activities, we still need to meet and connect with people. We still need to exercise and experience life outside of our homes. Yoga provides the perfect opportunity to do all of those things in a way that can be natural and easy for an introverted person.

So, for all you introverts out there, this is for you: throw on some stretchy pants, grab your yoga mat, and head straight to your nearest yoga studio. It just might be the best thing you do for yourself all day.

This article has been read 6K+ times. Feelin' the love!