Have You Heard of These 10 Trending Yoga Styles?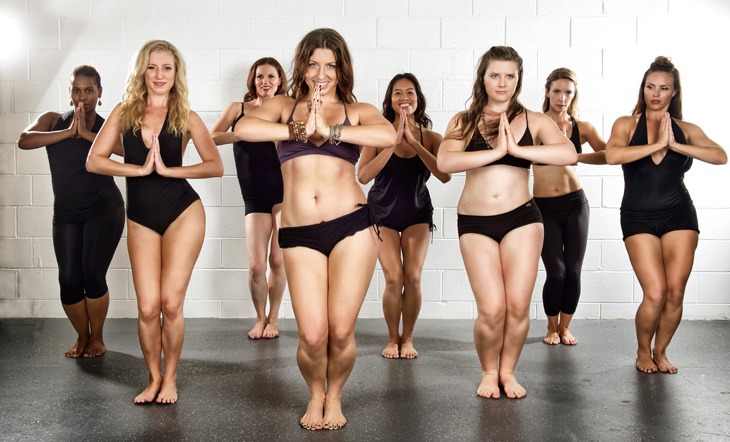 The Movement Lab
You've done it. You have found a style of yoga that fits you and you are a grateful yogi. Maybe you have begun to learn more about yourself and your own yoga practice, possibly feeling a little more courageous on your mat.

We will always be grateful for yoga and its amazing offerings, but what if we want to spice things up a bit?

The answer? It's easy! Take this newfound courage, this newfound you, and have fun exploring – and deepening – your yoga practice. Yoga has entered the western world full throttle and with that arrival, there is plenty of opportunity to get creative and expressive with your practice, with emerging and evolving yoga disciplines to fit any personality and preference.

We will always be grateful for yoga and its amazing offerings, but what if we want to spice things up a bit?
Here are 10 exciting yoga trends you need to know about (if you haven't already heard):
1. Buti Yoga



If you still have that club girl vibe deep inside of you or if you often find yourself practicing some Beyonće moves in the mirror, you need to get to a Buti Yoga class. Now.

This is a high energy, bass-bumping practice that encourages the practitioner to let loose and explore the confident and powerful force within. With an unbeatable mixture of tribal dance, yoga poses and plyometrics, you are sure to find a new sense of freedom, rawness and empowerment on the mat.

Buti yoga –>


2. SUP Yoga (Stand Up Paddleboard) or Paddleboard Yoga


I am a Pisces, so anything on the water is a plus! If you feel that same calling to the water, or if you want to really challenge your balance and connection, jump on a paddleboard and practice yoga! It will bring a new perspective to every pose.

The paddleboards are about 10-12 feet long and you can practice in a pool, river, lake or ocean. There are several SUP Yoga classes floating around (pun intended), so a quick search should do the trick. You can wear whatever makes you comfortable, just as long as it can get wet.

And just like any yoga practice, make this your own. You can slow down and really connect with the sound and rhythm of the water. Or you can fuel your inner fire and make it as challenging as you like. Handstand anyone?


3. Weed Yoga or High Yoga
As cannabis becomes legal in more states, many yogis feel this duo works well for them. Experiencing yoga while high allows many of the practitioners to lose any inhibitions that would normally hold them back in a regular setting.

It is important to have a good knowledge of your yoga practice as well as your response to cannabis before practicing in a group setting. If you are 100% against giggling in class, you might want to skip this trend. But if you are interested in exploring a heightened consciousness or channeling your high to something more meaningful, this option may be could work for you.

Side note: Many yogis feel consuming marijuana is against what yoga is about. They feel that putting toxins into your body and altering your state of consciousness is not the yogic way. But with anything in life, if you are not harming others . . . do what works for you.

Recommended read: High Yoga – Does Weed Have a Place in Your Yoga Practice?


4. Doga
Fur mamas rejoice! You no longer have to leave your fur baby at home when you go to yoga.! We all know dogs bring joy into our lives, so of course they will bring joy to our yoga practice! Doga is a style of yoga connecting you and your dog during your yoga class. Yogis and their furry partners sync their energies through poses, massage and meditation.

It is an opportunity to be fully present with your dog. To experience the poses together and invite the calming energies for both. With this being a partner class, the hands- on healing your dog will experience could help him overcome certain fear and anxiety.

Doga Dog –>


5. Aerial Yoga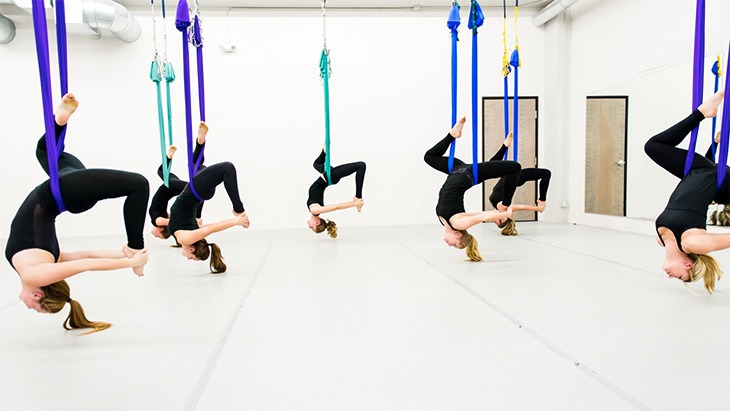 "Weeeeeeeeeeeee!" Okay, I got that out of the way. Aerial Yoga is another style that continues to gain in popularity and can offer an amazing addition to your yoga practice. A silk-like hammock provides the yogi with a different opportunity to explore and expand your practice.

There are a number of benefits; gain more mobility in the body, decompress the spine, safely explore your inversion practice (and the many benefits that go along with being upside-down), build strength not only by moving through the silk during your practice but while being suspended, plus you have more opportunity to feel the natural alignment in many postures.

Aside from the freedom to connect with your inner playful side, Aerial Yoga allows the yogi to explore different connections with the body above the mat, and then take those connections with you back to the mat.

Aerial Yoga –>


6. Broga®



We love our yoga dudes and we would love to see more in our classes. If you, or another male you know would feel more comfortable beginning yoga in a male only class, here is one to try.

Broga® was designed with the male yogi in mind to cater to what men are looking for in a fitness routine and relying heavily on yoga to provide that service. These classes leave the yogi feeling energized and strong – similar to the gym experience – but also feeling more flexible and mindful.

They offer many online classes, in-studio classes, retreats and teacher trainings in any setting! Again, these classes are great for beginner male yogis as well as seasoned athletes.

Broga Yoga –>


7. AcroYoga



AcroYoga is making its way around the yoga world and it is only getting stronger. By now you may have seen pictures or videos of this partner practice which probably left you in utter amazement. This practice combines acrobatics and yoga in the form of partner work. There is a base, flyer and spotter, so the opportunity for community is amazing.

The base provides the platform for the flyer. T, together they can create not only amazing movements and poses, but a therapeutic practice as well. This practice requires trust in your partner, communication and a sense of unity.

If you are thinking nostalgically back to your days as a youngin' when you would lie on your back and your friend would "fly" on your feet, you should try AcroYoga.

Acro Yoga –>
You might like this: 3 Absolutely Beautiful AcroYoga Videos
8. Aqua Yoga



Take your yoga into warm water and benefit from this low-impact practice. Similar to a water aerobics class, the buoyancy from the water makes this yoga discipline easy on the joints and great for gently adding strength and flexibility.

Typically the instructor will remain on the pool deck and demonstrate the poses. Many yoga poses you practice on land can transition easily into the water. And just like on your mat, props are used in the water in the form of pool noodles and the wall. Fun!

Students can expect to gain a deep sense of calm and meditation from the healing aspects of the water as well as experiencing poses that may not be easily accessible on your mat.

Aqua Yoga–>


9. Nude Yoga or Naked Yoga
Although this is not a new scene (some yogis dating back to the 8th century practiced naked to achieve a deeper sense of spirituality), Nude Yoga is gaining popularity. Upon entering the West in 1960, Nude Yoga is less about sexuality and more about acceptance and learning to love your body.

Yogis are encouraged to practice naked to become more connected with themselves and to rid the mind of any shame or negativity. Even though our culture is less open to nudity, this may give you an opportunity to identify and get more comfortable with your body.

Check out Nude Yoga Girl's video and see her practice. She is a great example of the connection and appreciation to be found while practicing in the nude.


10. Laughter Yoga
I recently saw a video online of a busy subway transporting people on their daily commute. Everyone looked tired, cramped and sluggish. Then a man watching a video on his tablet while wearing headphones began laughing. Not quiet, shy laughing. But goofy, awesome, can't-help-but-laugh-with-him laughing. And that is exactly what everyone did – the entire subway car began laughing and smiling together. It was beautiful.

Laughter Yoga allows people to gather and laugh. The fake laughs turn into real laughs and the mind and body benefit. Think of how you feel after a good, gut-filled laugh. Same rule applies here. Yogis may do breathwork, stretch or chant to come together as a group before beginning their laughing session.

Giggle on yogis!

Laughter Yoga –>


Any type of Yoga will boost your strength, balance and flexibility. Sometimes it is a great idea to challenge yourself and switch things up. These are just a few of the many trending yoga styles that are being practiced everyday and are continuing to gain popularity.

Are you currently practicing any of these newer styles of yoga? Have they helped your practice in any way? Let us know your experiences or leave some advice for those of us who have not branched out yet!

Featured image: The Movement Lab
This article has been read 10K+ times. Bada bing!