How to Lead Your Own Successful Wellness Retreat (Tips from a Pro)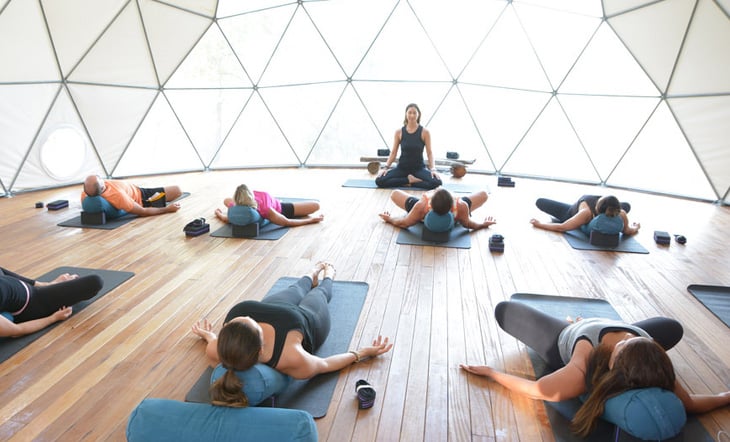 Yoga and wellness retreats are a fast-growing trend of 2018 and an incredible way to gather in sacred ceremony and work through some deep sh*t with the support of like-minded people. If you're thinking about leading a transformative yoga or wellness retreat, it's not hard to turn your dream into a real life reality!

Looking to hit the road this year? Check out these travel trends: 11 Travel Trends for 2018 to Inspire Your Wanderlust

We spend so much time making connections on social media that it is rare to be able to connect with your tribe IRL. Curating a day or weekend retreat that calls in like-minded people to share space and connect deeply is a beautiful way to not only help other heal (and heal yourself) but also to grow your brand, set even bigger dreams in motion, and tend to your wanderlust.

Whether you're a wellness blogger, yoga instructor, empowerment coach, or just someone with a desire to help people heal, organizing and executing a successful transformative retreat is easier than you may think.


4 Essentials to Consider For Pre-Wellness Retreat Planning
1. Get Clear on Your "Why"
Before you find a venue, book practitioners, or even think about what food you're going to serve, it's important to get clear on why you're putting this event together. This intention will be woven into every aspect, so starting with clarity is clutch.

Are you a new yoga instructor? Read this interview for some serious wisdom and hard-learned lessons: Gina Caputo Talks Social Media, Festivals and Why Teachers Shouldn't Offer Free Yoga

2. Date, Location, and Practitioners
Who, when, and where you align your retreat with will set the tone and vibe for the entire experience. Do your homework and follow your intuition. Have a list of ideals, a list of backups, and a list to back up the backups.

3. Marketing, Social Media, PR, and Sales
If you're a spiritual entrepreneur, chances are you're a bit intimidated by the marketing and sales aspect of your business. Setting the right price for a retreat can be difficult, but you shouldn't be intimidated.

Read this to discover what yogis and wellness seekers want in a retreat: The 7 Most Important Qualities to Look for in a Yoga Retreat

Follow these tips to lead a successful wellness retreat and have fun in the process:
Share the retreat on all your social media channels with the same, consistent graphic (or variances of the same graphic. Consistency will create recognition, which will help with conversions
Ask the practitioners, event space, and anyone else involved (sponsors etc) to also share the event across their channels
Submit the retreat to local newspapers, event websites, and businesses, and put fliers where you can that you know you're ideal attendees will see them
Set a cap for attendees and run the numbers for the least amount. You want to know where you stand if you don't sell out, and what is still worth it to put the retreat on
Ask influencers to share the retreat on their social media channels, send it to friends and family, and include in all email marketing to your list as often as possible
Create and share value around the retreat and be authentic about the experience attendees can expect and why they should choose to spend their money on your retreat
4. Sponsors
Aligning with partners who either sponsor a portion of the retreat (location, food, a practitioner, products etc) is an amazing way to boost the value of the retreat, develop lasting business relationships, and look great while doing it.

Email brands and companies who you'd love to work with and create a sponsorship package PDF to send them with the different tiers of sponsorship and what they will receive in return for their involvement.

Learn from those who came before you! Read this: 5 Fantastic Yoga Retreats That Won't Break the Bank


What You Need to Keep In Mind During the Wellness Retreat
Organization, a zen attitude, and being open to going with the flow are essential to lead a successful wellness retreat. As well as being generally attentive to your attendees, keep in mind that you're also holding space for their transformation and healing.

It all boils down to three key things: organization, expectations, and time management.

Organization, Expectation, and Time Management
Design a schedule that is just busy enough, but with plenty of breaks and downtime. Things may change as you get rolling, so be open to going with the flow
Wear a watch and have a pow wow with practitioners beforehand so everyone knows what the organization of the day is and what they can expect in terms of time management
Give attendees a printed schedule so they know what's coming up and what to expect
Create inner peace within yourself and be sure to check in with your stress level frequently. It's a big undertaking to put on a wellness retreat, but don't get caught up in the organization and forget to enjoy the experience yourself
Keep a list of your attendee's food allergies, medical conditions, and special requests to avoid any issues
Allow plenty of time for rest, eating, reflection, and connection. You want your attendees to leave inspired not exhausted
If you want to take photos during the retreat, ask your attendees to sign a release form so that you can use photography on your website and social media. This is also going to help you promote future retreats

If there is substantial travel involved in your retreat (international flights, car transportation, etc) be sure that you give your attendees as much information as possible on arriving at the location and that you're available if they encounter any issues.


Post-Wellness Retreat To-Do's
After the retreat, your attendees are going to float home on a blissful cloud to integrate their healings and teachings into their daily lives.

This is a wonderful opportunity to ask for testimonials, yelp reviews, or anything that can help you promote future retreats and give you a sort of portfolio to show the breadth of what you're capable of putting together and creating.

This is also a great time to share snippets of the retreat with your social media family who were not able to attend.


Share Your Light and Host a Wellness Retreat of Your Very Own!
There has never been a better time to create and support a community of like-minded people. With so much connection happening via social media, many are starved of human interaction.

Holding a wellness retreat is a wonderful way to practice your craft and connect with others who are looking for your magic. Share your light!

Featured image: White Ibiza
This article has been read 9K+ times. Feelin' the love!