The 7 Most Important Qualities to Look for in a Yoga Retreat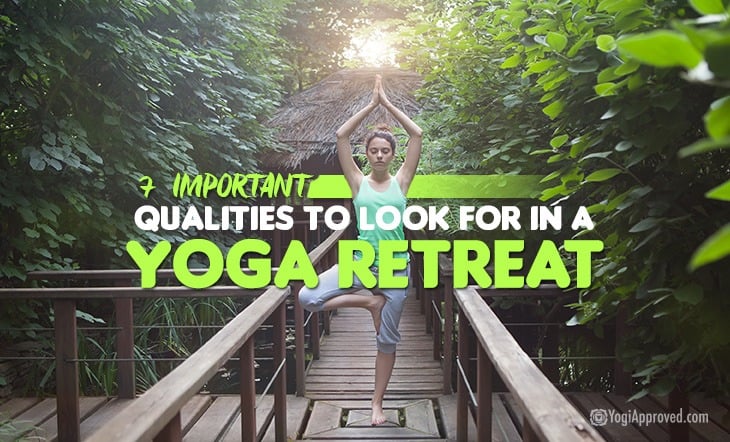 Yoga retreats are unique in that they blend several aspects of the tourism industry. They're one part sports tourism, one part spiritual discovery, one part leisure travel.
While Eastern-oriented holistic sportsters have been quietly retreating for generations, Instagram, Facebook, and Twitter have added hype to the idea of soul-searching yoga adventures.

What's this mean? High demand, high supply, and variable outcomes.

Sans eye rolling, I have experienced personal transformation on a yoga retreat. But I've also felt let-down by instructors and itineraries. With so many options – and expensive price tags – how does a yogi know what to look for in a quality retreat?

As a yoga instructor, retreat attendee, and journalist, I've compiled this list of qualities to look for in a yoga retreat. However, one quality is powerful enough to change the influence of the rest . . .


Here Are 7 Important Qualities to Look for In Your Next Yoga Retreat:
Quality #1: Yourself
The most important quality in a yoga retreat is your intention behind attending. First, identify your desire for yoga and your desire to travel. Set priorities around each, and then search for the retreat that best meets your needs.

We must remind ourselves that setting an intention bears no influence on how we get there. Yogis that get the most from retreats are the ones that let go of their inhibitions, stay open to the activities, and promote an exploratory atmosphere.

Remember that feeling let-down is largely a result of having set unrealistic expectations. Be honest with yourself to find – and receive – exactly what you need.

Quality #2: Down-Dogma
What is the theme, focus, and style of yoga at the retreat? Some retreats are based on diving deep into a single style of yoga. Retreats founded on spiritual principles will focus on meditation and experience. There's friendship-building retreats aimed at certain yoga personalities and travelers.

Retreat planners are very careful to set and clearly communicate their themes. Be sure that you won't spend your time there bored, confused, or nursing sore joints by first researching the yoga style before you commit.

Quality #3: The Others
Again, this quality must relate directly back to the "you" in the retreat. If you're very excited about a particular yoga guru, then yes – travel halfway across the world with them! On the other hand, you might find a stranger provides you the objective soul-searching and anonymity.

The point is that you must decide what kind(s) of instruction you'd like. Feel free to email the planners directly to learn more about the teacher's style, focus, etc.

So many yogis forget that they will be interacting with other retreat attendees. Do you want a silent retreat? Then I advise not choosing one with many group excursions. Read the itinerary description carefully to find out about the social aspects of the retreat.

Quality #4: Time Off the Mat
You love yoga so much that you're willing to spend lots of your travel hours doing it. But even Buddha took time to sit under a tree instead of on a mat. Consider two questions: How much yoga are you willing/able to do in a day? And, how much sightseeing do you want to do?

If you're a seasoned yogi whose closet is half yoga clothes, then I suggest choosing a retreat where its itinerary is based on its yoga classes. Otherwise, choose a retreat that offers yoga only once or twice daily and provides either scheduled activities or free time in between.


Quality #5: Dorm Over a Double
To research this article, I queried a few friends, yogis, and travelers for their top qualities. Nearly everyone mentioned the accommodation. One travel blogger had this to say: "If a private room isn't possible, I'd prefer a dorm over a double."

Consider that you might be tapping into deep-seated emotions, eating different foods, and breathing different air. What situations best help you deal with excitement, physical exertion, and heavy reflection? Find a space that serves you!

Quality #6: Location
Now, if your response to Quality #1 was "travel over yoga," then Quality #6 should probably be moved to the top of your list. If you simply want to focus on yoga, then location doesn't matter.

When most people imagine a retreat, they think of hermits in the woods. But urban retreats show that more studios are trying to honor their regular yogis, embrace their local 'hood, and practice lifestyle-based mindfulness (mindfulness that happens wherever you are).

Consider how yoga interplays with travel within your personal intention to find the best retreat for you.

Quality #7: Price
Even though I list price last, it is important. I've seen yogis run up retreat bills they spend years paying back. I worry about people who spend their life savings on a yoga retreat in hope of profound change. Remember – change comes from within!

Yet, by this point you have established that going on a retreat is important to you. So find the balance. I suggest putting a range on the amount you can spend, including flights. Then, get creative with booking and paying.

Here are a few ways to find price breaks:

One of the most difficult aspects of planning a retreat is marketing it. Offer to help the retreat planners by using your Twitter account, posting flyers at your local coffee shops, and Facebooking event sharing. Many retreats offer a commission or discount in exchange.
Get a friend to join you and ask for a doubles discount.
Use Skyscanner price alerts to be immediately alerted about low-cost flights.
Try to find an all-inclusive retreat, with as many meals as possible included. This makes for easier budgeting!
The Takeaway on Yoga Retreats
The point of going on a yoga retreat is not the retreat itself. Rather, it's what you're hoping to achieve. How will the retreat help you find your inner and outer delight? Yes, pay attention to logistics: the style, the teachers, the leisure time, the accommodation, the location, the price.

But if you don't know enough about "you" before going, then logistics are an unnecessary distraction. Make the most of any retreat by remembering that it's your mat, your yoga poses, and your opportunity. Namaste!

This article has been read 3K+ times. Feelin' the love!