5 Fantastic Yoga Retreats That Won't Break the Bank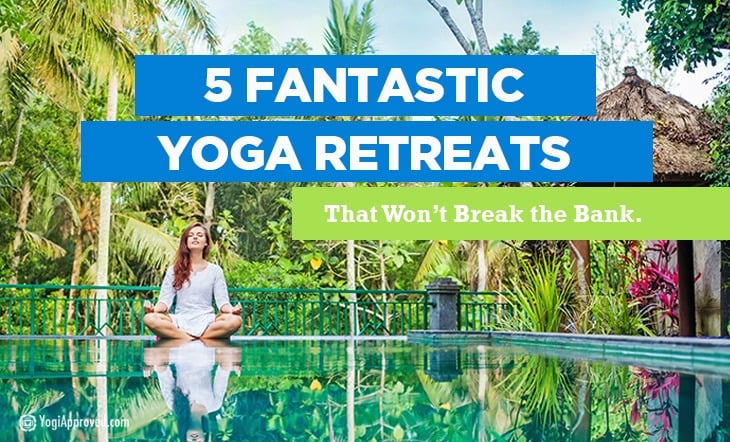 Just picture it: long, leisurely days filled with yoga, relaxing massages to wash away all your stress, and delicious, hand-prepared meals served to you daily as you enjoy a blissful, well-deserved yoga vacation. Sound too good to be true and too much for your budget? We're here to tell you that the retreat you've been dreaming of can be a reality! It just takes a bit of time and research to find one that fits your needs.
There are a few things to keep in mind when you're researching and booking your retreat that will help you stay on a budget:

Location: Think 'off the beaten path.' Less well-known locations are likely to offer better prices and more perks.

Instructors: If you're seeking out the world-renowned yogi, chances are they'll charge more for their expertise.

What's included: Read the fine print — some retreats say 'all-inclusive' but actually offer no free meals. Others offer much more than you might expect.

Share a room: A private bungalow is going to cost more. If you're open to a roommate, you're going to save money.

Here are five fantastic yoga retreats that won't break the bank:
Since there are so many amazing-yet-affordable retreats to choose from, we've handpicked a few that might just be the getaway you're looking for.

1. Pleasant Valley Yoga


Located in the mountains of Northern California, this yoga sanctuary hosts a variety of retreats from yoga intensives to silent retreats. The sanctuary is an ideal getaway from life where living is 'off the grid' and guests can join in daily yoga classes, meditations and scenic day trips.

Their five-day Personal Yoga retreat starts at $200 for a comfortable tent and goes up based on accommodation type. It includes:
Daily yoga sessions
Daily morning and evening meditation sessions
Hiking opportunities through the scenic state park and Yuba River
Scenic views of meadows, foothills, and creeks with waterfalls
Meals prepared with fresh, organic vegetables and fruits
Sacred temple and private cave for spiritual practice
Daily brunch and dinner with snacks and tea
4 nights accommodation
2. Zen Den Yoga School


You won't be stressed about your yoga retreat budget here! Zen Den Yoga School promises a SUP Yoga Retreat that will give you the best of all worlds: yoga, meditation, and beautiful Boca Raton, Florida beaches.

Zen Den Yoga School retreats welcome all yoga levels, and combine classes in the park and on the water. Four day, three night retreats start at $720. The cost includes:
8 mini-detox breakfast and lunch smoothies
Beach accommodations
30-minute massages
1 accupuncture session
SUP Yoga sessions
Daily yoga classes
Meditation instruction
Drum circles
Everglades tours and time to relax on the beach
Complimentary beach bikes to self-tour the area
3. Retreat in the Pines


An all-levels women only yoga retreat in the woods of East Texas, this retreat offers a peaceful sanctuary to those interested in discovering more about yoga. The Yoga Nurture retreat is their most popular and offers plenty of time for yoga, wine and relaxation.

The cost is only $369 per person for a three-day retreat and includes:
Freshly prepared meals
Coffee, hot tea, juice
Complimentary wine with dinner
Shared accommodations
Yoga, meditation, and weekend workshops
Complimentary Retreat in the Pines tank top or t-shirt
4. One World Retreats in Ubud, Bali


The One World Retreats center is a 6-day, 5-night retreat that's more expensive ($1,650) but includes a variety of features. They also offer reasonable package upgrades that include a massage, extra dinners or yoga classes.

The retreat not only includes the expected yoga classes and accommodations, but exotic and unique excursions such as a morning hike for yoga in front of a volcano, or lunch in the nearby rice fields. Cost includes:
Transportation from/to airport and South Bali
6 days/5 nights of comfortable accommodation
15 well-prepared meals
5 morning meditation and yoga sessions – 2 hours each
3 evening restorative yoga sessions – 1.5 hours each
1 evening of surprise yoga sessions – 1.5 hours each
2 Spa treatments
Purification ritual at Tirta Empul temple
Day of Silence
Balinese Offering class and ritual
Yoga overlooking the sunrise behind Batur Volcano
Bicycle excursion (inclusive but optional)
Guided rice field walk
Government tax and services
5. Sivananda Bahamas


Gorgeous beaches and yoga . . . how can you beat that? Sivananda has made it surprisingly affordable by offering the yoga experience as a small fee add-on to stay at the ashram. Their yoga vacation program offers themed retreats with fees ranging from $18-32 per day depending on the time of year and the theme of the retreat.

Housing is designed to meet a range of budget needs from a self-pitch tent to an oceanfront suite. Tents and huts start at $69 and rooms at $99 and up—but the most expensive deluxe suite is still only $147 per night in the high season—what a deal for beachfront luxury! What's included:
Healthy meals
Yoga classes
Community talks and teachings
Meditation
Workshops on yoga, health, and spiritual inspiration
Get Your Yoga Retreat On!
There are so many viable retreat options for any yogi, based on your yoga style, preference, and budget. With so many places to choose from, you're sure to find exactly what you need. So get planning! Which retreat is calling to you?
This article has been read 100K+ times. Wowzers!