Busy Day? These 5 Online Fitness + Yoga Classes Take 25 Minutes Or Less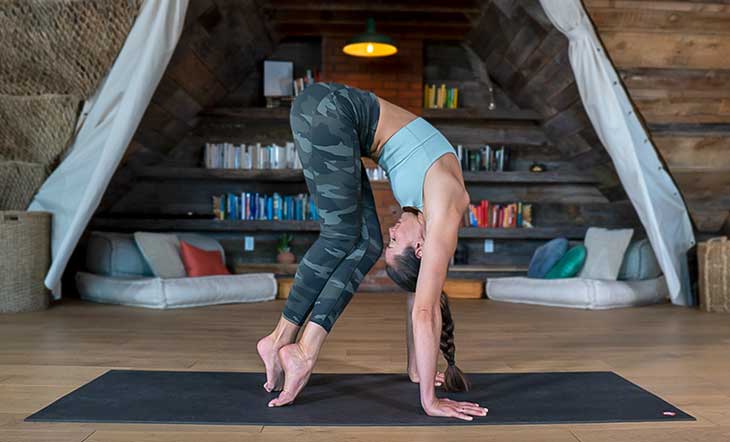 Let's face it: some days we're just too busy for a full-blown 60-minute+ practice. Sometimes, we just need a quick yoga fix to get us through the day.
Whether you use them to calm your nerves before a big presentation at work or to quickly sweat during your lunch break, short yoga classes are sometimes a real gift from above.
If your schedule is jam packed, then you'll love these short and sweet quick yoga classes that only take 25 minutes or less for a full-body workout and a healthy dose of self-care.
Create a Realistic Self-Care Routine With These 17 Simple Practices


Get a Quick Yoga Fix With These 5 Online Yoga Classes That Are 25 Minutes or Less:
You don't need loads of time for these quick yoga practices, but their benefits will last all day long.

1. Abs and Booty With Jennifer Pansa
Yoga Class
With Jennifer Pansa Rohr
If you're running low on time but still want a powerful workout for your core and glutes, then this is the class for you!
This 25-minute abs and booty-focused practice with YA Classes teacher Jennifer Pansa Rohr incorporates challenging and unique movements to strengthen your core and glutes to feel the burn in no time at all.
5 Lesser-Known Benefits of Practicing Yoga Online

2. Hips to Heels With Tiffany Bush
Yoga Program
With Tiffany Bush
It only takes 19 minutes with Tiffany Bush to target and stretch your hips, quads, hamstrings, calves, and feet in this fun, feel-good flow (the 4th video from the 5-video Modern Day Healing program on YA Classes).
Whether you sit all day or spend all your time on your feet, this practice will offer your lower body the tender, loving care that it craves and deserves without taking up all your spare time.


3. Basic Conditioning With Kevin Wathey
Yoga Program
With Kevin Wathey
You don't have to go to the gym to build full body strength! This fiery yet accessible fitness-based yoga class will target and strengthen your full body in 25 minutes.
This online fitness class with Kevin Wathey focuses on strengthening poses and movements to help you build strength and learn the proper techniques and alignment you need for a safe and effective practice.

4. Yogagility With Katie Kasten
Yoga Class
With Katie Kasten
Set to upbeat music, this energizing and challenging online yoga/fitness fusion class with YA Classes teacher Katie Kasten focuses on yoga flows and fitness techniques to improve your coordination and agility.
In just 25 minutes, you'll improve your agility and concentration all while getting a seriously beneficial (not to mention butt kicking) quick yoga workout! Get ready to have fun while you sweat. 🙂

5. Wake and Rise With Denelle Numis
Yoga Class
With Denelle Numis
We've all hit snooze a bit too many times to make it to the studio in the morning. But that doesn't mean you should completely skip your practice!
This energizing, quick yoga flow with YA Classes teacher Denelle Numis only takes 20 minutes, but that's all the time you need to focus your mind, stretch and strengthen your body, and start your day strong with this quick yoga class.


There's Always Time for a Quick Yoga or Fitness Class Online!
In this day and age, time is a precious commodity. But you shouldn't neglect your self-care or personal practice because there never seem to be enough hours in a day.
Getting on your mat or working out for just 10 to 20 minutes a day can create a serious impact. So take just a few minutes out of your day – every day – to sit with your thoughts, follow your breath, and move your body. You'll definitely thank yourself after.
This article has been read 794 times. Share it and spread the love!