5 Online Yoga Classes That Are Better Than Going to the Studio
Let's be real: sometimes you need a little extra motivation or variety to keep you coming back to your mat. An online yoga class is an excellent tool to do just that!
There's no shortage of different teachers, formats, themes and class types to choose from. Whether you want a quick 20-minute flow, a full hour practice, a more challenging class or something to help you relax and de-stress, you can find it on YA Classes by YouAligned.
YA Classes is the online yoga and fitness class platform created by YouAligned.com. Offering beautiful, intentionally designed yoga programs and individual online yoga and fitness classes, the YA Classes library is overflowing with talented and approachable instructors, fun and unique classes, and online classes for all student levels.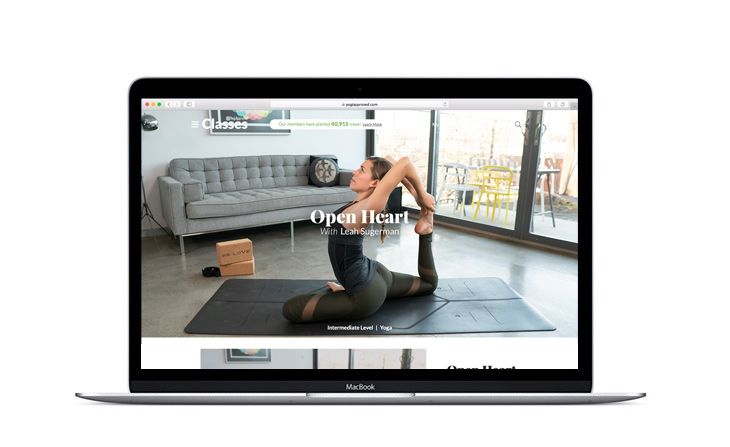 These classes are on-demand, so you can practice from anywhere at anytime. The best part, every time you complete a class a food-producing tree gets planted in Africa with our partner, Trees for the Future.
Try a free 7-day trial to see if YA Classes is a good fit for you. It's only $14 per month after that. Plus there are no contracts, so you can cancel anytime.
Don't want another membership? Try our 5-class punchard option!


Here Are 5 Amazing Online Yoga Classes You've Got to Try:
For less than the cost of most yoga studio drop-ins, you can enjoy these online yoga classes in the comfort of your own home. We may be biased, but it's because we know you're going to love it. 🙂

1. Nature Break (30 Minutes)
Level: All Levels

Yoga Class
With Ashton August
Treat yourself to a break in the middle of a beautiful Aspen grove in the Colorado mountains as Ashton August guides you through a fun yet challenging Vinyasa Yoga flow with a healthy dose of nature.

2. Cardio Vinyasa (30 Minutes)
Level: Intermediate

Yoga Class
With Michelle Stanger
Get ready to sweat in this dynamic cardio-based Vinyasa Yoga class. Michelle Stanger leads you through a flow that builds in intensity with creative variations to familiar yoga poses. This online yoga class proves how effective a home yoga practice can be for a physical workout!

3. Beginner Flexibility (30 Minutes)
Level: Beginner

Yoga Class
With Alba Avella
Great for all levels but designed for beginners, this online yoga class focuses on basic stretches and poses to help you increase flexibility, particularly in the hamstrings and shoulders. Join Alba Avella as she guides you through the perfect yoga practice to revisit and gain flexibility over time.

4. Flow + Fly Low (28 Minutes)
Level: Intermediate

Yoga Class
With Denelle Numis
YA Classes teacher Denelle Numis leads you through a playful flow that weaves in the preparation you need for several popular arm balances like Crow Pose, Side Crow, Eka Pada Koundinyasana, Flying Pigeon and challenging variations.

5. Deep Relief
Level: Intermediate

Yoga Class
With Jennifer Pansa Rohr
Jennifer Pansa brings the most powerful tools of yoga to the table in this incredibly calming, comforting, and grounding yoga class. Use guided meditation, breathwork, and feel-good poses to relax and find deep relief mind and body.


Which Online Yoga Class Is Your Favorite?
YA Classes offers hundreds of beginner to advanced online yoga classes and fitness offerings from Yin Yoga to Barre, HIIT and cardio workouts, sculpt classes, vinyasa classes, and more, you're sure to find a class to fit your needs!
Give these online yoga classes a try and let us know what you think. Please share your feedback (or requests for future classes!) in the comments below. We love hearing from you.

Bonus! Try Our Feel Good Hatha Online Yoga Class
Yoga Class
With Jessica Smith

Explore all of the YA Classes offerings here
This article has been read 20K+ times. Bada bing!