Have You Taken an Online Yoga Class? 5 Reasons Why It Can Be Better Than the Studio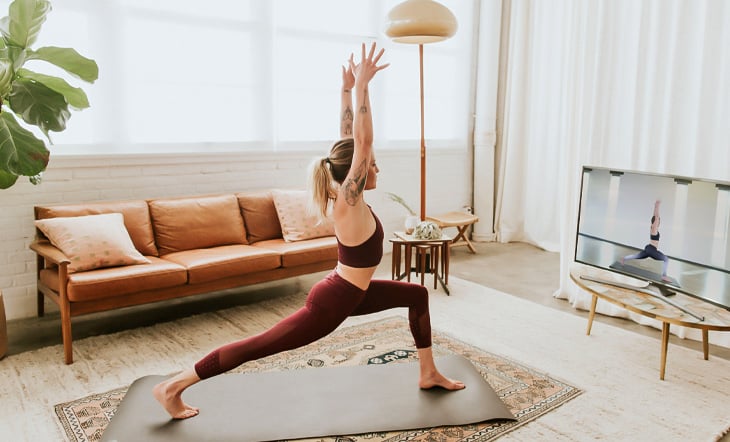 Some people only practice yoga online. Others have never tried an online yoga class. . .
We're no strangers to the yoga commute. The stressful "will I get out of work in time to make it to the class I signed up for?" or "what if I can't find parking!" worries that leave you sweaty and anxious as you tightly grip the steering wheel, willing the stoplight to change so you can make it to class in time.
Nor are we strangers to the exasperated thought of "I literally have no time!" From work to kids to commuting, there are so many reasons yogis might struggle to get their yoga practice in.
Should you just skip it? Of course not!
YA Classes by YouAligned is an on-demand yoga library that offers a huge selection of online yoga classes without the stress that can sometimes accompany an in-studio class.

You can't spell home without OM, right?!

Online yoga classes might seem a little untraditional, but hear us out. They're a perfect option for so many reasons. (You can't spell home without OM, right?!)
Read on to learn why you should drop the commute and roll out your yoga mat at home instead . . .


Here Are 5 Fantastic Reasons to Take an Online Yoga Class:
1. It's Cheaper
Let's face it: a month of yoga at a typical brick-and-mortar yoga studio can cost a hundred dollars or more, depending on where you live. Drop-ins can range from $10 to $25 per class, so if you're going an average of 2-3 times per week, that's $20 – $75 per week.
When you add up the costs of gas for driving to class, parking (or that parking ticket you got when you were too rushed to feed the meter!), your yoga class budget gets lower and lower. And the last thing you need is any more reasons to not go to class.

YA Classes costs just $10 per month for unlimited access to hundreds of online yoga and fitness classes.

However, if you opt for online yoga classes, you will pay a fraction of the cost and have the freedom to practice anytime anywhere with no additional cost or effort. YA Classes costs just $10 per month for unlimited access to hundreds of online yoga and fitness classes, along with $5 drop-ins if you're not ready for the monthly membership.

2. There Are More Options with Online Yoga Classes
Have you ever attended a yoga class that simply wasn't what you were looking for? Maybe you wanted a good sweat, or motivating words from the instructor, but the class you attended just wasn't . . . that.
Want More Variety In Your Yoga Practice? Try These 7 Unique Online Yoga Classes on YA Classes
A yoga studio can only offer so much when it comes to different styles of yoga, and sometimes you have no idea what (or who) you're going to get.
But with a full library of online yoga classes, you can choose whatever it is you're in the mood for. Whether you need to Own Your Power, Open Your Heart, need a quick 20-minute flow to start your day or want a good Cardio Vinyasa, you can find a class that suits your current needs every time.
Yoga Class
With Michelle Stanger
3. Tailor Your Practice to Your Schedule
Sometimes commuting to a yoga studio isn't feasible. Ever heard the saying, "do what you can, when you can"?
Sometimes, you just need that extra 20 minutes of sleep. Other times you have a sleeping baby at home. That shouldn't mean you have to skip your yoga for the day, even when you're short on time.
Whatever the reason, doing yoga online is perfect because it's on-demand, meaning your class is ready for you whenever you are – you're no longer at the mercy of your local yoga studio's class schedule. On YA Classes, you can use the search tool to filter the online yoga classes by length, class type, instructor, and difficulty.

4. You Can Focus On Yourself
It doesn't matter if you're a new or seasoned yogi – it's easy to fall into a comparison trap when you're in class with other yogis. No matter how hard you try or how much you know you shouldn't, sometimes you can't help but look around and compare.
Have a competitive spirit? Group yoga can even cause some of us to push a bit further than we normally would, increasing the potential for injury and also missing the point of the practice, which is to listen to your body and honor where it's at.
When you practice yoga in the comfort of your own home, it removes the outside distraction and allows you to focus solely on yourself, your practice, and your time on the mat.

5. You'll Reduce Your Carbon Footprint
Whether your studio is around the corner or 30 miles away, you're tacking miles on your car every time you drive there. With online yoga, you can do mother nature a favor and skip the drive. Driving uses fossil fuel and puts more carbon dioxide into the atmosphere.

YA Classes plants a tree for every online yoga class you take!

Plus, YA Classes plants a tree for every online yoga class you take, so you can count your yoga practice as two good deeds! Win-win.


Are You Ready to Try an Online Yoga Class?
We want yoga to be accessible to everyone and believe it can be practiced anytime, anywhere, by anyone.
You should, of course, always consider your experience level when selecting an online yoga class, and seek out instructors if you have questions on poses, alignment, or safety. Another great benefit of YA Classes is that you can reach out if you have any questions, and a certified instructor will get back to you!
Online yoga classes are a wonderful option to enhance your practice and allow more freedom in how (and when) you practice. Enjoy looking through our huge variety of classes as you get your OM on at home!
P.S. If you're wondering how to create the space for yoga in your home, you can check out my suggestions for designing your own distraction-free yoga studio at home.
Curious about practicing yoga at home? Try YA Classes FREE for a full week!
Yoga Program
With Kelly Pender
Comment below and share your favorite at-home yoga tips, or ask any questions about our online yoga classes. We love hearing from you!
This article has been read 364 times. Share it and spread the love!