17 YouTube Yoga Channels We Recommend for Free Yoga Videos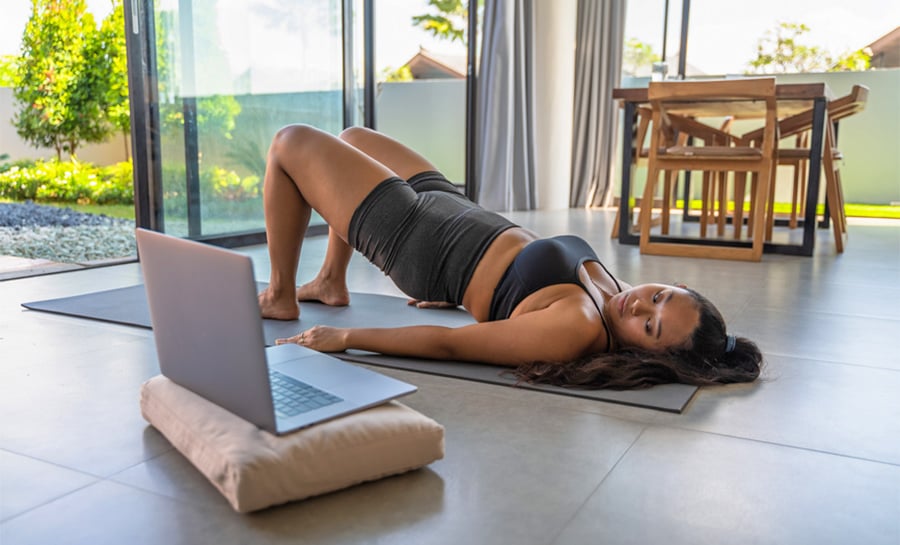 The good news about YouTube yoga channels: there are tons to choose from! YouTube has a lot of great (and did we also mention free?!) fitness and yoga channels.
The downside of this is that it can be overwhelming (and sometimes downright exhausting) to search through the endless videos of fitness and yoga on YouTube. And while there are many amazing instructors out there, the issue with YouTube yoga is that just because it's there doesn't mean it's safe or that the instructor is experienced.
So that's why we've compiled a list of the YouTube yoga channels we recommend so you can save time scrolling and spend more time doing what you came here to do: practice yoga on YouTube!

Looking for Your New Favorite Online Yoga Membership? Look No Further: YA Classes
Did you know YouAligned also has an online yoga platform? YA Classes features hundreds of on-demand classes in yoga, fitness, meditation, and more, and is a great complement to the list of YouTube yoga channels below! Try it out for free for 14 days.
And here are The 13 Best Yoga YouTube Channels You Need to Follow for a Well-Rounded Yoga Practice


Here Are 17 YouTube Yoga Channels for Free Yoga Videos:
Unroll your mat and get ready to explore our favorite YouTube yoga channels for a free, at-home practice.

1. YouAligned
Did you know that in addition to YA Classes, YouAligned has our own YouTube channel? With hundreds of videos led by our top yoga instructors, you have the opportunity to practice with a variety of teachers and yoga styles. The YouAligned YouTube channel also has free online yoga classes and programs like Evening Flows and a 7-day Yoga Strong Challenge.
Expect yoga classes, pose tutorials, how-to videos, and themed playlists to help you find exactly what you are looking for.
This YouTube yoga channel is great for: If you're craving a yoga channel with a variety of experienced, passionate instructors, you found us! Subscribe to our channel and join our family! 🙂
2. Yoga with Tim
Yoga with Tim is all about total body yoga classes taught by Tim Senesi. Tim posts new videos regularly, with practices both in the studio and outdoors.
Whether you're looking for thirty-day challenges, yoga for strength and balance, or even a series on inversions or arm balances, Tim has videos for that. Novices and experts alike will both enjoy listening to and flowing with Tim.
This YouTube yoga channel is great for: Practitioners who are looking for an all-body, challenging practice that's geared towards those already comfortable with a home yoga practice.
Looking for more articles on Yoga, check out our full library of Yoga articles here

3. Yoga with Adriene
Yoga with Adriene has the largest following on YouTube for yoga. Geared towards the beginner practitioner, Adriene gained her huge following by her down-to-earth demeanor and simple approach to teaching. Whether you are new to yoga or you have been practicing for years, the energetic and cheerful Adriene will get you flowing and breathing.
Adriene's engaging personality shines through her videos, and whether you are looking for yoga for weight loss, digestion, yoga for runners, or bedtime yoga, Yoga with Adriene excels at offering a large variety of classes based on a specific need.
This YouTube yoga channel is great for: Beginners. Adriene's slow and simple approach is a great way to get familiar with the physical yoga basics.
Deepen Your Home Yoga Practice Using These 10 Tips

4. Tara Stiles
Tara Stiles is the personal instructor of Deepak Chopra. She has videos focused on Strala yoga, as well as videos by specific target area or theme. Her YouTube channel is organized by sequence type, which includes: Get Strong, Get Flexible, Get Calm, and Bedtime.
As an added bonus, Tara also offers videos showing healthy and delicious recipes like Lazy Pad Thai and Jet Lag Juice.
This YouTube yoga channel is great for: Those who want to learn from a world-renowned instructor who focuses on making yoga accessible.

5. Faith Hunter
Faith Hunter is a renowned and beloved yoga instructor who also champions self-care, wellbeing, and spiritual practices on her YouTube channel. Expect a great variety of videos ranging from morning yoga flows to a gentle, relaxing yoga playlist, guided meditations, affirmation work, podcast episodes and more.
Faith's channel is inspiring, impactful, and offers much more beyond just yoga.
This YouTube yoga channel is great for: Anyone who is interested in guided meditation, breathwork, and journaling in addition to a library of yoga classes.


6. Cosmic Kids Yoga
Cosmic Kids Yoga has yoga videos specifically designed for children. Led by the spunky and inviting Jaime, the videos are themed by things like movies, including Star Wars and Frozen, to animals, such as pigeons and dolphins. The videos range from 15-20 minutes. Cosmic Kids also offers mindfulness meditation for children.
This YouTube yoga channel is great for: Those that want to introduce their children to yoga in a fun, comforting, interactive, and educational setting.

7. SarahBethYoga
SarahBethYoga is another big name in the online yoga world. This yoga on YouTube channel is full of videos ranging from morning yoga, bedtime yoga, vinyasa flow, and numerous sequences for target areas. There are also a selection of tutorial-style videos to choose from.
This YouTube yoga channel is great for: Yoga practitioners who also appreciate a dose of podcast-style videos that cover a broad range of topics on yoga and healthy living.

8. Fightmaster Yoga
Fightmaster Yoga was founded by Yogaworks teacher trainer Lesley Fightmaster. This channel has an expansive collection of yoga disciplines and videos, from yoga sequences targeted at specific areas (hip openers, low back pain, stiff neck) to full-body flow videos.
With hundreds of yoga videos to choose from, if you vibe with Lesley Fightmaster's style, then you have a lot of content to keep you going.
This YouTube yoga channel is great for: Any level practitioner who seeks an abundance of yoga videos from this particular instructor.

9. Ali Kamenova Interval Yoga
Ali is a Los Angeles-based yoga teacher who merged power and vinyasa-style yoga with HIIT interval training to create a practice that is both fast-paced and fun. This YouTube yoga channel combines Power Yoga with added cardio for a challenging yoga-based workout.
This YouTube yoga channel is great for: Yoga practitioners or athletes who want fast-paced, heart-pumping, challenging yoga sequences that clear your mind while strengthening your body.

10. Sadie Nardini
Sadie Nardini is a renowned yoga instructor, author, and lead singer of her band. Her advanced anatomy knowledge shines through in every one of her videos which include shoulder stretches, core strengtheners, and hip openers.
The tagline on Sadie's YouTube channel? Flow, cardio, strength, fierce expression over 40. She created The Yoga Shred™, a blend of yoga and safer High Intensity Interval Training (HIIT poses).
This YouTube yoga channel is great for: Women over 40 who practice yoga, anatomy junkies, and anyone who wants to kick up their yoga practice a few notches.

11. SeanVigueFitness
Equipped with a baseball hat and sneakers, Sean Vigue is perfect for men interested in yoga and caters to male athletes who want to augment their fitness routine. Sean offers a 30-day beginner training program and specializes in ten-minute sequences for those who are short on time.
This YouTube yoga channel is great for: Men looking for a teacher to guide them through their beginner yoga practice while still challenging them physically.


12. Patrick Beach
Patrick Beach is a yoga instructor and teacher trainer who has gained a substantial international following over the past decade of teaching around the world. He is the co-founder of Awakening Yoga Academy, his yoga teacher training program founded with Carling Harps.
This YouTube yoga channel is great for: Patrick Beach fans, male yoga students, and anyone looking to diversify their yoga strength training and deepen their practice.

13. Kino Yoga
One of the more well-known names in yoga, Kino MacGregor is a yoga teacher, author, founder of Miami Yoga Magazine, and OmStars. Kino's YouTube yoga channel is an encyclopedia of yoga poses and full length yoga practices with a heavy focus on Ashtanga Yoga.
This YouTube yoga channel is great for: Ashtanga Yoga lovers.

14. Nicole Wild
Based in Montana, Nicole Wild also travels for retreats, workshops, and trainings. Her YouTube channel is beautifully curated, with a focus on settings that are pleasing to the eye along with unique yoga flows that challenge you.
This YouTube yoga channel is great for: The yoga student who appreciates a curated aesthetic and uniquely challenging Vinyasa yoga classes.

15. Bad Yogi
Erin Motz is the founder of Bad Yogi, the perfect channel for anyone who appreciates what she stands for: "that yoga is for everyone, from the kale-loving vegan to the prize-winning deer hunter." Erin is personable and offers vlogs, meditation videos, in addition to yoga sequences.
This YouTube yoga channel is great for: Those who want a dose of realism with their yoga practice and who appreciate authenticity in their practice as well as their teacher.

16. EkhartYoga
EkhartYoga is Europe's largest online yoga website, and their YouTube channel features different styles of yoga including Hatha, Vinyasa, Ashtanga and Yin Yoga. There are videos for pregnancy, seniors, weight loss, energy, core strength, and a lot more.
This YouTube yoga channel is great for: Anyone and everyone! They have everything!

17. SOMA Breath
The physical asana practice is just one part of yoga. Breathwork and meditation are also important aspects of a yoga practice, and that's where SOMA Breath comes in. With a heavy focus on guided breathwork, you can also find guided meditations, Yoga Nidra videos, explanations of how certain forms of breathwork actually impact the mind and body, and more.
This YouTube yoga channel is great for: Anyone interested in expanding their yoga practice and wellness journey by exploring breathwork and guided meditations.


Enjoy These YouTube Yoga Channels
Practicing yoga on YouTube is a great way to maintain a consistent practice. Free yoga on YouTube is an accessible way to explore the many amazing instructors, formats, and offerings out there from the comfort of your own home.
All you need is a good WiFi connection and keyword searches (i.e. "restorative yoga," "beginner's yoga," etc.), and you are well on your way to a custom yoga routine that will match your needs and desires.
What are your favorite YouTube Channels or other online resources for free yoga videos? Share it with us in the comments and we'll be sure to check it out.
Have you subscribed to the YouAligned YouTube channel? Stay up to date on all of our latest yoga pose tutorials, free yoga sequences, curated yoga playlists, free yoga programs, and more!
Already love the free online yoga classes you've explored on the YouAligned YouTube and want to try out our premium YA Classes membership? We offer a two-week free trial. Try it out here.
This article has been read 10K+ times. Bada bing!