These Are the Top 6 Summer Fitness Trends of 2019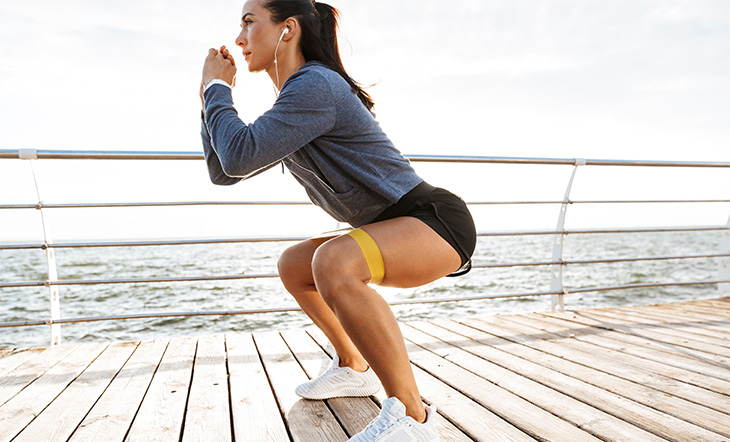 Summer fitness trends merge the most popular summer workouts with current fitness trends, and we've gathered the top trending workouts of summer 2019.
Getting (and staying) motivated to work out during the hot summer months can be a challenge for many of us.
If you're struggling to find the time and energy to stay fit, there are some fun new fitness trends you can try this season. And, the best part is you don't even feel like you're working out!
The secret to keeping your exercise game strong? Mix things up. Exercise is not a one-size-fits all approach, so you want to find the workout that's best for you this season.


These Are the Top 6 Summer Fitness Trends of 2019:
Check out these six trending summer workouts. Which one is calling to you??

1. Online Streaming
Online streaming classes are great if you're traveling this summer, or busy having fun in the sun when you'd normally go to a regular class or the gym. There's no room for excuses when you can workout from the comfort of your own home.
Whether you're into Pilates, yoga classes, or HIIT, many instructors offer live, interactive online classes and there's usually a free trial period so you can see which platform is the right fit.
Did you know YouAligned has an online yoga and fitness class app called YA Classes? You can download the YA Classes app and take your practice on the go. Access classes from your computer, tablet, phone and TV. Try a free class today.

2. Resistance Bands
Rock out with the band this summer! Perfect for the busy traveler or working parent on-the-go, resistance bands are portable, travel-size fitness gear that be used anywhere.
Not only are resistance bands lightweight and easy to pack, they provide an effective full-body workout. Ranging from back and chest to lower body exercises, this multipurpose equipment will help enhance your flexibility, increase your strength and burn calories.
On your next trip, stretch and strengthen on the go with your resistance band and these 9 Yoga Poses You Can Do On the Airplane


3. Peloton
This season it's all about the Peloton bike. With a variety of live and on-demand classes, there's something for everyone to enjoy. The in-depth ride metrics help you track your progress and compete in real⁠ ⁠time with everyone who has taken the ride live and on-demand.
You can also enjoy a group workout from the convenience of your home and bike with a community who will inspire you to perform at your best.

4. Bodyweight Training
Bodyweight training has become a popular summer fitness trend for its convenience and effectiveness. No fancy equipment or expensive gym memberships required. This type of workout is simple because it's using only your body in moves like push-ups, pull-ups, sit-ups, etc to create resistance and build full-body strength.
When it comes to building your strength, this type of training is a great place to start and brings you back to the basics. It's also an easy type of workout you can do in your hotel room, and on your own schedule which often fluctuates and changes during the summer months.
Check out these 6 Exercises for a Full Body Workout at Home

5. Dance-Inspired Cardio
If you're looking for a calorie-burning good time, you'll definitely want to try dance-inspired cardio. For 45 minutes to an hour, you can lose yourself in the pleasure of movement and reap all the benefits of cardio in the process.
Don't worry if you can't move your hips like Shakira (most of us can't!). There are classes for all skill levels and musical preferences whether you prefer the more established Zumba or want to blend dance, yoga and plyometrics with Buti Yoga.
Get your groove on and try dance cardio workouts at 305 Fitness, BollyX, or if you can't make it to a class in person, try this 30-minute Tribal Cardio Dance class on YA Classes.


6. Mirror
What if you could turn your living room into a group fitness class? Mirror is perfect for people who love classes, but have a busy schedule and looking for a fun way to stay fit. There's an instructor to push you and you can train live with others to get that motivational group workout experience.
Whether you're into cardio, strength training, yoga, barre or boxing, Mirror has a workout to meet your fitness goals.


Which Summer Workout Fitness Trend Is Your Favorite?
During the summer months, many of us have vacation and relaxation on the brain. While it can be challenging to maintain healthy habits, there are many fitness trends that are fun yet effective.
Try these summer workouts to stay on top of your health – your mind and body will thank you!
Which summer fitness trend are you most interested in? Any summer workouts you love that didn't make the list? Please share in the comments below – we love hearing from you!
This article has been read 746 times. Share it and spread the love!