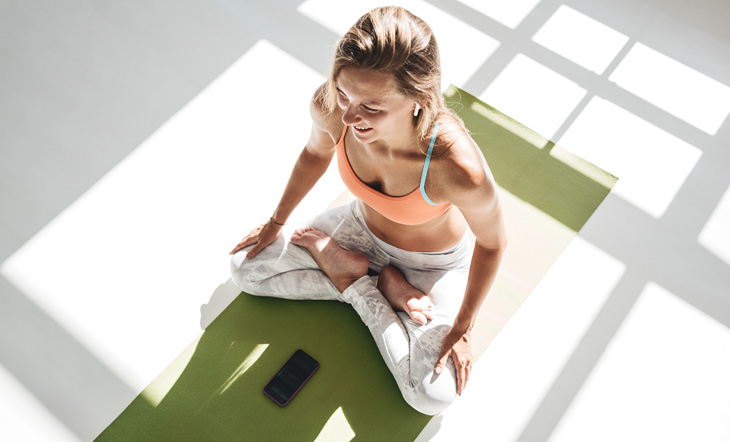 5 Wellness Apps That Should Be On Your Phone
These days, our phones are with us pretty much everywhere we go, keeping us on track with (or distracting us from!) work, our families, and our schedules. And when it comes to health, there's a wellness app for everything.
Many fitness apps even have filters that allow you to select exactly what you need in the moment. Have 20 extra minutes between work and daycare pickup? Find a 20-minute yoga class in an instant, or do a 10-minute meditation to de-stress from your day.
By limiting barriers like cost, location, opportunities to attend gyms or classes (and time spent traveling), smartphone apps can give us more opportunities to live our happiest, healthiest, and more productive lives.
With so many choices, sometimes the hardest part is finding the right apps. Read on to find our recommendations for the best wellness apps for your healthy lifestyle.


5 Best Wellness Apps That Will Transform Your Lifestyle:
1. AllTrails: Hike, Run & Cycle
Take your exercise outdoors! With AllTrails, you can find trails for running or biking and hiking opportunities near you – which is an extra bonus if you're traveling and looking to explore while getting your sweat on. Plus, there's a GPS tracker to help you find your way!
The community aspect of this top health app makes it even more fun. You can see photos and read reviews from other users, follow friends, and keep track of all your adventures in one place.
Learn more about AllTrails.

2. Headspace: Meditation & Sleep
With Headspace, you can select meditation based on what you're looking for help with, whether that's falling asleep, stress-relief, or personal growth.
You can select "mini meditations" or 2-3 minutes or longer focused meditations. They've even added training videos that offer support while exercising!
Learn more about Headspace.
3. Shine: Self Care
Mental health is an important part of wellness, and the Shine app does its part to give you a researched-backed boost of calm. With daily affirmations and motivational messages, you'll be in a better position to start each day feeling more grateful.
You can even complete a program called Shine Challenge to help you work through goals with more compassion for yourself and your journey.
Learn more about Shine.
Want more self-care inspo? Try These 6 Essential Self-Care Practices That Will Help Reduce Your Anxiety

4. YA Classes: On-Demand Yoga
Did you know YouAligned has an app?! We recently launched the YA Classes app, and couldn't leave ourselves out of this list! Access our library of hundreds of on-demand videos you love, including yoga, barre, Pilates, meditation, strength, and on-the-go fitness programs for all levels.
(And don't worry . . . we still plant a tree for each class you take!) We add new classes regularly so you'll always be challenged and excited to explore your options. You can even download unlimited classes to play offline – no wifi no problem!
Download YA Classes today and see why we're rated one of the top yoga apps in the world!
5. HabitMinder: Creating Healthy Habits
If you're the type of person who loves checking items off a to-do list, you'll list HabitMinder. Decide on the healthy habits you want to complete (like drinking water, exercising, standing up at your desk, or meditating), set a goal, and track your progress with a quick tap in the app.
It provides an extra boost of satisfaction when you complete each goal and see it reflected in your stats!
Learn more about HabitMinder.


Best Wellness Apps Can Complement Your Healthy Lifestyle
The attachment to our phones tends to have a bad reputation when it comes to our health, but we can use them to support our health and wellness if we know the best wellness apps to use!
Whether you're traveling, need a meditation break, want to take your workout outside or just want a little help remembering to drink water, wellness apps can help us stay on track with our health goals.
Need an extra boost of wellness motivation? Try These 8 Ways to Boost Your Mental Health Today (And Keep It That Way)
Comment below and share your favorite apps with us! We love hearing from you!
This article has been read 4K+ times. Feelin' the love!