Meet Yogi Bryan: YA Classes Teacher Highlight Series (Interview)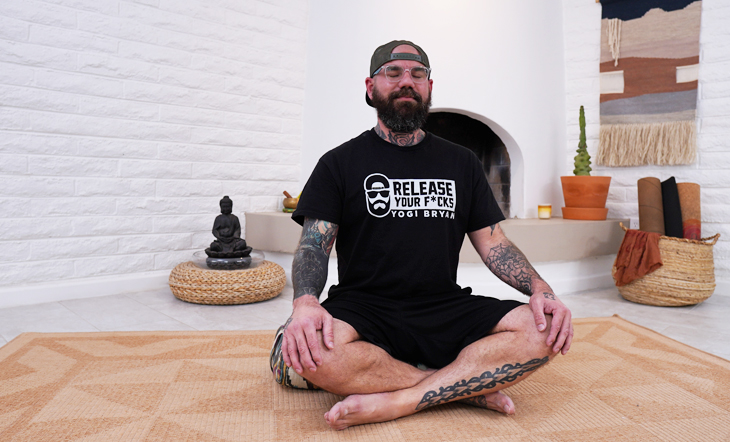 In our YA Classes Teacher Highlights, we feature one of our OM-azing 😉 instructors and interview them so our members and readers can get to know them.
This month's teacher highlight is Yogi Bryan.
Yogi Bryan's mission is "to share my practice of yoga and meditation in a humorous way so people can develop a healthy body and peaceful mind. I love sharing my practice."
Interestingly enough, Bryan never intended to become a yoga teacher. It all happened on accident by starting an Instagram account to make fun of yoga . . .
Yogi Bryan shares his yoga journey:
"I started the instagram account because I saw a friend on Instagram posting random yoga pictures for a yoga challenge she was doing for her yoga studio. She was doing yoga poses on her kitchen table, bed, counter, and I thought it was ridiculous. I was like, I'm going to make an account to make fun of the yoga community.
As I began posting funny yoga content my Instagram grew so I decided to join a yoga studio to learn more about yoga so I can make fun of yoga more. Soon I fell in love with yoga. I enrolled in yoga teacher training and the rest is history.

The one thing that is super important to me is holding space for students. – Yogi Bryan

As a student I continue to learn more and more about yoga, meditation, and philosophy. The one thing that is super important to me is holding space for students. Holding space for students to heal and grow on their own. Students are the ones coming to class. They are doing the work. They are healing their bodies.
I want to be the teacher that holds space for them so they can transform into their true authentic powerful self."
Want to learn more about this incredible yoga instructor? Read on 🙂


Get to Know Your YA Classes Teacher: Yogi Bryan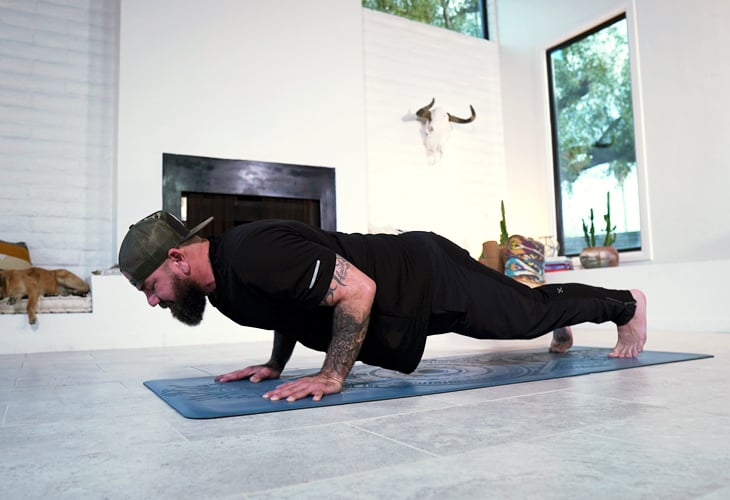 We sat down with the one and only Yogi Bryan for a Q+A session so YA Classes members and YouAligned readers can learn more about him.

1. YA: What's one yoga necessity that you can't live without?
Yogi Bryan: I can't live without nag champa incense. If I'm doing a home yoga or meditation practice it's guaranteed I burn nag champa.

2. YA: What's your go-to song or music genre when you teach (or practice)?
Yogi Bryan: My go to genre is anything from Nicola Cruz, DJ Taz Rashid, or Sol Rising. I prefer music with no words so I can get into the flow of things in my head.
International Yoga Musician DJ Taz Rashid Shares His Story AND His Music (Interview)

3. YA: What's your favorite yoga discipline to practice? To teach?
Yogi Bryan: I can't live without Yoga Nidra. I absolutely love the relaxation and insight Yoga Nidra brings me in my practice.
Psst! Our students are LOVING Yogi Bryan's Yoga Nidra class on YA Classes!

Yoga Class
With Yogi Bryan

These 8 Benefits of Yoga Nidra Will Make You Want to Practice ASAP

4. YA: What's your favorite yoga pose? Least favorite?
Yogi Bryan: Pigeon Pose is my favorite pose of all time right now. It gets all the emotions out of me. Writing this makes me want to do it more. I hold a lot of tension and stress in my hips. Pigeon and any hip opener is a great relief for my Aquarius mind.
Eka Pada Kapotasana: How to Practice Pigeon Pose for All Levels of Mobility (Photo Tutorial)
But, my least favorite is Frog Pose because my hips are so tight!

5. YA: When were you first introduced to yoga? Was it love at first asana?
Yogi Bryan: I was first introduced to yoga when I had plantar fasciitis back in 2011-ish.
I was overweight and had terrible muscle pain. I was told by a doctor that I had fibromyalgia at this time. I ended up buying a Rodney Yee AM Yoga DVD. I loved this DVD because it was 20 minutes long, I could do most of it lying down, and it wasn't hard at all.
After practicing yoga with this Rodney Yee DVD, my plantar fasciitis went away. I felt better emotionally and physically. Also I lost weight but I didn't stick to it. I didn't get serious with yoga until 2016 when I made an Instagram account to make fun of yoga.
The Instagram account became popular so I decided I should join a yoga studio to make fun of yoga more.
I ended up falling in love with yoga after practicing consistently at the studio so I signed up for Yoga Teacher training and the rest is history. Yoga transformed my life and I keep going deeper and deeper down the rabbit hole.

6. YA: What's your most embarrassing moment, either teaching or in life?
Yogi Bryan: This was a tough one for me. I put myself out there a lot on public platforms so I feel I'm comfortable with being embarrassed.
One instance I can remember is during the first couple months of teaching, the door to the yoga room was caught accidently. It was one of those sliding barn type doors and it wouldn't open. I was stuck with 20 plus students in the room until someone from the outside let us out.
It was about 5 minutes of sheer terror feeling super embarrassed but I cracked some jokes during the time.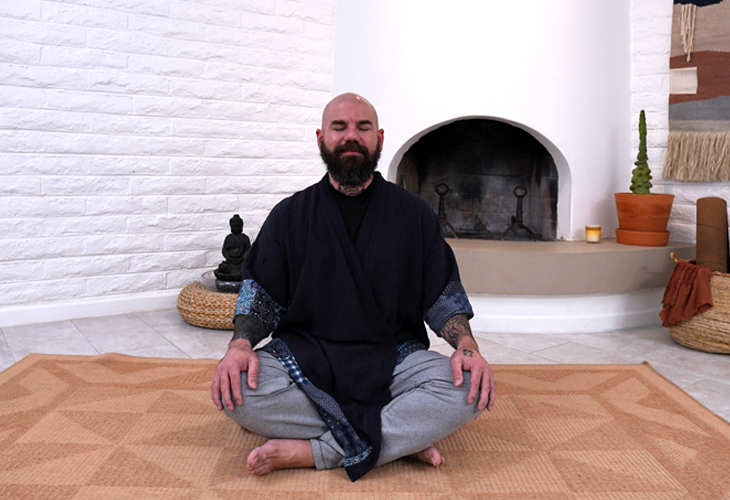 7. YA: What's your #1 piece of advice for yoga students?
Yogi Bryan: The #1 piece of advice for yoga students is to listen to their body. Really listen to your body. Your body always knows the answer.
If you feel sharp pain then it's your body telling you to get out of the pose. Stretch and tension is good but sharp pain is your body saying hey it's time to stop. LISTEN TO YOUR BODY.

8. YA: What's your favorite resource for inspiration (teacher, podcast, book, IG account, etc)?
Yogi Bryan: My favorite teachers are: Rodney Yee, Adi Singh, Ashton August, Bryan Kest, Davidji, and David Snyder. Rodney Yee since I started my yoga journey with him. I love his videos to this day.
Adi Singh is a local Kundalini Yoga teacher in Phoenix, Arizona. He really helped me with starting a spiritual practice with yoga. I love Kundalini.
Ashton August because I found her on YouTube with her amazing Sun Salutations class, which I used a lot when I first started.
Bryan Kest because I love Power Yoga. Bryan inspired me to start a consistent meditation practice after going to one of his live Masterclasses.
Davidji because he was my go-to meditation guide when I started my meditation journey.
How to Live with Purpose: An Interview with Meditation Master Davidji
David Snyder because as I developed a deeper meditation practice I realized meditation was putting myself into a trance. David helped me with hypnosis and NLP (neuro linguistic programming) which drastically affected my meditation practice.

9. YA: Aside from your own, what's your favorite YA Class?
Yogi Bryan: I'm a fan of Ashton's Breath to Motion class. That has been my go-to lately.
Check Out Some of Fellow YA Classes Teacher Ashton August's Offerings

Want to connect more with Yogi Bryan?
Yogi Bryan has a big and fun presence on social media. If you love his classes, you will love his channels! And likewise, if you love his social channels, then you will love his online guided meditation, breathwork, and yoga classes on YA Classes!
Find Yogi Bryan on Instagram, TikTok, and Facebook. You can also check out his website here.


Take a Class Online With Yogi Bryan
Take Yogi Bryan's popular Centered Not Censored class on YA Classes. It incorporates NLP (neurolinguistic programming), a few F-bombs, and a whole lot of presence!
Meditation Class
With Yogi Bryan
Not yet a YA Classes member? You can try it out free for 14 days!
This article has been read 658 times. Share it and spread the love!