Meet Tiffany Bush: YA Classes Teacher Highlight Series (Interview)
Every month in our YouAligned Teacher Series, we highlight one of our YA Classes teachers. This month's teacher highlight is Tiffany Bush.
Yoga found Tiffany after she graduated from college with a degree in Sociology. Not entirely sure where to go from there, she considered becoming a personal trainer. In between her gym sessions, she'd practice yoga via YouTube videos and quickly discovered that yoga was what she was looking for all along.
Soon after, she became certified to teach 'Yoga Fit' in a gym setting. Since then, she has a earned a variety of certifications ranging from Restorative, Trauma-Informed, Kid's Yoga, and most recently, Merge.
Outside of working in an office setting, Tiffany also leads yoga retreats and workshops to help people find the tools to heal themselves through self-discovery. She is a big believer in the power of community.
Ultimately, Tiffany teaches because in the past she has struggled with how to fit into the world. She believes that yoga helps us remove the veil that makes us feel we are separate, so that we can show up authentically in our power – with our own unique gifts and strengths.
Tiffany is best known for her unique teaching offerings and her authentic, down to earth vibes. She has several online yoga classes and a full online yoga program for YA Classes members.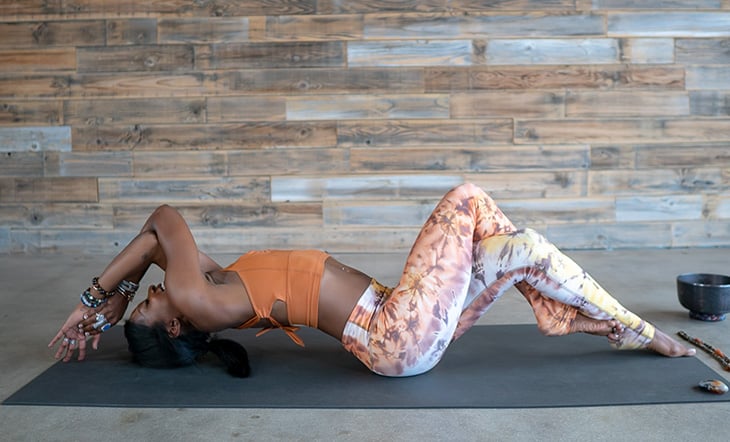 Get to Know Your YA Classes Teacher: Tiffany Bush
We sat down with Tiffany for a Q+A session so YA Classes members and YouAligned readers can learn more about her.

1. YA: What's one yoga necessity that you can't live without?
Tiffany: One of my teachers told me that you do not need anything to practice yoga (literally, just your body will do), and it is so true! But if I had to choose, I would say I love my Manduka Pro mat and my Gaiam travel mat.
2. YA: What's your go-to song or music genre when you teach (or practice)?
Tiffany: I love soul, indie-rock, and new age funk!


3. YA: What's your favorite yoga discipline to practice? To teach?
Tiffany: I love to practice and teach slow mindful flows that incorporate a balance of strength and flexibility.

4. YA: What's your favorite yoga pose? Least favorite?
Tiffany: My favorite yoga pose is Headstand and my least favorite is Warrior 1, because for me (and many bodies) it's just awkward to get into and hold in proper alignment.

5. YA: When were you first introduced to yoga? Was it love at first asana?
Tiffany: I was first introduced to yoga at Gold's Gym in 2013. Yes, it was so much love at first sight – like, where have you been all my life, yoga?!
I now teach yoga at a gym because I know how valuable it was for me to find a spiritual teacher in a gym setting!

View this post on Instagram
6. YA: What's your most embarrassing moment, either teaching or in life?
Tiffany: I feel like I am constantly embarrassing myself . . . haha. I would say the most funny experience was when I was teaching my final for my yoga teacher training program and someone let out the loudest fart! I was able to weave it into the lesson – even better – haha!

7. YA: What's your #1 piece of advice for yoga students?
Tiffany: Let it go! Your ego, your expectations, your sense of competition – let it go and focus on your breath . . . that is all that really matters.

8. YA: What's your favorite resource for inspiration (teacher, podcast, book, IG account, etc)?
Tiffany: I love to read, so I draw inspiration from many books like Radiance Sutras by Lorin Roche, Warrior of Light by Paulo Coehlo and Awakening Shakti by Sally Kempton.
I also love using Instagram – I follow #yogatutorials and the other YA teachers for inspo!

9. YA: Aside from your own, what's your favorite YA Class?
Tiffany: The Merge Program with Crystal Palermo has broadened my horizons on fascia and movement, and I love learning new things.
That is what makes YA so interesting – we have such a cool variety of teachers and methodologies, and that means a lot!
Yoga Program
With Crystal Palermo
A Big YouAligned Thank You to Tiffany for Her Amazing Interview!
Tiffany's teaching is rooted in self-awareness, spirituality, and inspiration. She's a community-based yoga instructor with a warmth and authenticity that is palpable. We are honored to have her on our team of incredible YA Classes teachers!
Want to connect more with Tiffany?
Find her on Instagram @tiffanybushyoga and check out her classes on YA Classes. Click here to practice with Tiffany in her latest YA Classes program, Modern Day Healing!
Take this FREE Class With Tiffany
This is the Low Back and Core class from Modern Day Healing, Tiffany's 5-class yoga program on YA Classes

Not yet a YA Classes member? You can try it out free for 7 days!

More Classes with Tiffany
This article has been read 578 times. Share it and spread the love!