Interview With Adriene Mishler of the YouTube Channel, Yoga With Adriene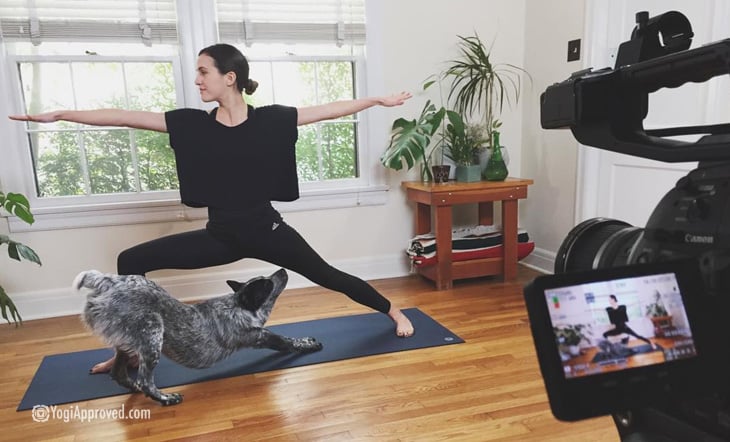 Every month we highlight a yogi that we think is making the yoga community a better, more uplifting and positive place. This month's yogi is the inspirational Adriene Mishler.
If you've ever Googled "yoga video" you've seen Adriene Mishler. Her YouTube channel, Yoga With Adriene, has over 2 million loving subscribers; probably because her fun, energetic, genuine personality is likely to leave a smile on your face and make you feel like you just found your new favorite yoga teacher.

Adriene has a lot going on. Besides her YouTube channel, website and yoga classes, she is a working actress in commercial, stage and film. On top of all that, she took some time out of her day to tell us about her life.
Here is Adriene Mishler…
(YA) What's your sign? What do you feel that says about you?
(Adriene) I am a Libra. I used to really be into the zodiac but I have kind of loosened my grip on all that. I love to be around people and I've always loved to be the hostess. I find comfort in making sure everyone is comfortable. It's important for everyone to be happy or feel welcome in order for me to find ease and enjoy myself.

I'm always introducing people at parties and making sure everyone knows each other. We have done two yoga meet ups (one in NY and one in LA) and both have been hosted by YWA and essentially set up our team of two – Chris and I. I think that is cool. On the road, I am the person sweeping the floor and lighting the candles and making sure everyone fits. It feels personal and I like that.

I also love to set up the room for my regular classes, making sure the room feels beautiful and welcoming wherever we may be. It's very important to me that yoga is affordable and that everyone feels welcome. As we know, the hardest part is getting on the mat or arriving at a class. I try to create an environment that is creative and fun-loving so more people show up for themselves.


How and when did you first find yoga? Was it love at first asana?
I grew up in theatre and dance and was introduced to Yoga at a young age – but I was 18 when I took a college course Kundalini yoga class and fell in love. That led me to take classes outside of the university and shortly after that I enrolled in a 200hr Hatha Yoga teacher training.

I fell deeply in love with the magic of yoga and felt good on my mat. I was young, agile and had the world ahead of me. Yoga was there for me during my first big break up and now recently there for me after the passing of my dog of 10 years. Yoga has had my back. Originally I thought teaching yoga would simply be a (very healthy) side job as I grew my acting career. It sure beat being a waitress or a bartender at the time. I'm blessed to have stuck to my guns and manifested my two dream jobs.

I really do believe my two career paths could not be happy or fruitful without each other. My practice balances out the grind of the film and commercial industry – for sure. My theatre training has no doubt assisted me in letting go on my mat and now on camera for the YWA channel and sharing the tools of yoga with others.

It's an awesome lesson in gratitude and trusting that it's all connected baby – because it IS. I surely could not be evolving in these two jobs professionally without the amazing and beautiful support I've received along the way.


What made you decide to start your amazing Youtube channel, Yoga With Adriene
The channel was not my idea but the awesome idea of my business partner and friend Christopher Sharpe. Chris and his wife Hilah have a successful (and brilliant) YouTube cooking show called Hilah Cooking. Chris is super creative and super smart. We met working on a film of his years prior.

After the cooking show was up and thriving he knew he wanted to do something in health and wellness next and approached me about YOGA. Together we explored ways to bring yoga to the tube in a way that was fun and inviting. We both aimed for videos that truly inspired you to do something nice for yourself.

Chris and I make a good team and I am so grateful for the invitation to collaborate. We have so many cool things in store! I'm excited for the potential of the channel and the amazing community.


What is your favorite type of yoga class to TAKE and why?
My favorite class varies. What kind of mood I am in, where my body is at, what my week or weekend is like or what the weather is. I love all kinds of classes and think its great to change it up in order to practice listening and becoming the one in charge of your own happiness. Sometimes I like to go to what I call "yoga gym" and throw in some weights and sometimes I like to rock out with some deep breathers and feel the joy swirl around the room. And sometimes I prefer to light a candle at home and just see what happens.


What's your favorite movie?
What?! What does this have to do with yoga?? This is a hard question!!! Just kidding. But it is a hard one! One of my favorite movies is My Man Godfrey with William Powell and Carole Lombard.

Ever since it was introduced to me I return to this movie with such fondness. It's a great sick day film. I love all kinds of movies though and work in the movies when I can. I'll be shooting a little something this Oct. I look forward to it and love being on set and talking about yoga with various people. It's sweet.


Why is yoga becoming so popular? Do you think there is a shift in consciousness going on or is it because yoga pants are so hot right now?

Ha!

I think everyone wants to feel good and at our core I really do believe we all want to do our best. I think the principles of yoga can empower you be authentic and be the best version of you. Yoga teaches us to enjoy the journey and through that I think we can stop worrying about the things that don't serve us (like tight yoga pants for instance) and get back to what really matters – loving ourselves and serving others.

Also, I'd like to note that this journey can and should be fun! Unique and different for everyone as we roll out the mat and do the work. It's all about the practice and if the practice is fun and feels good- you will return.


What was the last song you listened to and listened to… and listened to?
I'm listening to my boyfriend sing a song and play guitar as I write this from my desk at home. I don't think it is an actual song – I think he is just goofin'. But often if he picks up a guitar it is to play Bob Dylan's You Ain't Goin Nowhere. I can listen to him play that song over and over and over again.


What is your favorite quote or inspirational mantra?
Find what feels good.

"Find What Feels Good"
What is the biggest thing that has changed in your life since starting YWA?
I've learned that taking time for myself is important. Taking good care of myself so I can take good lovin' care of the ones I love. Serving myself so that I can better serve others. Also -I have learned to laugh it off more and trust the process and the big picture. Yoga reminds me to surrender.

Since starting the YWA channel I have learned to aim for always being myself. Some days it is hard and I feel vulnerable but ultimately it is good for me and even good for business to just be myself. It is my intention that my being true to myself on the mat I am encouraging others to do the same. No more yoga robots! I am a cheerleader for being authentic, finding what feels good and always doing your best.


You can get more of Adriene by following her YouTube Channel or following her on Twitter or Instagram. You should also check out her impressive acting resume here. 
Did you like this article? Sign up for our newsletter and get yoga articles like this and more straight to your inbox every Monday.
This article has been read 60K+ times. Hot damn!