Yogi Highlight: We Interview Bisexual Entrepreneur and Activist Sarah Branson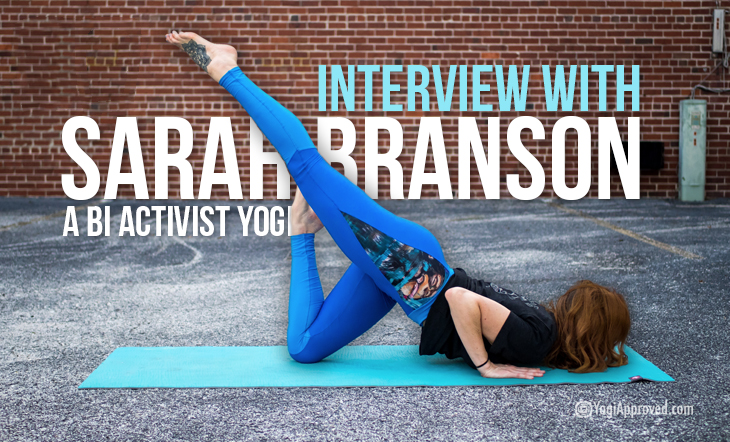 Sarah Branson is a bisexual activist yogi and badass entrepreneur . . . and also a yoga teacher, massage therapist, and mom based out of Orlando, Florida.

Her past is filled with addiction, illness, and abuse, and at one point in her life she came exceptionally close to dying after a battle with anorexia. She wasn't sure where she was going, how she would get there, or what her purpose was.

Then yoga happened. When she was 17, Sarah found yoga at home with Rodney Yee DVDs. She realized she can't always control what happens to her, but she can control how she responds.

Sarah shifted her focus to her passions for art, charity, and yoga. She developed Vedabond, a line of activewear that addresses what's going on in the world.

The Yogi Highlight Interview
We had the opportunity to interview Sarah and dig deeper into what she takes a stand for, what inspires her, and got a little sneak peek into her journey as an entrepreneur.

Sarah Branson on Yoga
1. YouAligned (YA): What role did yoga play in transforming your life?
Sarah: I started practicing yoga when I was 17 with DVDs in my house until my friend dragged me to a studio class. I was afraid of being judged, which is ridiculous in hindsight . . . because yoga changed my life.

For me, yoga isn't just on a mat. Every day I get stronger both physically and mentally, I get more compassionate and empathetic. With yoga, I'm comfortable being me. It teaches me to break out and be true to myself, and build connections with people.

2. YouAligned (YA): Do you have a mantra that keeps you focused?
Sarah: My mantra is: "What if?"

Say something is totally unexpected. I pause and think "Ok, what's the worst thing that could happen?" Then, "what if that happens, then what's the worst that could happen?"

This mantra helps me break down problems and makes them become so small. What if? helps me not worry about the little problems and focus on the bigger things in life.

Interested in learning more about mantras? Read 10 Mantras to Set a Powerful Intention for Your Yoga Practice


Sarah Branson on Activism
3. YA: What does it take to be an activist and who, in your opinion, is doing it "right"?
Sarah: To me, activism means bringing awareness to what's happening in a specific situation and doing something about it.

Jane Goodall has always been someone I look up to. I think what she does is amazing – she has dedicated her life to more than the study of chimpanzees. She is also dedicated to the natural world and how to make it better. She helps those in need, whether it be improving women's health or children's education.

4. YA: What, or who, do you take a stand for, and what does the world need more of?
Sarah: The world needs more equality. Imagine the connection we could create as a human race if we weren't concerned with race, religion, or sexual orientation.

I take a stand for the LGBTQIA community because it hits close to home, being a part of the community myself. The community is very big in Orlando, especially after Pulse. I also take a stand for the environment and our collective carbon footprint, indigenous people, sex slaves, women's rights, healthcare, education, and water resources.

I stand for anyone who is not able to have a strong enough voice or who needs help.

The events at Pulse affected all of us. Read A Gay Yoga Teacher's Response to the Orlando Shootings


Sarah Branson on Entrepreneurship
5. YA: You recently started your own business. What's the best part of being an entrepreneur?
Sarah: There are so many good things. My favorite is that you ultimately are your own boss, and therefore you get to do what you think is important for your company!

On the flip side, there's a lot of failure as a new entrepreneur that ultimately leads to growth. You get to ask, "What if?" a lot. I've found that learning from failures has been pretty inspiring.

6. YA: What does "Vedabond" mean, and what do you do?
Sarah: One day I started thinking, "What if there could be an active activewear?" What if I could create something to give back to the world? And so Vedabond was born. "Veda" means knowledge in Sanskrit, and "Bond" – I want to bond people together with knowledge. I want to inspire people to make a change.

I work with my friend, local Orlando artist Peterson Guerrier to create artwork for the yoga pants. We narrowed in on three designs that benefit three different causes: the Jane Goodall Foundation, LGBTQIA, and indigenous people, with more to come in the future.

Sarah Branson: A Yogi on a Mission to Create Change
Sarah is an inspiration to all of us to go after every passion that ignites our souls. She created Vedabond to bring awareness to critical issues happening in the world, and to inspire people to create the world they choose to live in.

Together, we can make the world a better place. Sarah is just one yogi making that happen.

This article has been read 937 times. Share it and spread the love!