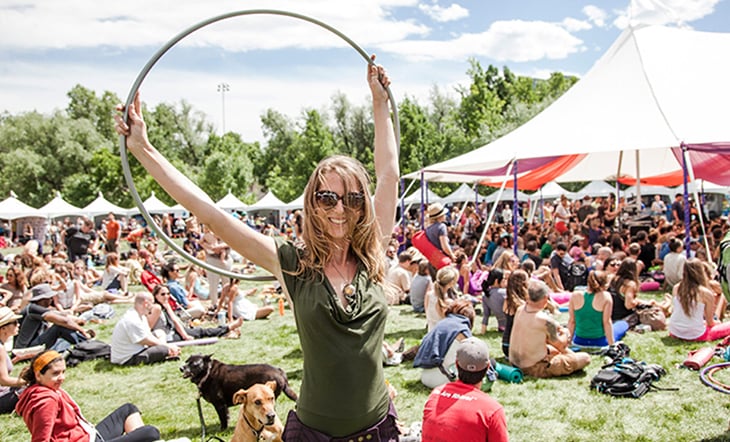 Hanuman Yoga Festival
10 Yoga Festivals in the West You Don't Want to Miss
Yoga festivals are a great place to connect to yourself, with others, and to deepen your yoga practice. They offer a chance to truly get away from the stress of everyday life, turn down the noise, and turn up the good vibes.
The West includes states from Colorado to Washington, where you'll get drier air and temperate weather. In many places, you'll also be surrounded by breathtaking views of mountain and/or desert landscapes.
Grab your 'omies and get to these yoga festivals under the western sun!

10 Yoga Festivals in the West You Don't Want to Miss
We researched and compiled a list of 10 good-vibes yoga festivals in the West – check it out!

1. Shakti Fest
May 10-14, 2018 | Joshua Tree, CA




Surround yourself at Shakti Fest with the spring desert beauty of Joshua Tree. You'll be lead by headliners like Shiva Rea, MC Yogi, Kia Miller, and much, much more while enjoying workshops, kirtan, camping, and meditation. This festival in particular celebrates the divine feminine, and will help you truly connect to your higher being.

Tickets: $250+


2. Nomadic Yoga Festival
May 19, 2018 | Albuquerque, NM




If you feel the call of the wild, Nomadic Yoga Festival is for you. This festival embraces the lifestyle of exploration with yoga, fitness, delicious food, breweries, coffee, local artisans, and more. A cool plus to this festival is that they donate a portion of their proceeds to Animal Humane New Mexico, a 501c3 that serves pets in need.

YouAligned's friend Anton Mackey will be there! Check out his Elevate Your Asana program here.

Tickets: $15+


3. Wanderlust 108
May 19, 2018 | Seattle, WA




This Wanderlust 108 will be held in Marymoor Park in Seattle. A mindful triathlon, you'll start your day with a 5K run/walk, head straight to an outdoor yoga session, and wrap it all up with meditation. Then, grab lunch from one of the local vendors and take a stroll around the Kula Market to check out what local crafters have to offer!

Tickets: $21+


4. Hanuman Yoga Festival
June 14-17, 2018 | Boulder, CO




Hanuman Festival is an inspiring 4-day event with a lineup including Amy Ippoliti, Gina Caputo, Seane Corne, and more. The fest celebrates yoga, music, and community. Along with transformational yoga classes that focus on movement, alignment, and breath, you'll also be able to join immersions that will help you take your practice to the next level. Soak up the positive vibes of this life-changing community.

Tickets: $309+


5. Telluride Yoga Festival
July 19-22, 2018 | Telluride Ski Resort, CO




What do Coloradans do when it's not ski season? Yoga festivals! With the resort at the end of the canyon, and miles away from the nearest stop light, you'll really be able to let go and find some peace at Telluride Yoga Festival. Over the course of the festival you can go to yoga classes (duh), enjoy music, meditation, SUP yoga, hiking, and much, much more.

Tickets: $345+

6. Downtown Yoga Festival
July 21, 2018 | Salt Lake City, UT




Downtown Yoga Festival in Salt Lake City is all about how yoga can heal us. The fest features yoga classes, workshops, great food, vendors, music, and more! The festival aims to unite the community as one through the power of yoga.

Tickets: $10+


7. Beloved Festival
August 10-13, 2018 | Tidewater, OR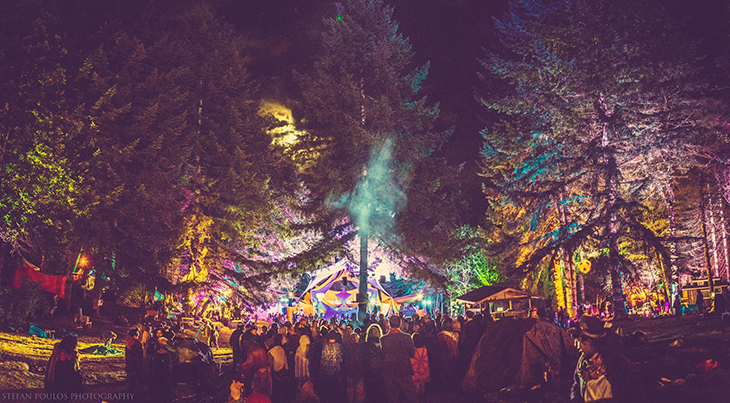 Beloved Festival is in its 11th year, with this year focused on telling new stories and reimagining how yoga can connect us all. The festival is an open-air sacred art and music festival along with offering several yoga-related events throughout the weekend. You'll also be able to take workshops where you can learn things like plant medicine, sexual healing, and the healing properties of music.

Tickets: On Sale Soon


8. Bhakti Fest
September 12-17, 2018 | Joshua Tree, CA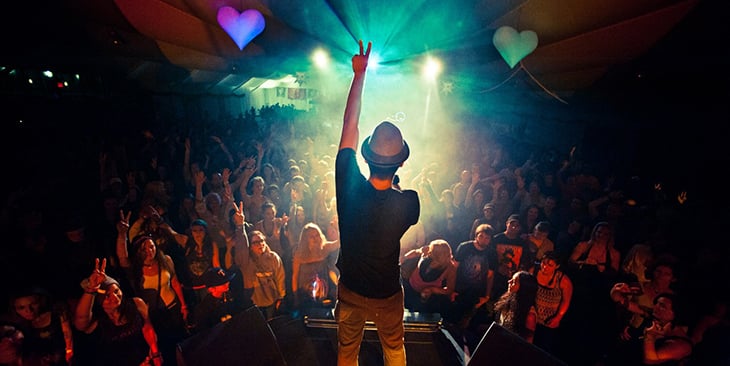 Bhakti Fest is the fall festival version of Shakti Fest listed above. Since 2009, Bhakti Fest has been the catalyst for festival-goers to connect to the divine through yoga, kirtan, and meditation. Their drug and alcohol-free event allows you to really feel that yoga high – and that sensation will be compounded once the stars come out over your campsite in the spectacular Joshua Tree region.

Tickets: On Sale Soon


9. Vegas Gone Yoga! Festival
October 5-7, 2018 | Las Vegas, NV




Vegas Gone Yoga! Festival is hosted at Springs Preserve, a 180-acre nature resort just three miles from the heart of Las Vegas. In addition to yoga and workshops, enjoy local vendors, delicious food, and interactive art! This year's instructors include Laura Sykora, Amy Raven, Courtney Tyler, and more!

Tickets: 65+


10. Sedona Yoga Festival
March 14-17, 2019 | Sedona, AZ




It's never too early to start planning for next year's Sedona Yoga Festival. Sedona is a mecca of spirituality that is filled with healers, yogis, and mystics from all walks of life. At the Sedona Yoga Festival, you'll connect deeply to your own practice as well as the community – it is not to be missed!

Tickets: $457+

Get Your Asana Out West!
Yoga festivals are simply spectacular. You'll walk away with renewed energy, peace, and devotion to your practice. Maybe you'll even walk away with some new yoga friends! You definitely want to make it to one of these yoga festivals this year. Let us know what you thought, or add festivals we missed in the comments!

This article has been read 1K+ times. Feelin' the love!