Meet Bizzie Gold, One Seriously Inspirational Yogi (video)
Every month in the "Get to Know a Yogi" series, we highlight a yogi that we think is making the yoga community a better, more uplifting and positive place. This months yogi is the inspirational and beautiful, Bizzie Gold.
Bizzie is a lot of things: she is a wonderful mother of 2, a wife, an A-list celebrity trainer, an experienced yogini, and the founder of a highly popular form of yoga called BUTI, an Indian Marathi word that means "the cure to something hidden or kept secret."

BUTI Yoga is a shakti-awakening yoga practice that fuses power yoga, tribal dance and plyometrics into a high-intensity workout. It's awesome, sexy, highly addicting and most importantly to Bizzie, it is empowering a growing tribe of women (Butisattvas) around the world.
"It's OM meets OMG." — Self Magazine
We asked Bizzie a few questions about her life, BUTI, her own yoga practice and how in the world she finds balance in her day. Here is what she had to say 🙂
(YA) When were you first introduced to yoga? Was it love at first asana?
(Bizzie) I was first introduced to yoga after a devastating (and ski career ending) knee injury. Everything in my life had focused on skiing in one way or another up to that point. My life was all about the competitive, masculine mentality. I originally went to a yoga class to rehab my knees. What I found in my class was something MUCH more intense and therapeutic. The competitive athletic world can cause a lot of anxiety and it had definitely caused me to have my fair share of panic attacks and depression.

The moment that I stepped onto my mat in Misty's class at Om Time in Boulder, CO, I knew my life was changed forever. I found a deep sense of peace in my mind and body while still achieving that feeling of strength and athleticism. Misty led us through a short meditation that made me shed tears of joy – it was that moment I knew I wanted to be a yoga teacher. Misty – wherever you are – thank you from the bottom of my heart.
Buti is changing the yoga scene. You blend traditional poses with sexy moves and fabulous music–what was your inspiration behind the Buti movement?
Buti yoga is really starting to gain serious traction in the yoga community. At first glance, I think yogis viewed it as too non-traditional. However, once people started to take a deeper look at the spiritual and emotional transformations that were taking place – the methodology of the practice made more sense. Buti is a Marathi Indian word that means "the cure to something hidden away or kept secret."

The practice is focused on spiraling movements that tone the core in a unique method with dynamic evolutions of traditional yoga kriyas and asana. We refer to this method as the Spiral Structure Technique™. Women are amazingly unique. The way their bodies move and how they relate to one another is not the same as men. I created Buti Yoga to serve as a practice that works with a woman's mind and body – helping build a tribe of empowered women on a journey to get stronger, healthier and more connected in unison.
You run multiple companies, travel around the country doing teacher trainings, and have 4 children in your house. To put it bluntly, Bizzie is busy! What advice would you give for all those busy people trying to find a productive yet peaceful balance in their lives?
In an amazing lecture by business mogul and Shark Tank star Kevin O'Leary, he gave one piece of EXTREMELY important advice to his MBA class – there is no such thing as balance when you are scaling a business. Up to that point I had been really trying to balance everything evenly – to the point of slowing the growth of the Buti movement. That lecture was actually my wake up call. Sometimes things don't have to be balanced. Sometimes things need your unwavering, 100% effort for a shorter period of time so that you can build something that you back off on years later to enjoy a life of balance.
My advice would be that sometimes balance isn't possible. Communication can serve in place of balance. My amazing husband and I made an agreement that we would do whatever necessary to help empower women worldwide with Buti Yoga – no matter what sacrifices had to be made in our personal lives. We communicate. We love each other and sometimes we just have to rely on the fact that we are bringing so much good into the world that will come back to us later on, that we'll be able to catch up on lost personal time.
You are very fit, and you've had two children. How do you do it? Do you incorporate anything else into your fitness routine besides Buti?
I ONLY practice Buti Yoga. I was a gym FREAK from age 10-25 – running, olympic lifting, CrossFit – you name it! It was only after I developed Buti and practiced it solely that I had six-pack abs for the first time in my life. I always thought I was the kind of person that just couldn't get abs no matter what I did. After Buti, I realized I was just not doing the right thing!

Buti Yoga sculpts the body in the most amazing way while transforming your emotional outlook on fitness as a whole. At Buti we always encourage women to #sweatwithintention – movement can be SO powerful as a healing tool. Buti has not only changed my body in ways I never thought possible, I am a changed woman, mother, wife and friend.


What is one yoga necessity that you can't live without?
I can't live without my Affirmat. To be fair, I am their US brand ambassador BUT they approached me because I was already in love with the product and shouting it from the rooftops. In Buti Yoga you sweat a TON and the non-slip surface is a MUST for me. The mantra on the front is really just an added bonus that makes you smile while you're pushing through a tough part of your practice.
We highly suggest checking out ButiYoga.com. You'll find classes and instructors near you and can even get Bizzie's awesome BUTI Yoga online classes and DVD programs. Bizzie travels around the world offering BUTI teacher trainings and word on the street is they are life changing!! If you're interested in becoming a BUTI Instructor check out her teacher training schedule here.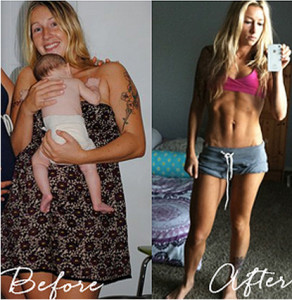 Follow Bizzie on Facebook, Twitter, and Instagram @BizzieGold
Have you tried BUTI Yoga? Tell us your experience in the comments below. We would love to hear your story!!!
Want to Try Buti Yoga For Yourself?
Take a class with founder Bizzie Gold from the Buti Yoga Technique program:
Buti Program
With Bizzie Gold
This article has been read 10K+ times. Bada bing!