Gina Caputo Shares Yoga, Meditation + Wellness Wisdom (Teacher Interview)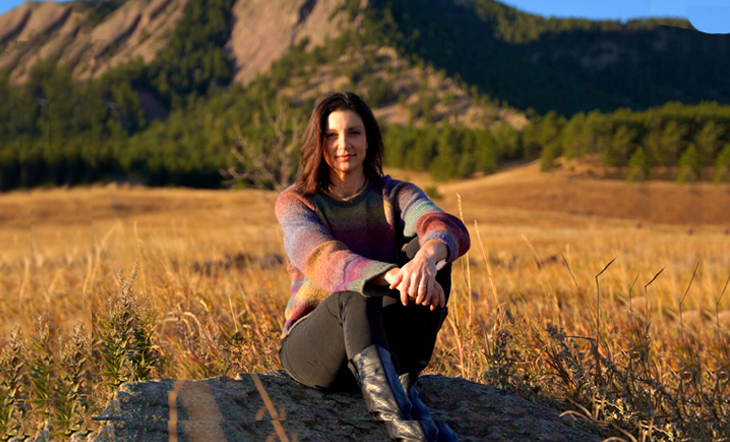 As a wildly popular yoga and meditation teacher, Gina Caputo offers a down-to-earth, no-nonsense, practical, intuitive and accessible approach to the beloved practice of yoga.
Impressively, Gina curates, designs and produces all of her own content on her website, newsletter and social media platforms.
Gina Caputo is a true powerhouse both on and off that mat. This woman is unstoppable!
An experienced teacher and guide, Gina is the founder of The Colorado School of Yoga and The Yoga Potluck, an online platform connecting mindful yogis from across the globe for monthly yoga and meditation practices, plus a mindful gathering called satsang. Gina is also an ACE Certified Health Coach and a Behavior Change Specialist.
Gina Caputo Talks Social Media, Festivals and Why Teachers Shouldn't Offer Free Yoga
In full disclosure, Gina Caputo is my primary teacher so I'm obviously a HUGE fan already. I'm not here to convince you to join her fandom because I know her unbounding tenacity and infectious energy speak volumes.
Strong AF, she inspires me and countless others (including fellow YA teacher and my bestie Reace Daniel on the daily.
I am truly honored and humbled to shine a light on this incredible soul for our YA readers.


Gina Caputo Shares Her Journey of Yoga, Meditation and Living a Healthy Lifestyle
Gina shares many personal stories along with what she's learned and plenty of inspiring wisdom along the way.

1. YA: You moved to Colorado in 2010. In what ways have you evolved as a teacher since then?
Gina: I've evolved in so many ways over the last decade, but the biggest way has been shifting from asana feeling like a primary focus to the subtler practices like meditation, pranayama and contemplation becoming my main interest and focus.
In a way, it's simply been walking down Patanjali's eight-limbed path, shifting from gross to subtle. And as part, I've changed my opinion on so many things – the idea there's a universal "right" alignment, hands-on assists are necessary, all yoga is inherently "good".

Everything has a season. Everything and everyone in our lives.

I feel myself now embracing simplicity, spaciousness and patience. Complexity seemed fun, density was entertaining and I thought I could entice everyone to be ready to go deeper. Now I'm focusing more on self-care and personal practice which, counter-intuitively, allow me to be of greater service. I believe this now.

2. YA: As a yoga, meditation, and mindfulness teacher, how has your teaching shifted as you move offerings more online vs. in person?
Gina: I taught the second half of a 300-hour training online in early 2020 and was pleasantly surprised at how well it went. I didn't feel a lack of connection and feel confident the students did not either, based on their feedback.
What I noticed was when I was in my home studio, near my own kitchen and had quiet breaks that grounded me, I felt much more present, focused and clear.
And with the students, they were also in their homes, and the breaks online learning required gave them quieter opportunities to integrate what we discussed. To digest it, so to speak.
So while being together in person fosters a different level of connection (on the physical plane), it's also more stimulating. If learning is a primary objective, I had a great experience online. It's not for every teacher and not for every student, but it can really work.
I guess for me, I see Teacher Training as an opportunity to learn and things like group retreats as an opportunity to connect and foster community. So in this regard, I'm a fan of live, online Teacher Training and live, in person group retreats!


3. YA: You show up authentically and you inspire so many. How do you stay motivated? What keeps you going?
Gina: Thank you! What a compliment!
On a bigger level, I stay motivated by this idea that it's impossible that I, as a human, came into being to cruise through life on auto-pilot or live semi-engaged or to embrace mediocrity. That's a core belief; it's an insult to the Source to live anything less than full on: curious, engaged, evolving.

I stay motivated by this idea that it's impossible that I, as a human, came into being to cruise through life on auto-pilot or live semi-engaged or to embrace mediocrity.

On a practical level, music keeps me going, good food keeps me going, getting outside, wonder, paying attention to other people, artists, writers . . . I'm inspired by engaged people so I pay attention to what fearlessly engaged people do.

4. YA: As a true Italian, you know your way around the kitchen. How do you stay inspired to create healthy and whole food cuisine for yourself and your family on the regular?
Gina: I never feel challenged to stay inspired to cook. It's art and creativity and I love the opportunity to engage with it in my own simple ways.
Cooking is art – there are flavors that go well together, like colors.
There are shapes and textures that work better than others with each other. Like the size of your dice makes a difference, the noodle you choose with which sauce makes a difference. When you have a love and appreciation for stuff like that, engaging with it is easy.
The inspiration is ABUNDANT. Social media is a treasure chest of nourishment inspiration. I love seeing what other food artists / cooks / chefs are doing and I learn.
It also helps to know yourself. I'm super simple. I don't do fancy things. I experiment for sure, but I also keep it super simple and that makes it feel a lot less daunting. And don't be afraid to have your favorite five meals and make those on repeat. Something new will pop in eventually, but trying to reinvent the wheel everyday is silly.
5 Quick and Healthy Plant-Based Dinner Recipes to Try This Week

5. YA: When you have off days, how do you process those negative moments? What are your go-to resources for getting out of the funk?
Gina: The first thing is to reconnect with the concept of impermanence. I remind myself this funk, as you put it, is temporary and will change.
So I'll often say to myself "Girl, you are feeling like a turd sandwich right now. Damn this hurts. So emotional. It's awful. And it's likely to feel this bad for a day or three and the intensity you're feeling right now will move through you, it always does."

Be sincere, not serious.

And then I get on with my day. I make sure I move, preferably a lot. I make sure my music is uplifting and propulsive. I don't force myself to interact with other people, I tend to go quiet, but that's me.
I'm gentle with myself, not trying to "snap out of it" sooner than it's natural timeline. I try to let it exist without adding drama and storylines that just make it worse. I let it be and run its course.

6. YA: You have studied with world-renowned teachers like Shiva Rea and Pema Chodron. Which teacher inspires your practice the most right now?
Gina: Pema Chodron and S.N. Goenka are the most present and influential to my practice right now.
In terms of my continuing education, Pema is with whom I most recently took a course, for example. But more informally I'm learning a lot about the full magnitude of what we've done to yoga here in the West from teachers like Anusha Wijeyakumar.
5 Inspiring Life Lessons from Pema Chödrön's "When Things Fall Apart"
I'm also really inspired and engaged by writers and teachers like Yung Pueblo, James Clear and Dr. Nicole LaPera. I'm so grateful they put their work out in such accessible ways.


7. YA: You recently started working as a WHOL Health Coach and Behavior Change Specialist. How do the yoga practices influence your offering?
Gina: WHOL (Whole Health, One Life) Health Coaching is centered in behavior change, which, in a way, is exactly what yoga is all about.
Yoga is a practice of transcending the limitations of conditioned consciousness (the habits of your consciousness) in the same way getting holistically healthy requires transcending the limitations of your conditioned behaviors, your habits.
So for me, WHOL Health Coaching is an opportunity to support the practical application of yoga to things like physical health, nutrition, mental health, better sleep, etc.

8. YA: What are you most excited about for the rest of 2021?
Gina: I've regressed a bit stress-wise since March 2021 so I'm excited to get back to the spacious, grounded calm I had going during 2020. I'm excited about changes to my coaching, I'm back in school and am excited for the fruits of that experience too.
And my husband and I are committed to following more adventures this year so I'm stoked for that!
A Big YouAligned Thank You to Gina Caputo for This Inspiring Interview!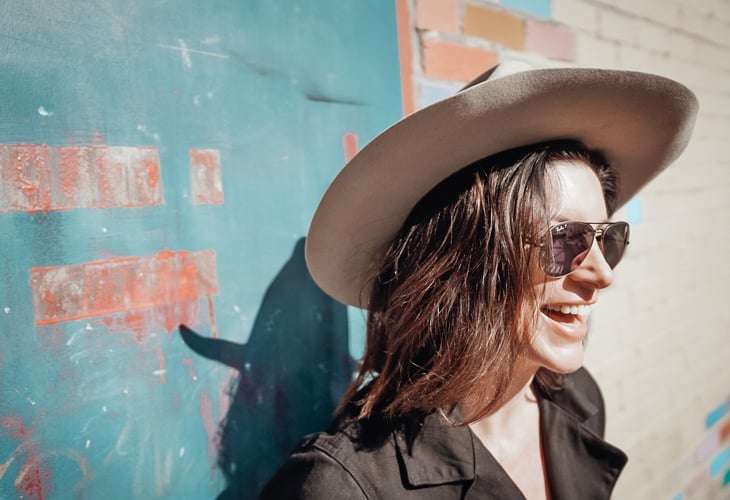 If you have the opportunity to practice with Gina, expect to be greeted by her genuine smile, sincere approach to yoga, mindfulness and wellness and soak in the air of her warm and infectious personality!
A tremendous virtual air hug goes out to Gina for her willingness to share her story with our YA readers.
To learn more about Gina Caputo, check her out at ginacaputo.com or on Instagram at @ginaontheloose.
This article has been read 457 times. Share it and spread the love!