Interview with Ashtanga Yoga Legend Kino MacGregor – Get to Know a Yogi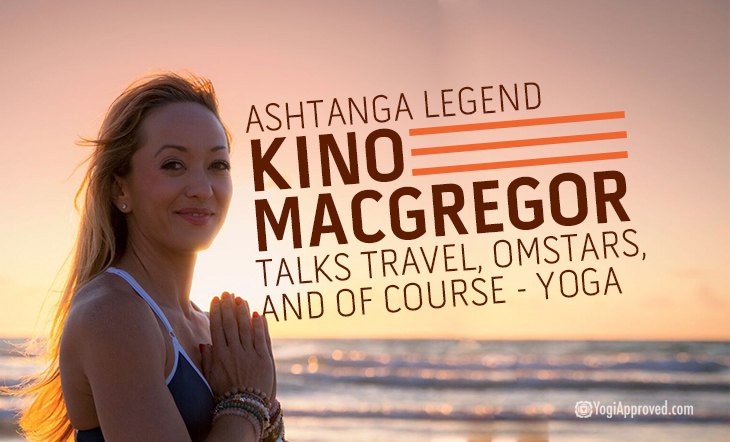 In our latest Yogi Highlight, we are sooo honored and super excited to feature Kino MacGregor, the beloved globetrotting Ashtangi. If you haven't yet fallen in love with the yogi known simply by her first name, all you have to do chat with her about her heartfelt undertaking in sharing Ashtanga with the world, and she'll have you at 'hello!'




Kino keeps a hectic travel schedule that requires oodles of personal dedication. In fact, at the time of her interview with YouAligned, she had only a few days between coming back from Nicaragua before heading out to Chicago for more yoga activities.

"The yoga journey is a human journey." – Kino MacGregor

But Kino still made time to speak with us about her journeys around the world and share her personal journey of yoga, and we were also able to get the scoop on the cool new yoga programming she recently launched on OmStars!

Read on for the full scoop on the lovely Kino MacGregor . . .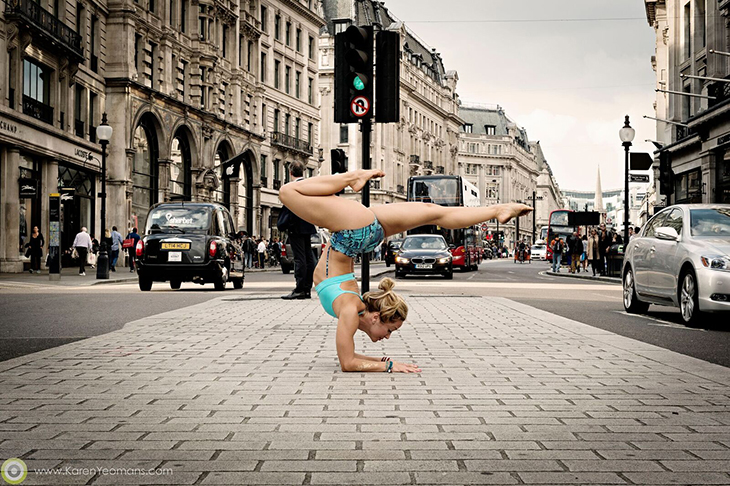 Kino Shares How She Found Yoga
Kino's yoga journey began simply as a young person finding her own way like anyone else. She professes she was caught up in Miami's party scene at age 19 and on a downward spiral.

But her simple curiosity about a bunch of students doing headstands in a gym one day as she passed by ended up leading her down a path to a graduate degree and having the great fortune of studying with the acclaimed Pattabhi Jois (or Guruji, as his students call him) in Mysore.

Over her course of practicing Ashtanga Yoga for 17 years, students began seeking her out to teach them, so she shared her practice with others and discovered the heart of helping others discover yoga.

Now, as an international Ashtanga yoga teacher, Kino travels the world to share her inspirational teaching. And she has a lot of wisdom to share about yoga, travel, and how to find balance.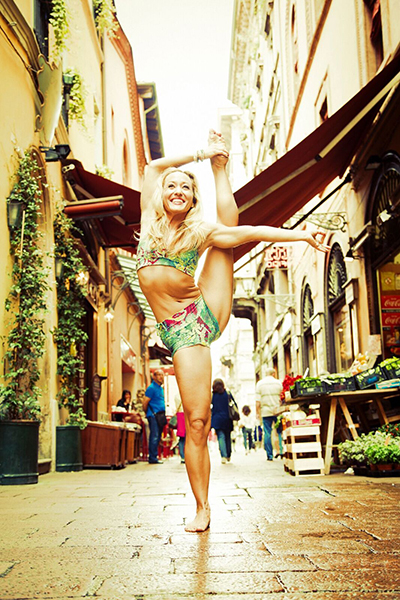 Kino Talks Yoga and Travel
As we all know, travel can really throw you out of balance – which is all the more reason to keep up with your yoga practice to maintain your balance both physically and spiritually.

Keeping up with yoga while traveling gives you the opportunity to tune in and listen to your body. Kino herself practices six days a week. But when she's on the road? Asana looks different. And that's ok!

"On the mat is enough," Kino says. "It's important to let your body land and spend some time on the mat. It's not advised to hold yourself up to an Olympic asana standard when you're traveling. Let your body work out the kinks of the airplane."

She budgets 20 extra minutes to get some practice in before leaving her home for a long flight, so her body is less cranky from those less-than-comfy airplane seats.

Traveling soon? Check out these 9 Yoga Poses You Can Practice On an Airplane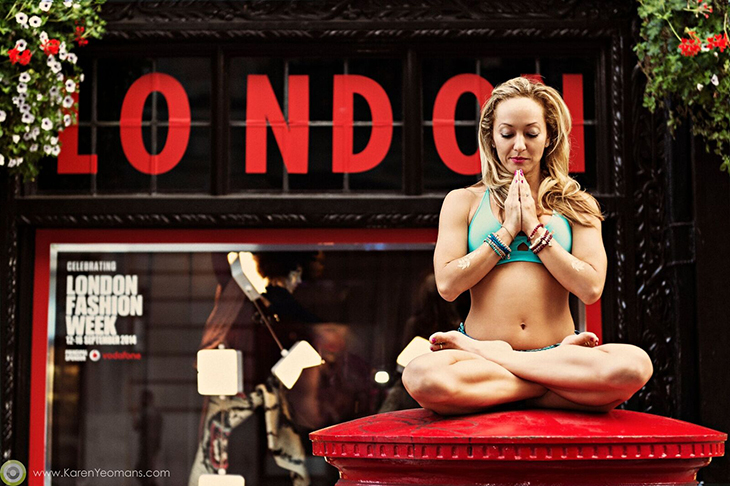 Kino Wisdom #1: How to Stay Grounded While Traveling
In her new location, Kino meditates before beginning her practice, in order to let that inner wisdom lead her physical practice for the day. Practice is not always the same every day; you accept where you are at and whatever is happening.

"Forcing yourself into postures hurts you and others," Kino notes in one of her online travel segments. Kino thoughtfully tries to schedule most of her travel on the weekends so she can prioritize visits to her mom and dad during the week.

She also loves to shop unique gifts for them and Ashtangi hubby Tim Feldmann; they're never far from her heart. Wherever her travels take her, being grounded in her practice and also making her home base and family a priority is what keeps her centered.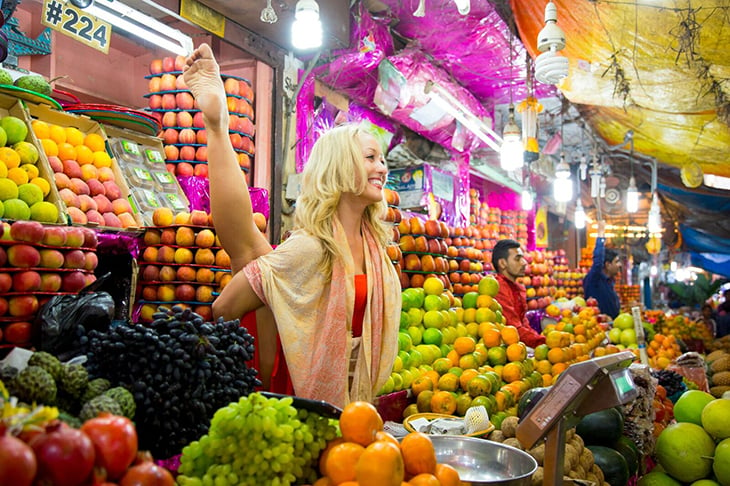 Kino Wisdom #2: How to Stay Healthy When You Travel
Kino makes taking practical care of her body a top commitment. "I'm traveling to go be in my body and teach, not give a lecture, so I prioritize the practice," Kino explains.

She drinks as much water as possible, packs healthy snacks like single use nut butters to eat with cut veggies from airport restaurants, looks for lounges (or a quiet corner) to sneak in some yoga, treats herself to a massage, and meditates on the plane instead of mindlessly zoning out.

She shops locally for produce to keep in her hotel room so she doesn't end up cornered into unhealthy choices due to lack of foresight. She enjoys a simple ritual of a cup of tea morning and night while traveling.

Have jet lag? Relieve Jet Lag and Get Back to Normal With These Yoga Poses


Kino Wisdom #3: Travel Packing Essentials
In case you were wondering what Kino keeps in her travel bag, she answered that too! She keeps her favorite facial products in a Ziploc bag in her purse to feel refreshed after a long flight – toner, face wash, BB cream, and an anti-puffy eye gel, because all that travel demands some extra TLC!

She also tucks some socks into her carryon and some lotion for feet, shins and arms, due to the overly dry air on flights. Plus, a shawl can double as a blanket or a makeshift pillow, along with an eye cover that helps promote rest.


Kino Wisdom #4: How to Avoid Being Lonely When You Travel
Kino confesses that traveling a lot can leave you feeling pretty lonely at times. But Instagram interactions, live streams of her practice along with her online programming help her stay connected to other yogis around the world, not to mention foster a community – a 'virtual sangha.'

Online discussions instill a sense of camaraderie amongst yogis who don't get to see each other every day, and she observes that this often leads to real life friendships in other parts of the country (or world).

Kino's live streams of her practice show when she makes a mistake or falls. Isn't it a relief to know that even Kino feels challenged by a new handstand posture she's working on in the 5th series?

There's always a harder version of the pose you're working on! Learning to have humor, discipline and softness is all a part of our practice, because as Kino says, "The yoga journey is a human journey."


Kino's OmStars Program
Kino's new OmStars website is a fantastic resource for all things yoga-on-the-go and helps Kino actualize her mission of yoga for the world in a down-to-earth way.

"There's this preconceived idea that yogis are perfect beings that never do anything wrong, that just live on a lotus flower and everything is totally ideal for them," says Kino.

"I wanted to create something that holds the real story of the yogi life and the real struggles that practitioners face and not sugarcoat it."

You'll find resources and courses on everything from yoga and meditation to vegan cooking, balanced living, travel, and more. In short, it's a yogi-style digital TV dream meant to inspire you in all areas of your healthy lifestyle.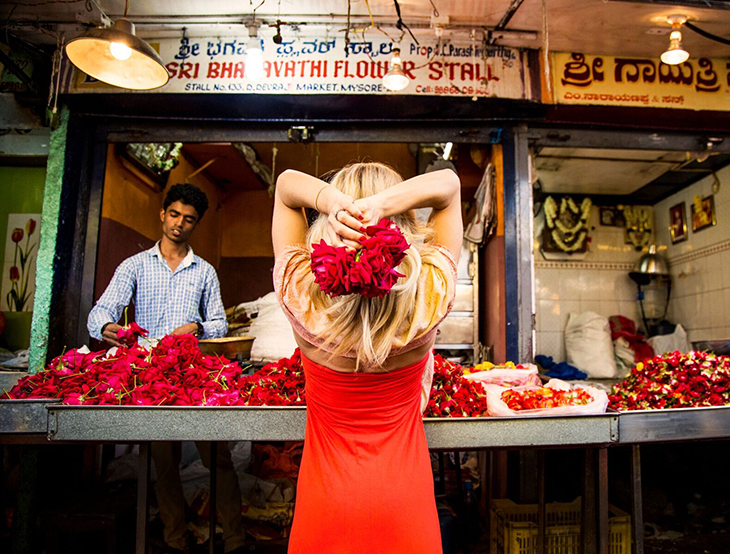 To end, Kino leaves us with a final word on what yoga means to her: "Yoga really is a spiritual practice," she says. "It's about giving every student the chance to truly experience the spirit within them."

This article has been read 4K+ times. Feelin' the love!