Meet Reace Daniel: YA Classes Teacher Highlight Series (Interview)
In our YA Classes Teacher Highlights, we feature one of our OM-azing 😉 instructors and interview them so our members and readers can get to know them.
This month's teacher highlight is Reace Daniel.
Reace is an incredibly gifted and unique teacher. Beyond that, he's also a renowned performer and musician, both of which influence his teaching style.
About his background and yoga career, Reace shares:
"Life is a stage LIVE IT!" That was legit my high school yearbook quote and I still live this way. A lifetime in professional theatre has influenced so much of my career as a storyteller of yoga.
I started my journey as a CorePower Yoga instructor and over the years have lead many teacher training and workshops, in addition to thousands of classes.
My yoga motto? "Happiness is an UpDog Away!"
As a live musician, I offer accompaniment for yoga classes with my guitar and also lead Electronic Kirtan events for Everland Retreat Center and Archepeligo Clubs of Denver.
My yoga motto? "Happiness is an UpDog Away!"
Reace has been a featured instructor for Daybreaker Events all over the world, including thousands of Facebook employees in San Francisco, and a morning wake-up atop the Freedom Tower in NYC 102 stories in the sky for LG and their international Day of Happiness celebration.
He's also taught for Equinox Gyms in Hollywood, Sonic Bloom Festival, and Denver Yoga Festival. He is currently getting his 500hr yoga certification with Amy Ippoliti and the 90 Monkeys School of Yoga.
You can practice with Reace in Denver, Colorado and his first online class with YA Classes by YouAligned is coming soon! But in the meantime, you can catch Reace LIVE each Thursday evening 6pm – 7pm MST on YA Classes! We've added four weekly LIVE classes to our line-up, and our students are loving Reace Thursdays!
Want to learn more about this incredible yoga instructor? Read on 🙂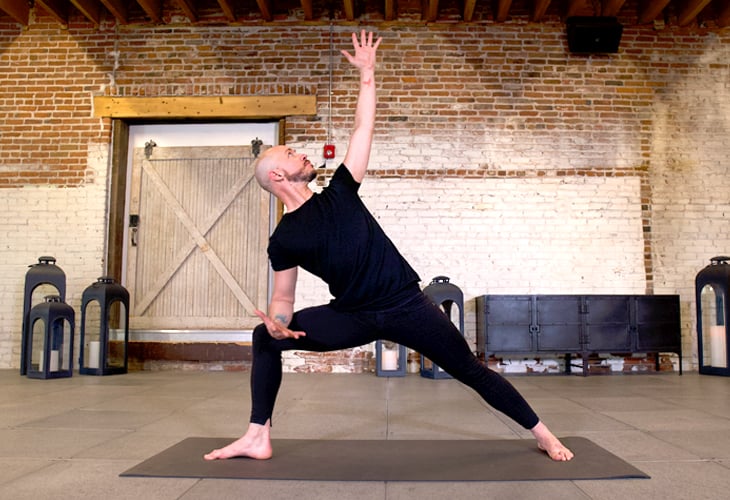 Get to Know Your YA Classes Teacher: Reace Daniel
We sat down with Reace for a Q+A session so YA Classes members and YouAligned readers can learn more about him.

1. YA: What's one yoga necessity that you can't live without?
Reace: I cannot live without meditation cushions, or at least a yoga block, to sit on for pre-class meditations.

2. YA: What's your go-to song or music genre when you teach (or practice)?
Reace: Music genre for me has to be electronic chill, ambient soundscapes, and on a personal level, I listen to jazz to move to when I'm at home!

3. YA: What's your favorite yoga discipline to practice? To teach?
Reace: Vinyasa for sure – both to practice and teach. I love to get the body and mind moving in a dance-like way!


4. YA: What's your favorite yoga pose? Least favorite?
Reace: Honestly I LOVE Dancer's Pose, but I also used to hate Toes Pose, and now it is also a close second for my favorite yoga pose.

5. YA: When were you first introduced to yoga? Was it love at first asana?
Reace: I was first introduced to Yoga in Fort Collins, Colorado at a Bikram Yoga studio 13 years ago that my fellow castmates went to in the show I was performing in, and it was not the best experience for many reasons. The teacher was rather rude, I felt very unwelcome, and I was SO HOT!
Fast forward a year later to another show I was working on and everyone went to the CorePower in Denver and I was hooked! The music, the reality and play of the whole environment, I just loved it and made it a part of my life. 🙂

6. YA: What's your most embarrassing moment, either teaching or in life?
Reace: Oh wow ok, most embarrassing moment . . . This is hard for me as a Leo!
I either block out these memories or don't like to admit to them haha, but I guess I can be vulnerable. I'd have to say in my current life, I am an advocate for my own sobriety. Almost 2 years now, and I can say there were moments I was very embarrassed due to my behavior.
I'm sure I could say something cute or funny that I can laugh at now, but the truth is I'm so glad I've ascended in my life and development and made it past some more embarrassing moments in my life!

7. YA: What's your #1 piece of advice for yoga students?
Reace: To FEEL! To let the breath and energy move thru you like its a tangible noticeable source of life. When you move your breath and body this way, you become an accelerated version of yourself that is noticeable and makes practice and life more enjoyable.
Oh, and modify! Always modify!
This Yoga Photo Tutorial Will Teach You How to Modify 7 Common Seated Poses With Props

8. YA: What's your favorite resource for inspiration (teacher, podcast, book, IG account, etc)?
Reace: I often check in with fellow teacher Gina Caputo and see what energy and advice she is leading with. I also love my friend and colleague Alyssa Manny, owner of Ohana Yoga in Denver, Colorado. She is a long-time friend and excellent leader in her community.
Gina Caputo Talks Social Media, Festivals and Why Teachers Shouldn't Offer Free Yoga (Interview)

9. YA: Aside from your own, what's your favorite YA Class?
Reace: Everything from Denelle Numis!!
Check Out Some of Fellow YA Classes Teacher Denelle Numis's Offerings

Want to connect more with Reace?
Find him on Instagram @more_reace, Facebook, and Spotify, and stay tuned for his online yoga classes coming soon on YA Classes.


Take a Class Online With Reace!
Take Reace's Chakra Flow class on YA Classes by YouAligned.com.

Yoga Class
With Reace Daniel
Not yet a YA Classes member? You can try it out free for 14 days!
This article has been read 471 times. Share it and spread the love!