Meet Lauren Beth Jacobs: YA Classes Teacher Highlight Series (Interview)
In our YA Classes Teacher Highlights, we feature one of our amazing instructors and interview them so our members and readers can get to know them. This teacher highlight is with Lauren Beth Jacobs.
Lauren is a yoga, fitness and wellness coach who aims to help people to identify fun, realistic ways to integrate healthy practices into their everyday lives. She is a certified Power Yoga for Sports coach and Holistic Nutritionist. And she is a lawyer, wife and mother of two energetic kiddos!
Lauren Beth Jacobs shares her yoga journey:
"I was a childhood gymnast and dancer, and some of the principles of yoga asana feel like they have been with me my whole life, before I even recognized that they were yoga."
Lauren stumbled into the movement and wellness industry in 2005. That year, before starting law school, she signed up for yoga teacher training in an effort to better curb her own anxiety and fear of public speaking.
A few weeks after starting school, she picked up a weekly yoga class to help pay for her caffeine habit and has been joyfully juggling her legal and yoga-teaching careers ever since!

You are the star and producer of YOUR show. It is YOUR life! YOU get to decide how much weight to give the opinions of others. – Lauren Beth Jacobs


Want to learn more about this incredible teacher? Read on.


Get to Know Your YA Classes Teacher: Lauren Beth Jacobs

We sat down with this powerhouse teacher and wellness coach for a Q+A session so YA Classes members and YouAligned readers can learn more about her.

YA: What's your favorite self-care practice you can't live without?
Lauren: My favorite self-care practice is also one of my simplest ones. Every morning, I fill a large mason jar with filtered water and start drinking. Sometimes I add lemon or herbs (or both). Sometimes I add supplements. But, I never go without it…even when traveling, I am slightly obsessive about figuring out my water situation the night before.
These 8 Tips Will Trick You Into Drinking More Water Every Day (Visual Guide)


YA: What's your go-to song or music genre when you teach (or practice)?
Lauren: I don't really have a go-to song or music genre when I teach yoga or fitness classes. I love to explore different music genres when teaching and practicing. New music often-times sparks creativity in my class choreography and helps me to foster the connection between the movement and breath.

YA: What's your favorite motivational quote?
Lauren: I love a good motivational quote. I come back to this one often, whenever I have any doubt or fear about trying something new.
"She was powerful not because she wasn't scared but because she went on so strongly, despite the fear." – Atticus

YA: What's your favorite yoga pose? Least favorite?
Lauren: Right now my favorite pose is Exalted Warrior Pose; I feel the pose throughout my whole body – anchored to the earth and at the same time open to the sky.
I don't have a least favorite pose, but I definitely have poses that are more challenging than others for me to practice. For example, I have to work on my flexibility and to stave off knee pain, so Half Pigeon Pose has always been a tricky pose for me.
Eka Pada Kapotasana: How to Practice Pigeon Pose for All Levels of Mobility (Photo Tutorial)

Root to Rise with Lauren Beth Jacobs
Yoga Class
With Lauren Beth Jacobs
In Lauren's yoga classes, you can expect a creative, playful and relatable spin on more traditional yoga teachings. Practice this Root to Rise class on YA Classes with Lauren where she moves through a fun and fiery practice that is both grounding and challenging. This intermediate flow class is intentionally designed to lengthen the backs of your legs to prepare your hamstrings for two special peak poses.

YA: Where's your favorite place in the world you've ever been to, and why?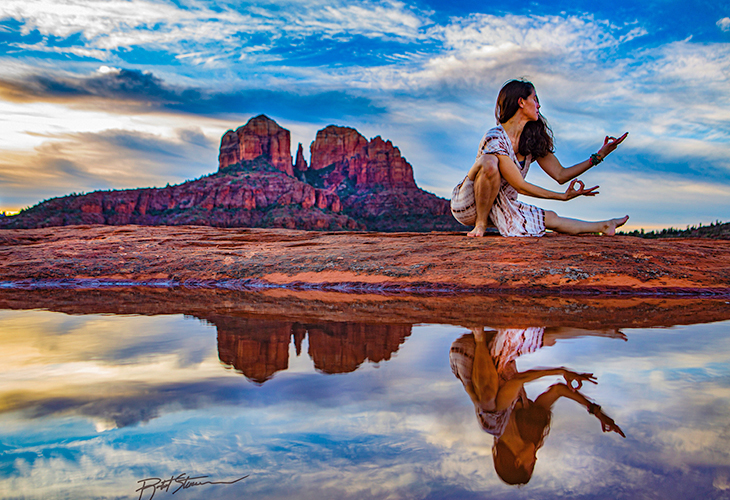 Lauren: Over the years, I have traveled fairly extensively – in Central and South America, Asia and Europe – but my favorite place in the world is right here in the United States: Sedona, Arizona. I spend at least a few days in Sedona every year.
It has been a place of mourning and celebration for me – the place where I grieved the loss of my father and celebrate my marriage to my husband every year. I always feel amazing after a challenging hike and a red rock yoga photo op. But, mostly what I love about my time in Sedona is the opportunity to slow down, pause and literally limit my agenda to just walking and eating for a few days.

YA: What's your most embarrassing moment, either teaching or in life?
Lauren: When I was eleven or twelve years old, my younger brother and I went on a Caribbean cruise with our parents. The cruise kids' club spent the whole trip rehearsing for a performance of The Wizard of Oz.
Despite my extreme shyness at the time, I had auditioned for the lead role of Dorothy; I was cast as "the tallest munchkin and given one line in the show. Dorothy would say, "Toto, I don't think we're in Kansas anymore." And, I would reply: "No, you're in Oz!"
My parents told me to just give that one line everything I had! So, the night of the big performance came and Dorothy said her line. And, in response, I waved my right hand in the air to highlight the beautiful surroundings and shouted: "No, you are in KANSAS!"
The show came to a sudden halt. And, while I have no memory of what came next, that moment had a huge impact on my confidence for the rest of my childhood and early adult life. To this day, my brother and mom love to remind me: "There's no place like Kansas." But, luckily now I can laugh about it!


YA: What's your #1 piece of advice for maintaining an empowered mindset?

Lauren: In high school, I struggled with self-confidence and anxiety. One day a classmate told me: "Remember, this is the Lauren Beth Jacobs show." Whenever I am starting to go down the rabbit hole of caring too much what others might think about MY path, I remember that advice.
Remember that you are the star, director, head writer and producer of YOUR show. It is YOUR life! You may have some recurring guest stars and certainly lots of extras, but you are the ultimate decision maker. You get to decide how much weight to give the opinions of others.

What's something people would be surprised to learn about you?
Lauren: When I was twenty-nine years old, I ran for elected office (co-endorsed by both major political parties) and won. I ended up the first woman and lawyer (and at the time, the youngest) to serve as Judge of the Harperfield, NY Justice and Criminal Courts.
(As a Washingtonian – I have otherwise lived in DC most of my adult life – I often feel thrown in the middle of the political divide in this country; my small town campaign was the last time I remember feeling any sort of union between people who align with one of the other of the two major political parties.)

YA: Aside from your own, what's your favorite class or teacher on YA Classes?
Lauren: Oh my gosh. Don't make me choose. All of the YA teachers are rock stars! Right now I am loving Katie Kasten's Fit HIIT class – it is the perfect quick and sweaty workout on those days when I feel strapped for time. Also, I would like to take this opportunity to beg Katie to teach me how she does her hair!


Want to Connect More With Lauren Beth Jacobs?
Find Lauren's health and wellness offerings, favorite gluten-free recipes, and free tips for transforming your health on her Instagram at @laurenupsidedownorsideways.


Take an Online Fitness Class With Lauren Beth Jacobs
Barre Class
With Lauren Beth Jacobs
In Lauren Beth Jacobs' fitness classes, you can expect mindful, beat-driven movements designed to get you out of your head, connected to your body and efficient results.
Beyond the Barre Express on YA Classes takes your barre workout off the barre and into the center of the floor – no props needed except for your yoga mat! This class is designed to be intense so you can feel your body working and building strength.
Not yet a YA Classes member? You can try it free for 14 days.
This article has been read 323 times. Share it and spread the love!