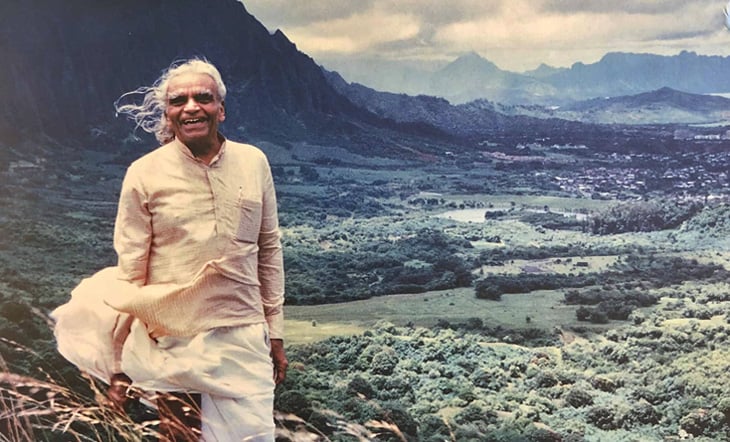 Who Is B.K.S. Iyengar? Learn All About This Yoga Guru Here
If you've been practicing yoga for a while, then you've very likely heard the name B.K.S. Iyengar. But who is he exactly and what is his legacy? And what did he offer to the world of yoga?
If you're curious to learn more about this yogic guru, then read on to find out who he is, why he's famous in yogic circles, and what he contributed to the world of yoga.


First, Who Is B.K.S. Iyengar?
Bellur Krishnamachar Sundararaja Iyengar, who is better known as B.K.S. Iyengar, was a yoga master and teacher and the founder of the style of yoga aptly named Iyengar Yoga.
Born on December 14, 1918 to a moderately poor family in India, Iyengar fell victim to many different illnesses in his childhood. Suffering from malaria, typhoid, influenza, tuberculosis, and more, he was not physically well in his youth.
So, in 1934, his brother-in-law (the now-famous yoga teacher Tirumalai Krishnamacharya) asked Iyengar to move to Mysore, India to learn yoga (specifically, yoga asana) to improve his poor health.
Krishnamacharya is often referred to as "the father of modern yoga" because he and his students were largely responsible for spreading modern yoga (primarily the practice of asana) to the West. And B.K.S. Iyengar was one of Krishnamacharya's most famous students to do so.




Through consistent practice, Iyengar's physical health began to slowly improve until he was soon able to practice advanced asanas like inversions and deep backbends without any issue.
Struggling with your own inversions? This 1 Tip Will Totally Transform Your Inversion Practice
And as his physical health continued to progress, he started to study the more subtle aspects of yoga as well. After studying with his guru, Iyengar was sent to Pune, India to spread the teachings of yoga.
Throughout his life, he went on to publish 14 books about the practice (perhaps most notably Light on Yoga), teach continuously in the West, and eventually create his own school called the Ramamani Iyengar Memorial Yoga Institute (RIMYI) in Pune, India. His institute was named in honor of his late wife.
Here Are 10 Books Every Yoga Teacher Should Read (another book by Iyengar is on the List!)


Why Is B.K.S. Iyengar Famous in the Yoga World?
Affectionately known as "Guruji," Iyengar was admired and adored by his many students. He taught yoga in a distinctly unique way that made the physical practice both accessible and applicable and the spiritual practice feel tangible.
His classes were known for using a wide variety of props and adhering to strict rules of alignment with incredible attention given to the positioning of the body. He was notorious for being a strict teacher with a rough touch and stern temper and was infamously referred to as "the lion of Pune."
But, nevertheless, his students loved his teachings and continued to follow him faithfully. B.K.S. Iyengar not only created Iyengar Yoga, but also went on to create Wall Rope Yoga and also greatly influenced the invention of modern-day Restorative Yoga.
Curious about Restorative Yoga? Here are 5 Big Benefits of Restorative Yoga (Plus the Motivation You Need to Try It!)
Because of his distinctive style of teaching, he quickly started to gain recognition and that recognition spread to eventually reach the West until Iyengar became the primary teacher of a famous violinist in Switzerland named Yehudi Menuhin.

He taught yoga in a distinctly unique way that made the physical practice both accessible and applicable and the spiritual practice feel tangible.

Once in the West, Iyengar gained many new students, including the Queen of Belgium, the fashion designer Donna Karan, and famous Hollywood actors.
As his career started to progress, Iyengar published his first book entitled Light on Yoga. It became an international bestseller and has now been translated into 18 different languages.
Since his premiere book was such a hit, he published 13 successive books exploring topics like pranayama and other subtle aspects of yogic philosophy.
What Is Pranayama and What Are the Main Benefits? Here's Your Quick Guide


What Did B.K.S. Iyengar Contribute to Yoga?
Few people have influenced yoga in the West the way that B.K.S. Iyengar has. Iyengar Yoga was one of the first schools to offer teacher training programs in San Francisco, California (which was – and still is – a major hub of yoga in the West).
The popular yoga magazine, Yoga Journal, was also started as a journal of Iyengar Yoga.
Through his books, seminars, famous students, and classes, Iyengar really molded the way that yoga is taught in the West. His extreme attention to asana and alignment is still how most modern yoga classes are taught.
Iyengar was also really one of the first yoga teachers to bring anatomy into the classroom and onto the mat.




With a keen attention to alignment and posture, a strong and vigorous practice full of fun and challenging asanas, and an impressive understanding of yogic philosophy, Iyengar influenced yoga in many different ways. His teachings are still highly revered in studios across the world today.
And he wasn't only a yogi on the mat. He was also well-known for his philanthropic efforts and generous donations to charity.
Up until the age of 95, Iyengar was still practicing yoga asana daily, including advanced postures like Headstand. Iyengar passed away in 2014 at the age of 95 but left behind quite a legacy in the world of yoga.


B.K.S. Iyengar and His Yoga Legacy
As modern yogis, we all have B.K.S. Iyengar to thank for a great deal of our yoga practice. He truly molded how yoga is taught in the Western world, which has forever changed the perception of yogic practices in the West.
So the next time your teacher cues you to turn your toes out 90 degrees or to align your front heel with your back arch or even to grab a yoga prop, you can smile and thank Iyengar for that insightful cue.
Main Image Source: Yoga Gran Canaria
This article has been read 2K+ times. Feelin' the love!