Want to Travel the World and Teach Yoga? Here Are 5 Insider Tips From Someone Who's Done It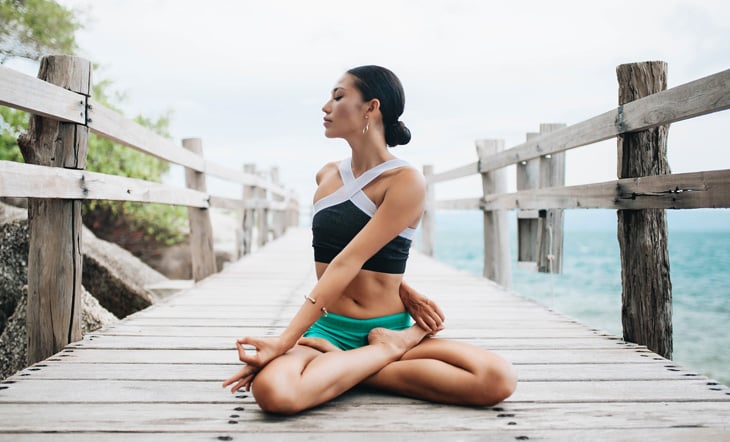 The dream of so many yoga teachers (or aspiring yoga teachers) is to teach yoga abroad. But most are also wondering about the logistics of how to be a traveling yoga teacher. How can you travel and also teach yoga abroad? And is it possible to actually make a living doing so?
I'm here to tell you, from experience, that it's actually much easier than you think! While it can be taxing and exhausting at times (imagine living out of a suitcase for years and constantly stressing about buying flights!), it is also incredibly rewarding and worthwhile.
I've been a traveling yoga teacher for the past seven years and I've done it all – from working at small studios in Costa Rica in exchange for housing to teaching in luxury safari resorts in Tanzania to hosting my own yoga teacher trainings in Bali.
I've had some not-so-great experiences that didn't last for long and I've also created life-long partnerships with companies that I love.
But, above all, every experience I've had as a traveling yoga teacher has been an incomparable life lesson and I wouldn't trade any of my past experiences for the world.
Yoga and travel go hand-in-hand! Here are 4 Ways Travel Can Deepen Your Yoga Practice (As If You Needed an Excuse)


Wondering How to Be a Traveling Yoga Teacher? Follow These 5 Tips to Successfully Teach Yoga Abroad:
Here are my top five tips to teach yoga abroad and become the traveling yoga teacher that you dream of being!


1. Find Your Market
There are so many valuable resources out there for people who want to teach yoga abroad! The trick is to find the right opportunities to be able to take the plunge and teach internationally.
From Facebook groups to paid job listing sites, if you do the research, you can find places that offer yoga jobs abroad. Here are a few of my favorite resources:

I'm sure there are also more out there that I don't even know about, so keep researching to find your market!

2. Network
When it comes to finding a job doing anything, networking is your best friend. The yoga world may seem large at first glance, but it really is such an interconnected web. Everyone knows everyone, so finding other yoga teachers and yoga companies to connect with can be incredibly helpful to your career as a traveling yoga teacher.
I've gotten job offers through referrals more times than I can count, so establishing a network of real colleagues is super helpful. You can do this either online or in-person but never underestimate the power of having friends in your business!

3. Take a Leap of Faith
More often than not, I travel to locations where I already have a job secured. However, there have been a handful of times when I decided that I wanted to go live somewhere. So I moved there and then get a job afterwards.
Taking a leap of faith like this can be scary, but it can also be an exhilarating adventure! If you do move somewhere new, then be sure to . . .

4. Be Persistent
This is a huge reason that I have been able to survive (and thrive!) as a traveling yoga teacher! My ambition knows no bounds and I refuse to take "no" for an answer.
Be persistent in all that you pursue! Apply absolutely everywhere! Don't think that a Pilates studio only offers Pilates classes. Don't assume gyms don't offer yoga classes. Go in there, introduce yourself to the manager or owner, and offer your skills as a yoga teacher. You may be surprised by the results.


5. Create Your Own Opportunities
Don't limit yourself to what already exists out there. If you want to teach yoga abroad, be creative and create your own yoga jobs!
Host retreats or yoga workshops in different studios or retreat centers around the world. Teach donation-based yoga classes on tropical beaches. Pitch daily yoga classes to resorts and hotels. Partner with spas to offer yoga classes before massages.
Advertise private yoga classes in expat Facebook groups. Offer corporate classes to large businesses. Teach online. The sky is really the limit when it comes to creating your own opportunities! And once you create your own opportunities, you can teach anywhere in the world that you like!


Teach Yoga Abroad and Start Living the Life of Your Dreams as a Traveling Yoga Teacher
Admittedly, being a traveling yoga teacher comes with challenges (ugh, work visas and bureaucracy!). However, to teach yoga abroad offers a special kind of magic that I haven't found when teaching at home. You get to meet new people, experience new cultures, explore different histories, and visit exotic destinations.
So if you want to know the real secret for how to be a traveling yoga teacher, it's very simple. Follow your dream as far as you can. If you don't give up, it really is possible! Believe me, I've done it and I can't tell you how life-changing it has been.
Need some travel yoga inspo to get your fire burning to teach yoga abroad? Check out these 7 Inspiring AF Travel Instagram Accounts for Wanderlust Inspo
This article has been read 3K+ times. Feelin' the love!