New Yoga Teachers – Follow These 7 Steps For a Successful Yoga Career

Now that you've completed your yoga teacher training (YTT), you're ready to take on the world as a yoga teacher. With your yoga certification in hand, your focus may shift toward creating a new yoga career for yourself.
As a new yoga instructor, there's a lot to learn! You just graduated with a certificate proving all you learned about teaching, but now it's time to dive further into the business aspect.
New yoga teachers: read on for professional advice straight from the source!


Yoga Teachers – Follow These 7 Steps to Start Your Successful Yoga Career:
1. Find the Right Yoga Studio
It's important as a new instructor to begin teaching as soon as possible. The more you teach, the more confident you'll become.
You'll begin building a student following, and developing relationships with your students is one of the most rewarding aspects of teaching yoga.
Teaching at a yoga studio is also an amazing learning experience.
There might come a time when you'll want to become your own boss and own your own studio, but by first working as an instructor at a yoga studio, you'll get a better sense of what you're looking for in your teaching career (whether it's eventually owning your own studio, leading yoga retreats, finding your yoga discipline niche, etc).

Recommended Read: How to Find Your Perfect Yoga Studio

2. Make Sure You Have Yoga Insurance
Many yoga studios carry yoga insurance that may or may not cover the individual teachers, but regardless – you cannot always assume that you are covered. Being insured as a yoga instructor is an important safety net for the future of your yoga career.
Suggested Read: How to Choose the Right Type of Yoga Insurance
Having yoga insurance keeps you protected in the event a student or a client suffers a mishap while in your care. And with more than 5,000 yoga-related emergency room visits each year, yoga insurance is an important step in safeguarding your career.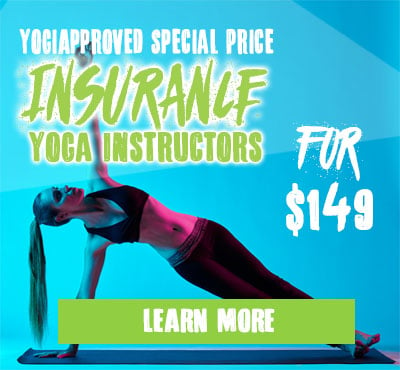 3. Create a Professional Website
In this technological age, everyone relies on the internet! As a yoga teacher, it's where students can find you and also keep track of where you're teaching, class times, and special events, etc.
Having a professional website builds your credibility and helps get you out there. Teachers are found via online searches all the time for a wide range of opportunities, so don't miss out!
Think of a creative name that describes you and the essence of your teaching, and reserve your URL. Bluehost is an awesome company to use to reserve your URL and host your website (plus it integrates with WordPress).

---
Yoga Teachers – Need yoga insurance? Our friends at beYogi are offering YogiAproved.com readers $30 off your annual premium, dropping the annual cost to $149. Learn more here
---
4. Create Your Social Profiles
Just as you need a website to refer students and potential students to, you need a social media profile for the same reason.
Facebook and Instagram are the most commonly used, and are two easy social platforms for you to share your class schedule and other upcoming events, but also express yourself as a teacher and gain more followers.
Teachers can connect with other teachers and yogis, and are contacted through social media all the time for a wide range of opportunities, so don't miss out on another great way to promote yourself, build your community, and find students.
This is key for a successful yoga career!

Recommended Read: 6 Pro-Tips to Grow Your Instagram Following

5. Build Your Brand
From your website to your social media accounts, you are building a brand for yourself. Your brand should be authentically y.o.u. – this is your opportunity to let your true yoga teacher colors shine bright, so you can attract the students that resonate with you. This is so important for your yoga career.
That's why it's important to go about all 7 steps with intention – choosing a name for your website and social media accounts that embodies your teaching method, and aligning this same method and branding with the types of classes you teach, where you choose to teach, etc.

6. Go Beyond the Classroom
Private lessons, special events, retreats . . . These are all ways to build your student following, make more money than you'll typically be paid per class at a studio, and also diversify your teaching portfolio.
Many students appreciate the one-on-one attention they receive when they take a private yoga lesson. Offering private yoga lessons (here's what you need to know about teaching private yoga classes) is a great way for you and your student to grow together.
Yoga retreats and special events (weekend workshops, hosting a themed class with a live DJ, etc) are also excellent ways to create a name for yourself.

7. Maintain Your Personal Practice
It's sad but true – often times, the more we as instructors teach yoga, the less we ourselves have the opportunity to practice yoga. Yet maintaining a regular personal yoga practice is the best way to keep your teaching fun, fresh, and successful.
Maintaining a personal practice not only keeps you inspired in your teaching – it also helps you stay balanced, grounded, and empowered in your yoga career. The more you practice, the better you are: as a yoga teacher, a yoga student, and individual. Your yoga career will flourish the more you maintain your personal practice!


Cheers to Your Successful Yoga Career!
When you graduate YTT and you're ready to step into your role as a yoga teacher, approach this exciting time in your life with intention, focus, and determination.
Following these 7 steps, you can confidently create the yoga teaching career that you seek. The sky's the limit!
Best wishes in your journey, and namaste.
For a limited time, beYogi is offering $30 off your yoga insurance annual premium for YouAligned.com readers, dropping the annual cost to $149.

Click here for more information.

This article has been read 9K+ times. Feelin' the love!