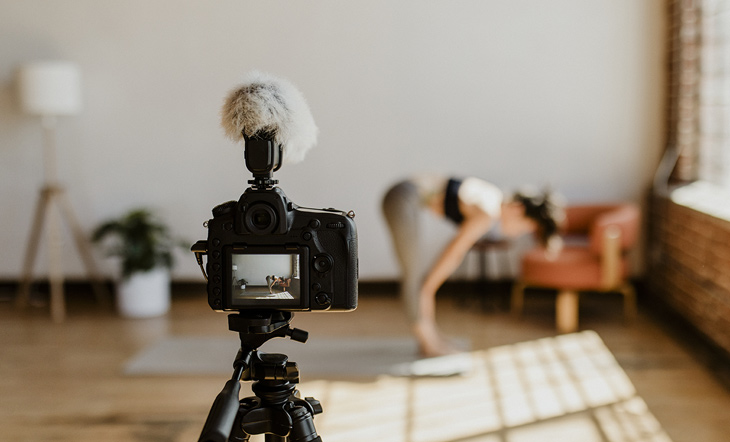 Want to Start Teaching Yoga Online? Here Are 5 Resources for a Strong Online Presence
Want to start teaching yoga online?
Whether you're now teaching yoga online out of necessity, or if you want to teach online to reach more yoga students beyond your physical location, you can create a quality online yoga experience for your students with these tips and resources.
Read on to learn pro tips for teaching yoga online, followed by five tools that every yoga teacher can start implementing today for a strong and successful online yoga presence.


Yoga Teachers – Here Are 5 Resources to Teach Yoga Online:
1. Zoom
Most of you probably already know about the popular cloud-based video platform Zoom, but what many of you might not know are some of the tricks and tips of using it for a quality online teaching experience.
Zoom is debatably the best online teaching platform out there for hosting virtual yoga classes. Although the basic version is free and still extremely useful, you might find a few benefits from upgrading to their premium plan.
Some of the perks as a teacher you'll experience from upgrading to premium include things like unlimited meeting minutes (the basic version kicks you off at 40 minutes which can definitely cut into your class time), reporting, and a personal meeting ID.
Additionally, the premium account offers premium audio quality, so your students can hear you better. While there are many tools that allow you to teach in a live, virtual class setting, Zoom is by far one of the best and most commonly used.


2. Ubindi
Speaking of Zoom, Ubindi is an amazing tool to collaborate with Zoom (and Facebook Live, Skype, LiveStream and many more platforms you might be teaching on). And best of all? It's free.
Ubindi is basically the best front desk person at the yoga studio. Ubindi helps to manage all of the administrative work of teaching yoga online, so you don't have to worry about the admin work and focus on teaching instead.
You can use this plug-in for reservations, class passes, credits, taking attendance, link sending, to maintain your student list, identify active or inactive students, and learn insights about your earnings potential.
In a nutshell, Ubindi is a great administrative and organization tool for yoga instructors – especially if you're new to teaching yoga online.

3. Yoga Trade
Yoga Trade is one of my favorite tools that connects yoga teachers with teaching opportunities.
While you might feel restricted to travel during these times, you can still find many amazing teaching opportunities through YogaTrade, including educational and online jobs.
From remote administrative jobs, to writing, social media, and marketing opportunities, to remote teaching gigs, YogaTrade offers a huge variety of different jobs in the yoga and wellness industry.
And if you are lucky enough to travel during these times, you will find infinite teaching opportunities in places all around the world. By using YogaTrade, I've personally been able to land teaching opportunities in places like Costa Rica, Bali, Sri Lanka, and even in my own home town.

4. Facebook and Instagram Live
Another tool many yoga teachers have been implementing during these quarantine times is Instagram and Facebook live.
For those of you who don't know what this is, Facebook and Instagram live is a way to live stream yourself on your platforms, to your friends (or anyone who follows you).
Many yoga teachers have been notifying their followers a day or two in advance as to when their live class will be, in hopes of having more people scheduled to hop into their live class. It's also important to go live when your followers are most active.




The good thing about the live tool is the video stays up for 24 hours after posting. That way, your friends and followers can view your class whenever is convenient for them in that 24 hour time slot. For Instagram specifically, you can then choose (if you want to) to post it to your IG TV if you want it to last.
You can choose to make these online yoga classes free, donation-based, or paid. Many yoga teachers will ask for payment or donation through PayPal or Venmo.

5. YogaTrail
One of the best marketing tools for your yoga classes is an amazing tool called YogaTrail. YogaTrail has marketing plans for teachers at all stages in their teaching career, and all of their plans are simple and automatic.
All you have to do is set up your teacher profile, make sure your classes are listed, and boom – the YogaTrail team handles everything else.
YogaTrail also helps get people to your classes – both new, and repeat customers. Plus, YogaTrail is also a free tool, so it's a no brainer to get on this train.


Maximize Your Online Yoga Teaching With These Tips:
Regardless of which platform you choose for teaching yoga online, these tips will help you optimize the experience for your students.
Lighting is crucial! Make sure your space is brightly – and evenly – lit. Avoid teaching outside for lighting and audio reasons, which brings us to the next point. . .
Audio is also key. Try to avoid any background noise, and speak loudly and clearly or consider using a headset mic if possible
Position your device strategically so students can see your full body. If you're using a phone, consider putting it on a tripod
Make sure your entire body is in the frame so students can see your form
Teaching Yoga Online: The Takeaway for Yoga Teachers
Teaching yoga online doesn't need to feel daunting or intimidating. In fact, online yoga is the way of the future (and present!).
Continuing to provide our students with the opportunity to get on their mats, even when they're at home, is more important than ever. And with these tips and resources, teaching yoga online is easier than ever.
Have questions about teaching yoga online or tips for success from your experience that you want to share? Please do so in the comments below – we love hearing from you!
This article has been read 2K+ times. Feelin' the love!