These 10 Black-Owned Beauty Brands Are Natural, Vegan and Cruelty-Free
We vote with our dollars every time we make a purchase. By purchasing from Black-owned beauty brands versus default buying through large retailers, you're funneling money into the communities affected by racial injustices while also helping to create and sustain jobs and close the racial economic gap.
Another important part of being a conscious consumer is choosing cruelty-free products, meaning those that are made without animal testing or other practices laced with animal suffering.
Next time you find yourself in need of anything beauty or skincare-related, check this list and explore these Black-owned businesses – and don't blame us if you end up with very full shopping carts.
While this list is certainly not exhaustive, it's a great place to start. As consumers, it is important for us all to continue seeking out Black-owned businesses to support – now and always.


Here Are 10 Black-Owned Skincare and Beauty Brands That Are Natural, Cruelty-Free and Vegan:
All of the Black-owned beauty brands below are cruelty-free and many are also fully vegan. In the case of brands that aren't fully vegan, they offer at least some vegan-friendly products. Just double check that if that's a concern for you!

1. Urban Serenité Apothecary
All products made by Urban Serenité Apothecary are designed with holistic health in mind. The founder was inspired to create Urban Serenité after having bad reactions to many traditional products on the market.
From bath soaks to aromatherapy roll-ons and muscle salves, all products are handmade in small batches with pure, plant-based eco-friendly, natural ingredients that are certified organic whenever possible.
Shop the products here
2. Mented Cosmetics
Mented Cosmetics was created because the two female founders believe that "every woman should be able to find herself in the world of beauty, no matter her skin tone."
All Mented products are cruelty-free, paraben-free, vegan and non-toxic and range from lipsticks and gloss to brows, cheeks, eyes and nails.
Shop the products here

3. Rosen Skincare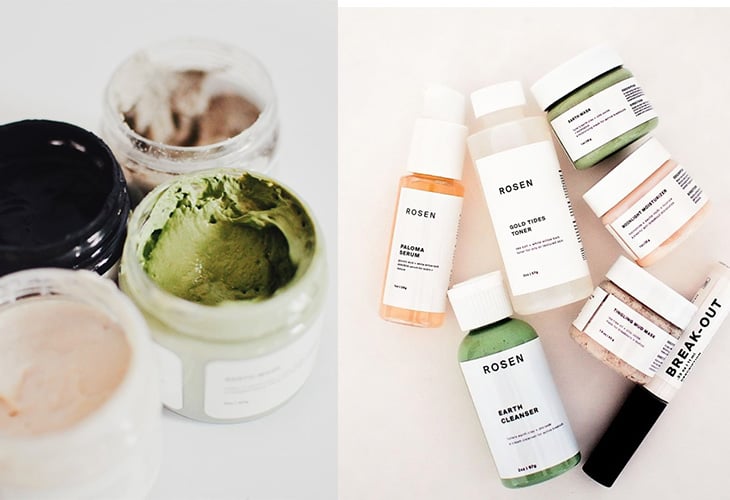 At Rosen, the old way of treating acne and skin-shaming is out, and helping you simplify skincare with more thoughtful products is in.
The entire Rosen line is simple, affordable, and most importantly, effective with rave reviews to prove it. The website is also full of helpful information to help you better understand how each product and their all-natural ingredients help with acne and healthy skincare.
Shop the products here

4. People of Color
In bright, punchy colors made to flatter darker skin tones but also those who "live in color," we're obsessed with this all vegan, cruelty-free and non-toxic nail polish line.
All People of Color colors from are also free of the five chemicals like formaldehyde commonly found in traditional polishes.
Shop the products here

5. Nola Skinsentials
Billed as vegan skincare for millennials and by millenials (but great for any age!), Nola Skinsentials has earned itself raving fans with products like their iconic serum, pumpkin spice mask, and an extensive line of cleaners, toners, and masks.
Nola's handcrafted products are plant-based, cruelty-free, priced affordably and also offered in "try me" sizes.
Shop the products here

6. Kaike
Skincare should be a piece of "Kaike" and this brand has multi-purpose minimalism at its core.
Their butters can be used literally head to toe as a hair serum, body butter, and/or facial moisturizer. They're all made from vegan ingredients clean enough to eat (try not to though 😉 ) with names like Lip Frosting and Chocolate that will make you hungry for more.
Shop the products here


7. Scotch Porter
Men need skincare too! Scotch Porter's line of shampoos, conditioners, and beard products is now sold at Target, but also available online.
This Black-owned grooming brand offers everything from facial cleaners, moisturizers, haircare, and accessories with exactly zero icky chemicals or animal testing.
Shop the products here

8. Ayele
Ayele is a beauty brand that offers cruelty-free, organic formulas at an affordable price. Based on their amazing before and after photos, these products are incredibly effective for helping with acne and other issues.
Ayele's sunflower serum is extremely popular, but they also offer eyeshadows, beard oil, and a variety of other beauty and skincare products.
Shop the products here
9. Beauty Bakerie
After a battle with breast cancer, the CEO of this Black-owned beauty brand went paraben-free and her natural products are too – along with being cruelty-free and vegan.
Not only are Beauty Bakerie's products a lot of fun with names like lollipop lip liner and brownie bar palates, but they're also giving back with every purchase to support orphans and orphanages around the world.
Shop the products here

10. Kubra Kay
Here to help people find comfort and confidence in their skin, the founder of Kubra Kay traveled to over 20 countries to source the best ingredients and practices for skincare.
In addition to a range of skincare products (all cruelty-free and vegan) based on skin type, Kubra Kay also offers high-quality skincare and wellness tools.
Shop the products here


Support These Black-Owned Beauty Brands Now and Always
From signing petitions and donating to social justice organizations, to seeking out anti-racism resources, there are many ways we can all take action and help create lasting change.
Another way we can do this is by supporting Black-owned businesses. While some of the brands on this list are larger than others, and at least one is even carried in Target, it's important to support small businesses too.
We vote with our spending dollars, so every dollar we can spend with awareness and on brands that we want to support, helps! If you are not in a position to spend money, you can support by following these brands on social media and sharing them with friends to help boost brand awareness.
As we mentioned, this list is by no means exhaustive! Do you have other Black-owned beauty brands that you love supporting? Please share in the comments below – we love hearing from you and finding more amazing brands to recommend and support.
Looking for other ways to help dismantle systemic racism? Here Are 6 Racial Equality Organizations to Support and Get Involved With
This article has been read 232 times. Share it and spread the love!