Try These 5 Natural Home Remedies to Remove Blackheads
Blackheads are a common skin problem faced by a lot of people, particularly for adolescents. It can cause frustration and annoyance, especially when nothing seems to work to wipe them out.
When there is an excessive accumulation of dirt, sebum, oil and dead skin cells, it can clog pores and hair follicles, triggering skin concerns like blackheads, whiteheads and acne, to name a few.

Most often, blackheads can be treated with natural remedies and without the intervention of a dermatologist.

Blackheads are characterized as tiny, mostly black bumps on the surface of the skin.
If chemical peels and creams scare you, natural home remedies can be your savior.
10 Natural Home Remedies for Dry Skin and Itchy Irritations


How Are Blackheads Formed?
When the pores of your skin are blocked by oil and sebum, blackheads are formed. If you have been neglecting your skin and it remains unclean, the dirt settles into these pores over time. On exposure to air, this settled dirt oxidizes and forms blackheads.




Blackheads are generally visible on the face. They are small and dark lesions that can often develop into acne when squeezed or scrubbed. They fall in the category of acne and are medically referred to as open comedones.
People of all skin types are prone to developing blackheads, but it is most common in people with oily skin.
According to a Mayo Clinic study, the most common causes of blackheads are:
Stress
Diet
Excessive oil on the skin
Dead skin cells and oil clogged in hair follicles
Certain medications
Hormonal imbalance
Natural Treatments for Blackheads
More often, blackheads can be treated with natural remedies and without the intervention of a dermatologist. These home remedies include ingredients commonly available in your kitchen pantry.
It is essential to exercise caution while using these home treatments to tackle blackheads. The effects are usually visible after consistent use.


Here Are 5 Home Remedies That You Can Try to Remove Blackheads:
Natural home remedies will help maintain the ideal pH balance of your skin and protect the skin barrier. If the skin barrier is neglected, it can cause skin inflammation.
If you are looking for simple home remedies and treatments to tackle your blackhead woes, here are five methods you can try:

1. Baking Soda
Baking soda has long been used for its numerous health and beauty benefits. For removing pesky blackheads, baking soda can be a real game-changer. The antibacterial property of baking soda can help clear the skin and aid in gentle exfoliation.
Make a baking soda paste with water in a 1:1 ratio
Generously apply a layer on the area that is affected with blackheads
Gently scrub the area and wash it off with lukewarm water
For best results, repeat this twice a week
Note: while baking soda is safe to use on your skin, some people experience reactions to it. Be sure to test on a small area of your skin before applying, and even if your skin does not react, baking soda should not be used daily.

2. Clay
Keeping the oil away from your skin will help prevent clogging of the pores, which gives rise to blackheads. A natural oil-extracting ingredient is clay. It helps extract the excess oil along with impurities from your skin.
Bentonite clay or Fuller's Clay and Kaolin are widely used as exfoliants because of their absorbing properties. You can find kaolin clay over the counter at a pharmacy. For this remedy, you can use either of the clays mentioned above.




Here is how you can incorporate it into your skincare regimen:
Brew green tea and let it cool
Use the green tea brew and aloe vera extract in the ratio of 1:1 with kaolin clay. Mix these into a smooth paste
A drop of essential oils like lavender or any other one of your choice can be added to this mixture
Clean your face using a mild cleanser and apply the clay mask evenly on your face with a brush
Keep this mask on for ten minutes and rinse off. Make sure the mask doesn't dry out completely before you take it off
Moisturize your skin after you wash off the mask
What Our Face Felt Like After Using the CBD Rose Clay Face Mask By cbdMD (Video)

3. Tomato
Tomato is an antioxidant, rich in Vitamin C and phytochemicals, making it useful in preventing skin degeneration.
Packed with nutrients like carotenoids, vitamins like ascorbic acid and vitamin A, it can help restore the pH balance of your skin. The acidic character of this pantry essential can be used as a mild exfoliator to give you healthy and glowing skin minus the blackheads.
Tomato face masks are absolute beauty heroes that can take care of most of your skin woes. It can magically remove dead skin cells and blackheads.
Here is a home remedy to try:
Juice out tomato in a bowl and add a teaspoon of brown sugar granules to it
Before the sugar granules dissolve, dip a cotton pad in the mixture and gently rub it in the affected areas for about five minutes
Wash the residue off with lukewarm water
Repeat this process thrice a week
4. Apple Cider Vinegar
Apple cider vinegar has proven to be effective in treating a variety of health issues.
The high phenolic content in apple cider vinegar can be effective in preventing fungal activity. Its high acetic acid content can help clear away dirt and excess oil build-up on the skin, thus preventing blackheads.
6 Health Benefits of Apple Cider Vinegar Debunked + Explained
Here is a home remedy you can try with apple cider vinegar to remove blackheads:
Dip a clean cotton ball into a diluted mixture of two teaspoons of apple cider vinegar and one teaspoon of water
Generously apply it to your skin
Let this sit for five-seven minutes before you rinse it off. Repeat this once daily to notice visible results
5. Egg White
As a nutritional powerhouse, eggs have significant benefits on the skin too. Its high protein content makes it a sought-after ingredient for cosmetic use. A wide gamut of vitamins and minerals like folate, calcium and magnesium makes this a magical ingredient for your beauty routine.
To tackle blackheads, you can make the following pore strip with egg whites:
Whip an egg white in a bowl and add two teaspoons of lemon juice to the mixture
Cut tissue papers into thin strips and place them on the affected area
Apply the egg white potion liberally over the strips until they stick on to the affected area
You can layer it with more strips so they sit tight on the affected area
Let it dry before you peel it off gently. You will notice impurities and blackheads on the strip
Repeat this twice a week for better results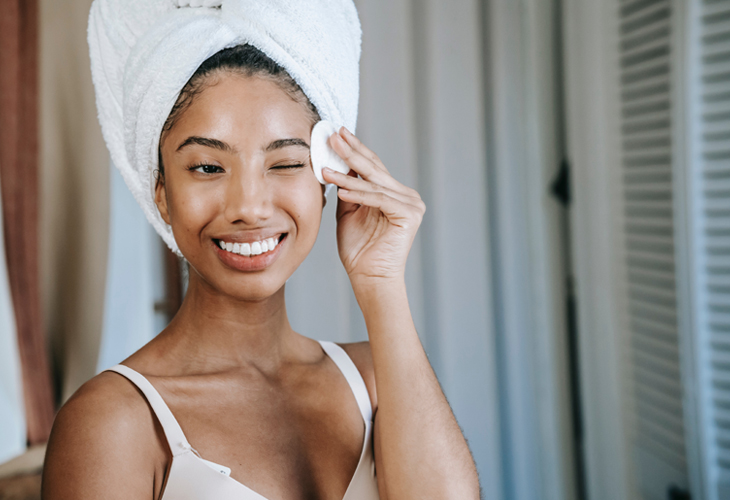 3 Lifestyle Changes for Prevention of Blackheads:
Apart from external treatments, you must alter your lifestyle to notice remarkable changes in your skin's health.
Here are a few lifestyle tips to help you combat blackheads and associated skin problems effectively:

1. Yoga
Regular practice of yoga can cure many skin ailments.
Stress-induced skin breakouts and internal health issues that cause blackheads can be dealt with by practicing asanas like Matsyasana (Fish Pose), Bhujangasana (Cobra Pose) and Padmasana (Lotus Pose) as well as regular pranayama practices.
These yogic postures and practices aid digestion, relieve stress and help eliminate toxins that eventually lead to a build-up of acne and blackheads on your skin.

2. Watch Your Diet
It is advised you include more fruits and vegetables on your plate. By reducing the intake of oily and processed foods, you can promote better gut health.
5 Ways to Maintain Gut Health and Why This Is Crucial to Your Overall Wellness

3. Exercise Daily
Get moving for at least twenty minutes every day. Studies suggest that sweating aids in natural hydration and excretes carcinogens. Releasing sweat will help you detox and maintain glowing skin. However, a high amount of sweating can cause dehydration. So, ensure you drink plenty of water.


Treating Your Skin for Blackheads With Consistency Is Key
When your skin breaks out repeatedly, or there is an accumulation of blackheads, it's a sign your skin is crying for help. These natural remedies are safe and do not cause side effects.
Religiously continue any home remedy of your choice but discontinue if you notice redness, itching, or swelling. You may visit a dermatologist if the problem persists even after six weeks. Most importantly, leave the stress out as the problem is curable.
Take care of your skin, and it will love you back!
All included information is not intended to treat or diagnose. The views expressed are those of the author and should be attributed solely to the author. For medical questions, please consult your healthcare provider.
This article has been read 345 times. Share it and spread the love!