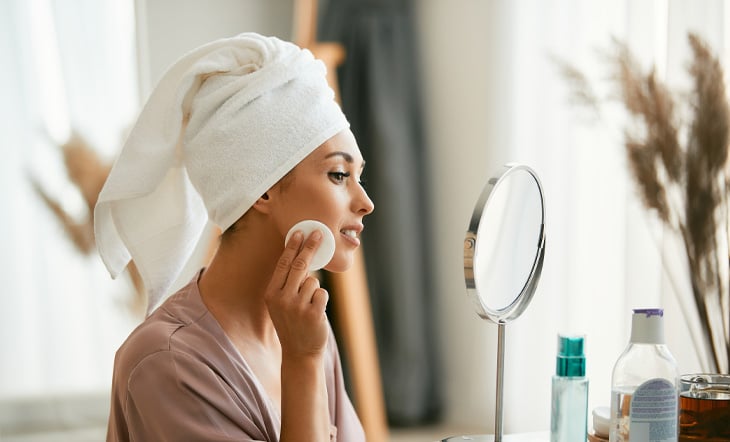 How to Make DIY Facial Toner With Only 5 Natural Ingredients – Say Hello to Radiant Skin!
You can easily spend hundreds of dollars on skincare products at your local beauty or department store. Yet aside from the high price tag, most of these store-bought products are packed with harmful chemicals, preservatives, and other scary ingredients that aren't even good for your skin or health to begin with.
Facial toners help restore your skin's natural pH levels, which in turn helps to balance out your skin tone, oil production, and more. Made with five simple, natural ingredients, this facial toner is easy to make, affordable, and will give you radiant, balanced skin.


Here's How to Make Your Own Natural DIY Facial Toner: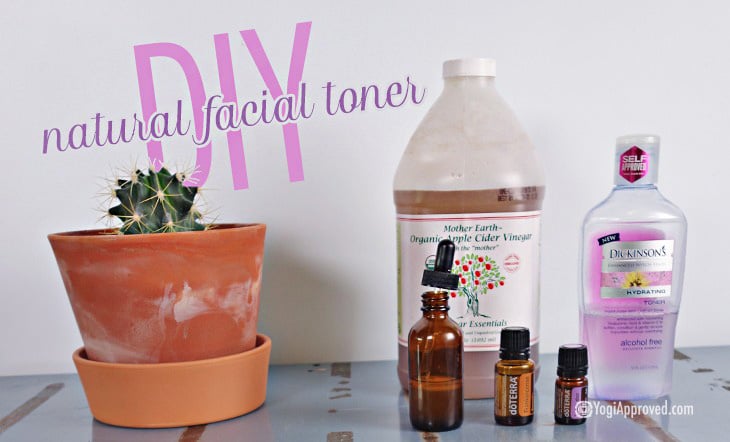 The best part is that this toner recipe is great for almost any skin type, and you can adjust the measurements accordingly for oily, normal, dry, or sensitive skin.
Get ready for a super quick and easy DIY project! Making this natural face toner only takes a few minutes.

What You'll Deed to Make Your DIY Face Toner:
Measuring spoons
Glass container to store your facial toner
Ingredients for Your Facial Toner:

Apple cider vinegar is antibacterial (great for acne) and helps balance your pH levels. Witch hazel has anti-aging properties, refines pores and reduces excess oil production. Frankincense essential oil helps reduce the appearance of sun spots, discoloration, and even wrinkles, while lavender is soothing for irritated skin.
For this recipe, we use frankincense and lavender, but feel free to use the essential oil of your choice (ylang ylang, sandalwood, tea tree, or clary sage are also popular options). Just note that some essential oils (like tea tree, for example) are particularly potent and require a smaller amount.
These five simple ingredients pack a big punch for your skin and will leave your face feeling fresh and looking radiant.

Facial Toner Directions:
Now you're ready to make your own facial toner! First, determine your skin type, which is what the measurements are based on:
Sensitive Skin: Mix one part apple cider vinegar and witch hazel with four parts water
Normal to Dry Skin: Mix one part ACV and witch hazel with two parts water
Oily Skin: Mix one part ACV and witch hazel with one part water
DIY Face Toner Measurement Guide:
One part can be based on any scale of measuring you choose to follow. The measurements below yield roughly 3 fluid ounces, so feel free to increase the measurements accordingly.

For example, if you want to yield 8 ounces, use ½ cup of water and increase the rest of your measurements accordingly.

For sensitive skin, mix ½ tablespoon AVC and ½ tablespoon witch hazel with 4 tbsp. water. Add 1-2 drops of each essential oil.
For normal-to-dry skin, use ½ tablespoon AVC and ½ tablespoon witch hazel with 2 tbsp. water. Add 1-2 drops of each essential oil.
For oily skin, you can make the mix 50/50, but be sure to test the mix on a small part of your skin to make sure it's not too strong. Add 1-2 drops of each essential oil.
You're Ready for Radiant Skin With This Natural DIY Face Toner!
Voila! You just made your very own DIY natural facial toner! Store your toner in a container (preferably glass), and apply to your face and neck using a cotton ball once a day. It's best to wash your face first and then apply the toner (follow with a moisturizer of your choice).
Some people prefer to store their facial toner in a spray bottle for a gentle facial mist that can be applied morning and night after washing your face and before applying moisturizer.
If you're all about using natural, organic and simple products, then this DIY face toner recipe is for you! If you're interested in making your own facial toner or simply want to save money, you'll love this do-it-yourself toner.

This article has been read 70K+ times. Hot damn!