Make This DIY Activated Charcoal Whitening Toothpaste For Naturally Pearly Whites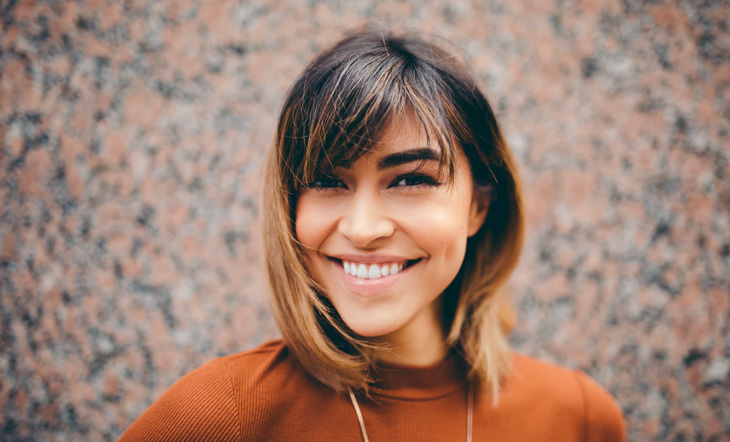 Name one person who doesn't want whiter teeth . . . we'll wait.
Whether your beauty routine is super low key or mega glam, white, pristine teeth is a universally coveted look and one of the simplest things you can do to look fresher and more pulled together.
After all, every time we talk to friends, fam, strangers at the grocery store, our teeth are showing . . . and we'd prefer them to be pearly white – not act as a dead giveaway to our coffee or tea addiction.
Enter DIY teeth whitening!
There are oodles of store-bought options lining shelves to get your teeth whiter.
From whitening strips to daily toothpastes or charcoal polishes – options abound, but many tend to be overly pricey and almost all have ingredients you can't pronounce (and therefore probably don't want in your mouth, right?).
Luckily, all you need is a few minutes to whip up your own DIY whitening toothpaste, featuring the ingredient of the moment for whitening: activated charcoal.
This activated charcoal toothpaste recipe costs pennies on the dollar and will keep in your bathroom in a jar for months if stored in a cool, dark place (like your medicine cabinet).
In addition to charcoal, baking soda gently polishes away stains plus kills acid to keep the mouth alkaline and healthy. Coconut oil lends a subtle flavor and also acts as a triple threat anti-viral, anti-microbial, anti-decay properties.
Check Out 50 Great Coconut Oil Uses Here
Activated charcoal works its magic by lifting stains and toxins from the teeth and mouth, leaving the mouth squeaky clean and the surface of your teeth visibly whiter within a few uses.
While we're on the subject, peep our comprehensive guide: 10 Ways to Incorporate Activated Charcoal Into Your Health and Beauty Routine
Finally, add a few drops of your favorite essential oils for some added zing and flavor and bam – you've got affordable, easy and effective DIY whitening toothpaste!


Make Your Own Activated Charcoal Toothpaste for DIY Teeth Whitening – Here's How

What you need:

Directions for making your activated charcoal toothpaste:
Start by melting the coconut oil in a double boiler or in the microwave until a liquid. Stir in the baking soda, and then blend in the activated charcoal powder (you can also use charcoal tablets and break open a few capsules to get the amount of powder you need.)
Sprinkle in a few drops of your favorite essential oil (this is optional), and give it one more good stir to blend. Store in a glass container in a cool, dry place.


This Activated Charcoal Toothpaste Recipe is Your Ticket to DIY Teeth Whitening
Give this DIY whitening toothpaste recipe a try and you'll notice a difference in the color of your teeth over a few weeks of consistent use. It's recommended you use this charcoal toothpaste at least 1-2 times per week – or more – to buff and polish those pearly whites!
This article has been read 10K+ times. Bada bing!