30 Simple AF Beauty Hacks to Transform Your Daily Routine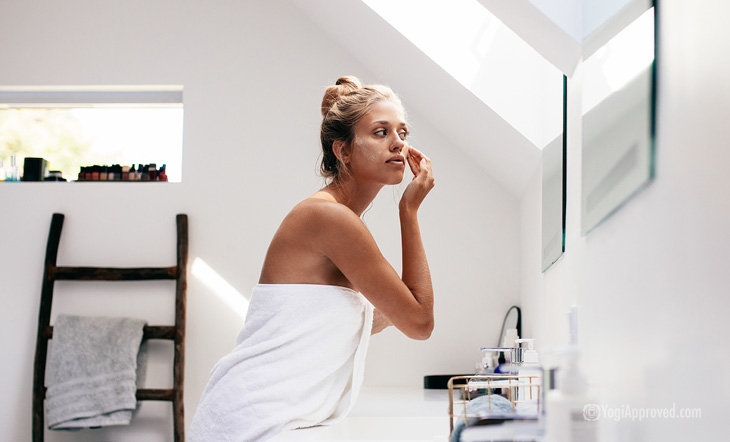 What health-conscious person doesn't want to know easy, natural, affordable and time-saving beauty hacks?! When it comes to any type of life hack, simplicity is rule number one.
"Keep it simple."
This mantra has been tossed around for decades, encouraging people like you and me to not overcomplicate things, such as your daily beauty routine. Luckily you can using these beauty hacks!
Yet I'm willing to bet that we've all ignored this advice at some point.
This is particularly difficult advice to embrace when we have companies constantly trying to convince us that we MUST HAVE x, y and z beauty products to be at our best. Well, I'm here to report that it's all nonsense!
These 30 beauty hacks use coconut oil, baking soda, and apple cider vinegar – the healthy, natural lifestyle trifecta of household items!
These inexpensive beauty hacks use household items that you probably already having laying around (and have no fear if you don't, because these household items are super affordable and easy to find). How simple is that?!
Use These Simple Beauty Hacks to Transform Your Beauty Routine, Save Money, and Go Natural:
The following beauty hacks will use coconut oil, baking soda, and apple cider vinegar – the healthy, natural lifestyle trifecta of household items!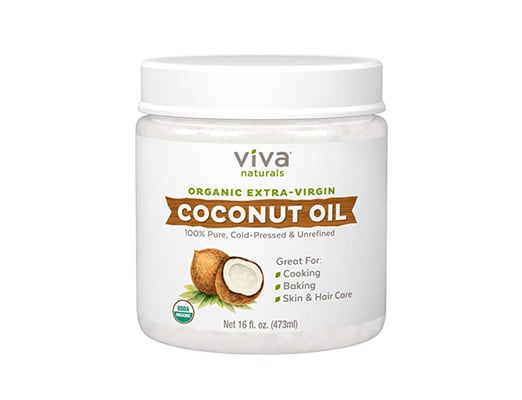 Coconut Oil Beauty Hacks
For all of your coconut oil needs, look for a quality, organic brand. We recommend Nutiva Organic Coconut Oil (which you can purchase on Amazon and in most local stores).

1. Moisturizer
Ditch conventional creams that are full of chemicals and use coconut oil from head to toe for silky smooth skin!
Learn more about what's lurking in your products by reading 5 Dangerous Personal Care Products You Use Everyday and What To Use Instead
2. Makeup Remover
Use a cotton pad with some coconut oil rubbed on it to gently take off makeup. It works great for waterproof mascara and other heavy eye makeup.

3. Shaving Balm
Apply a thin layer of coconut oil on your legs before shaving. It helps the razor glide easily and leave your legs flawless!

4. Hair Treatment
Kiss that dry and damaged hair goodbye! Simply take coconut oil and work it into your hair section by section and brush it through with a comb.
Wrap your hair in a towel and let it do it's magic for at least 15 minutes (you can even leave it in overnight). The fatty acids soften your hair and locks moisture in. Wash your hair as you normally would with shampoo.

5. Oil Cleansing
To purify and moisturize your face, rub coconut oil between your clean fingers and massage it onto your face. Take a clean washcloth soaked in warm water and place it over your face for 30 seconds. Use the washcloth to gently remove the oil. Voila!

6. Oil Pulling
Take 1 to 2 tablespoons of coconut oil and swish in your mouth for 20 minutes. This removes odor-causing bacteria and germs, leaving your mouth fresher, teeth brighter, and gums healthier.

7. Hair Tamer
Tame flyaways and frizz with coconut oil. Rub a few drops between your hands and gently smooth it over your hair.

8. Lip Balm
Rub some coconut oil on your lips to give them moisture and make them super silky. Many store bought lip products have chemicals that you end up ingesting – yuck! Using coconut oil is the perfect safe and natural alternative.

9. Eye Cream
Coconut oil is light, making it a good choice for the delicate skin under your eyes. Simply dab it under and around your eyes to help minimize bags and fine lines.

10. Cuticle Moisturizer
Dry hands and cracked cuticles don't stand a chance when it comes to coconut oil! For a deep condition, rub coconut oil into your cuticles and hands and then wrap them with a hot moist towel for 10 minutes. For daily use, massage a little oil around your nail bed to prevent cracking and peeling.



Baking Soda Beauty Hacks
For all of your baking soda needs, look for a quality, organic brand. We recommend Bob's Red Mill baking soda (which you can purchase on Amazon and in most local stores).

11. Dry Shampoo
To combat oily strands and give your hair a lift, sprinkle a bit of baking soda onto your roots. For dark hair, mix baking soda with cocoa powder to avoid looking dusty.

12. Face and Body Exfoliator
Use a small scoop of baking soda mixed with water to form a gentle exfoliating paste. The antimicrobial properties of baking soda prevents skin infections and breakouts!

13. Clarifying Shampoo
Mix a tablespoon of baking powder with your normal shampoo and massage it into your scalp. Let it sit for 2-3 minutes before rinsing. The baking soda removes built up product and grease. Use this technique 1 to 2 times per month for the best hair clarifying results (too much use can dry out your hair).

14. Face Mask
For oily skin, mix ¼ cup baking soda with a tablespoon of apple cider vinegar to form a paste (adjust quantity as needed). Apply the paste to your face and let it sit for 15 minutes to remove blackheads and dead skin cells.

15. Foot Bath
Soak your feet in warm water mixed with 3 tablespoons of baking soda to soften the skin on your feet. Use additional baking soda to exfoliate your heels and soles to remove calluses and dry skin.
Take it a step further with these 5 DIY Detox Bath Recipes You've Gotta Try

16. Deodorant
Baking soda makes a great natural anti-bacterial and odor-repelling deodorant. Use a quarter cup of baking soda with coconut oil to form a paste. Pat it under your arms to keep you fresh all day. Add your favorite essential oil for a beautiful scent!
Looking for a great DIY deodorant recipe? Check out our Natural Deodorant Recipe That Actually Works

17. Blemish Corrector
Baking soda dries out pimples and removes excess oil. Make a paste by combining baking soda and water. Apply it to the blemish and allow it to work its magic for 15 minutes before rinsing off.

18. Mouthwash
Freshen your breath and promote good gum health by stirring a teaspoon of baking soda with a half a cup of water. Swish and gargle this mixture to kill the bacteria that causes bad breath.

19. Toothpaste
Gently remove stains and whiten your teeth by using a paste made with baking soda and coconut oil (option to add peppermint essential oil – just be sure it's labeled as safe to use internally). In a small glass jar, mix baking soda and coconut oil until it form a toothpaste-like consistency.

20. Itchy Skin Treatment
From insect bites to razor burn and dryness, baking soda is a simple and fast form of relief. Use a paste made of baking soda and water on the irritated area. Allow to dry, rinse off, and pat dry.



Apple Cider Vinegar Beauty Hacks
For all of your apple cider vinegar (or ACV) needs, look for a quality, organic brand. We recommend Bragg Organic apple cider vinegar (which you can purchase on Amazon and in most local stores).

21. Cellulite Reducer
Apple cider vinegar (ACV) contains minerals, such as magnesium, calcium, and potassium that promote circulation and collagen production. It is believed that ACV can reduce the appearance of cellulite by applying it topically.

22. Anti-Aging Skin Treatment
Use equal parts AVC and water to minimize the appearance of age or sun spots. You can use this treatment daily by applying it to the area with a cotton pad.

23. Heal Bruises
Speed up the healing process of bruises by soaking a cotton ball in ACV and apply it to the bruised area. The anti-inflammatory properties calm the damaged skin while the acetic acid promotes circulation and healing.

24. Skin Toner
Dip a cotton ball or pad in a solution of 1 tablespoon ACV and 2 cups of water. Apply it to your clean face and allow it to dry. The acetic acid and alpha-hydroxy acids found in ACV work to minimize pores and stimulate blood flow for brighter skin.

25. Bad Breath Buster
Instantly destroy bad breath by swishing around ACV in your mouth. This works particularly well if you've eaten too much garlic or onions!

26. Stop Stinky Feet
Make a deodorizing foot soak using 1 cup of ACV with 8 cups of warm water. Let your feet soak for 20 minutes to get rid of odor-causing bacteria.

27. Acne Treatment
ACV's antibacterial and antiseptic powers banishes the bad bacteria that sits on your skin and causes acne. Dip a Q-tip into a solution of 50/50 ACV and water and apply it to your acne-prone area.

28. Dandruff Diminisher
In a large glass, mix equal parts AVC and water. Slowly pour the mixture over your hair and scalp and massage it in. The anti-fungal properties of AVC along with its ability to balance the pH of your scalp keeps dandruff at bay.

29. Remove Calluses and Corns
Soak a cotton ball in AVC and tape it on top of the corn or callus overnight. In the morning, the hard skin will be easier to treat and remove.

30. Sunburn Soother
Soak a small towel in ½ cup ACV and 4 cups of water. Gently lay the towel over the burn for as long as you can (it may sting). The ACV encourages healing and balances the pH of your skin.
Transform Your Beauty Routine With These Easy Beauty Hacks
There you have it! Thirty simple ways to transform your beauty routine using three common household items. As Leonardo da Vinci said, "Simplicity is the ultimate sophistication."
Not only will you save time and money using these natural items, but you'll also keep your body safe from the harsh chemicals found in store bought products.
How do you use these three items? We would love to hear from you! Share your tips in the comment section below!
All included information is not intended to treat or diagnose. For medical questions, please consult your healthcare provider.
This article has been read 10K+ times. Bada bing!