How to Make Your Own DIY Yoga Mat Cleaner Spray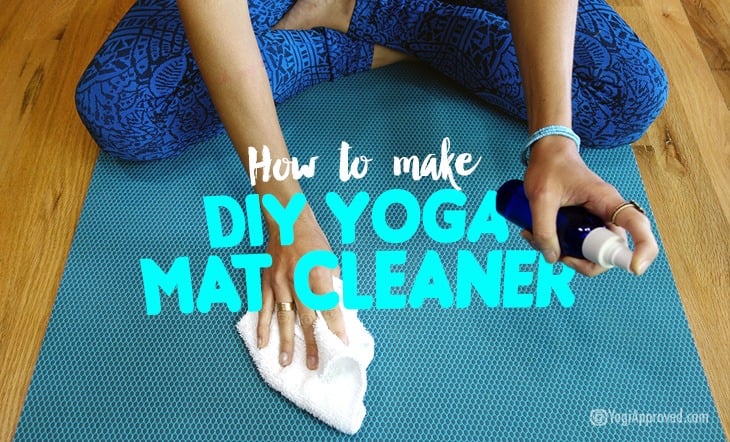 As a yogi, you spend a great deal of time on your yoga mat. You roll it out regularly at home, at the studio, and maybe even your local park. But how often do you actually clean your yoga mat?

Have you ever thought about the germs your beloved mat might be picking up to and from?

When you roll up your mat after your practice, you are rolling all of the germs, dirt and grime and whatever is on the floor beneath you. Then when you unroll it next time, your mat has all of that nastiness on the very same surface where you put your hands, feet and even face!

Yoga mats can get really icky. In a lab test conducted on several different yoga mats, some of the mats were found to have Staph, yeast build-up (a form of fungus), fecal matter, allergens, and millions of bacteria, to name just a few of the findings.

Want to read the full article about this? Check out What's Living On Your Yoga Mat!

If you do not clean your yoga mat after every use, you need to change that! You can purchase yoga mat cleaner sprays from many online or brick-and-mortar retailers, or you can make your own yoga mat cleaner at home with a few simple and inexpensive ingredients.

Here is an easy DIY yoga mat cleaner spray recipe: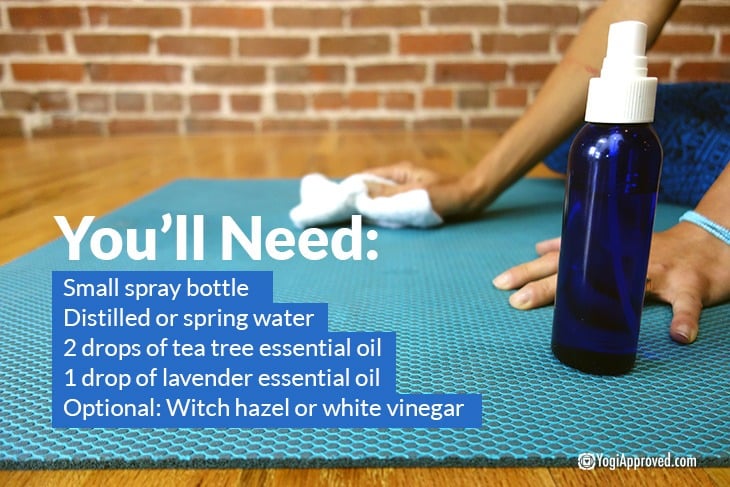 Here are the provisions you will need:

This DIY yoga mat cleaner spray is made with two simple essential oils: tea tree and lavender. Tea tree essential oil is antibacterial and antifungal. Lavender essential oil is an antibacterial oil with a relaxing and calming scent that relieves tension and is great for unwinding post-yoga.

You can add more lavender, or try other essential oil scents to your liking, until you find a formula that is perfect for your needs. For instance, if you aren't a fan of tea tree oil, you can substitute it with another antibacterial oil such as lemongrass, eucalyptus, or peppermint.

You also don't have to settle at just two oils – you can mix-and-match and create combinations to match your mood or even the season.


Directions:
For tough-to-clean mats or studio use, you can fill 1/4 of the bottle with witch hazel or white vinegar, and then fill the remaining space in the bottle with water. Both of these liquids have a more intense aroma, so you will need to add more essential oils to your mixture. Just be careful: a little goes a long way with essential oils.

Fill your spray bottle with water and add in the essential oils. Shake the yoga mat cleaner and spray your entire mat. Then, wipe down your mat with a damp cloth. Repeat on the other side, and allow your mat to dry for 5-10 minutes before rolling it up for storage.

Repeat this process each time you use your mat for a clean and fresh mat that is free of ick.

Keep Your Yoga Mat Clean and Germ-Free
Making your own DIY yoga mat cleaner spray is easy! It's also a safe, effective, and natural way to keep your yoga mat clean and cared for, and help you avoid germs so you can stay healthy.

Namaste!

This article has been read 100K+ times. Wowzers!