4 Ways to Incorporate Aromatherapy Into Your Yoga Practice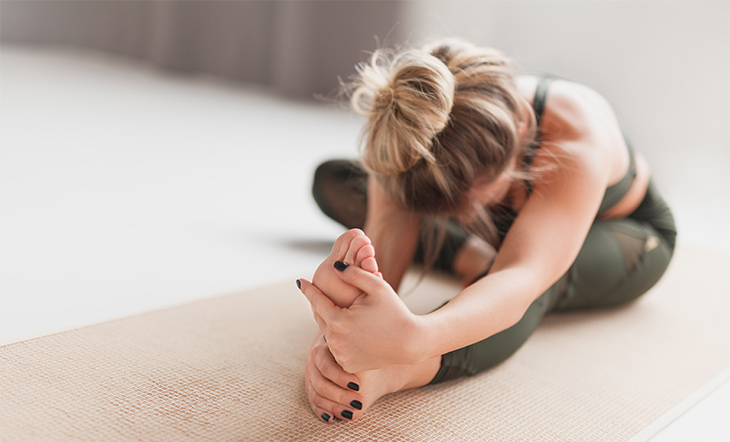 Essential oils and aromatherapy are more popular today than ever before, and aromatherapy can benefit your yoga practice in several ways.
Some people use aromatherapy to heighten relaxation and stress relief. This is especially beneficial for a yoga practice, which also cultivates the same feelings of relaxation and benefits of stress relief.
Yoga is all about finding your center, relieving stress and anxiety, and becoming relaxed and one with the universe.
Choosing the right blend of oils can help enhance these sensations and boost your overall yoga experience.
Just make sure that you do plenty of research first, or take advice from a certified clinical aromatherapist to ensure your safety.


Here Are 4 Aromatherapy Tips for Your Yoga Practice:
Follow these four aromatherapy tips to learn easy ways you can incorporate essential oils and the benefits of aromatherapy into your yoga practice.

1. Make a Yoga Mat Mist
One easy and useful way to use the benefits of essential oils in your yoga practice is to make a mat mist. This disinfecting spray is all natural and as long as you follow the directions, provides a safe way to help your yoga mat stay fresh and clean.
To make:
Take a dark 4-ounce spray bottle and place 1 ounce of witch hazel in the bottle. Fill the rest of the way with diluted water.
Place 10 drops each of lemon essential oil, orange essential oil, grapefruit essential oil, and frankincense essential oil in the bottle. Shake well.
Use one or two pumps on the mat to freshen, using a sponge or microfiber towel to clean the mat. Remember to always shake the bottle before spraying as the essential oils will not mix with the water solution. Shaking prior to use will keep the blend emulsified long enough to use on that spray.
Want another mat spray recipe? Here's How to Make Your Own DIY Yoga Mat Cleaner Spray

2. Make a Room Spray
Very similar to the mat mist in #1, yoga teachers can use a room spray that can be misted into the air prior to class. Yoga students – you can use this spray for your home practice also!
To make a yoga-inspired room spray, take a dark 4-ounce spray bottle and use half distilled water and half witch hazel in the bottle. You'll need approximately 40 total drops of essential oils of your choice.
My personal favorites include:
3. Diffuse Intermittently
As a certified clinical aromatherapist, I can tell you that many people diffuse too long at a time which can cause some problems for sensitive individuals.
Yoga teachers – if you are going to diffuse throughout your class, make sure you ask your students in advance as some individuals are sensitive to certain fragrances.
Here are some of the best ways to diffuse essential oils throughout your yoga class (or home yoga practice):
Take a single oil or a blend of oils and add 1-2 drops per 100 ml of water to your essential oil diffuser. Set the diffuser to diffuse for 30 minutes at a time, with an hour of downtime before it diffuses again
Diffuse only through the Savasana or through your meditation session to heighten the relaxation
Diffuse before the class and shut off as class begins, letting the scent in the room linger through the session without overpowering the room with constant fragrance
4. Just Add Salt
It may sound odd, but a great way to passively use essential oils can be through a salt bowl. Find a decorative bowl that can easily have its contents stirred and add in coarse grain Himalayan salt or dead sea salt.
Drop 1-3 drops of a single essential oil or essential oil blend onto the salt. This will get into the air and you'll be getting the benefits of both breathing in the salt and the essential oils. Adding spicy scents such as cardamom essential oil or clove work particularly well in salt bowls.
Keep in mind that the scent can often be "boosted" by stirring the salt every few hours.


Aromatherapy and Yoga: The Perfect Match for Your Yoga Practice
These aren't the only ways to incorporate essential oils into your yoga practice, but each aromatherapy tip is simple and easy for yoga students and teachers to use for an added boost of calm.
Try one aromatherapy tip or try them all! You'll be sure to find a favorite that keeps your yoga practice fresh and fantastic.
Have any questions about aromatherapy, how to incorporate essential oils into your yoga practice, or aromatherapy and yoga specifically? Please comment below – we love hearing from you!

This article has been read 2K+ times. Feelin' the love!