Top 6 Benefits of Frankincense – The King of Essential Oils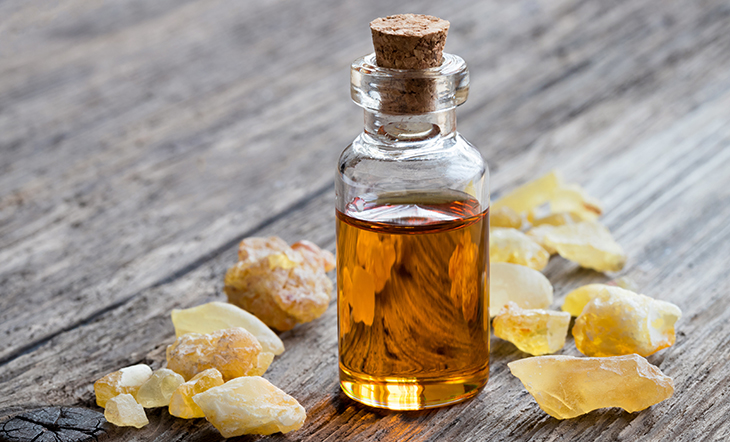 Whether it's to create a soothing atmosphere during meditation or to enhance our beauty routines, frankincense benefits are plentiful. With so many mental and physical health boosts, most of us are fairly familiar with frankincense essential oil.
Native to India, frankincense essential oil comes from Boswellia trees. Having powerful anti-inflammatory effects, Boswellia tree extracts are helpful for certain health issues and enhancing overall wellbeing.
But what are the concrete benefits of frankincense?


Here Are the Top 6 Frankincense Benefits:
There are just so many frankincense benefits. So we gathered up the top six health and wellbeing perks that frankincense essential oil offers.

1. Strengthen Your Immune System
When it comes to frankincense benefits, its claim to fame lies in its antibacterial and antiviral properties. In fact, researchers found that frankincense essential oil displays "strong immunostimulant activity."
It can also be used to inhibit bacteria from developing on the mouth or skin. This is why frankincense is such a popular natural healing technique for oral health issues. Frankincense is scientifically-proven to help prevent cavities, gingivitis, bad breath, and more.


2. Reduce the Signs of Aging
Along with its health benefits, frankincense essential oil also provides a few beauty benefits. If you're looking to improve skin elasticity or get rid of blemishes, this essential oil works wonders.
From reducing redness and irritation to evening tone, frankincense has a soothing effect on the skin.
Suffering from skin issues? This Ancient Ayurvedic Skincare Technique Will Give You Radiant, Healthy Skin

3. Alleviate Anxiety
Frankincense benefits go beyond just skin deep. Frankincense can help lower blood pressure and heart rate, making it an effective treatment for anxiety and depression.
According to research, Boswellia resin has anti-depressive behavioral effects on mice.

4. Anti-Inflammatory Properties
Studies show that frankincense has anti-inflammatory effects and has been used to help conditions caused by inflammation such as arthritis and asthma, and may also help reduce chronic inflammation in the body.
Want more natural ways to fight inflammation? Eat More of These 5 Anti-Inflammatory Foods

5. Improves Digestion
Another physical benefit of frankincense is its ability to support digestive health. According to one study, frankincense essential oil can reduce stomach pain and cramping, relieve nausea, and reduce bloating.
It also has been proven to alleviate symptoms of inflammatory diseases including IBS, chronic and ulcerative colitis, leaky gut syndrome, and Crohn's disease.


6. Enhances Memory
When it comes to natural brain-boosters, frankincense essential oil is at the top of the list with its ability to improve memory and learning skills. Better yet, inhaling frankincense during pregnancy could help enhance the memory of the baby.
Researchers found that when pregnant rats received frankincense orally, there was a noticeable increase in both the short and long-term memory of their offspring.
Looking for new ways to use your essential oils? Here are 85 Ways to Use Essential Oils That Might Surprise You


Experience the Healing Power of Frankincense Essential Oil Through the Myriad Frankincense Benefits
If you're looking for a natural and holistic approach to healing, look no further than frankincense.
It's known as "the king" of essential oils for valid reasons. With so many frankincense benefits, it's an excellent addition to your self-care routine.
The health-boosting and beautifying effects, make frankincense essential oil one of our favorites!
All included information is not intended to treat or diagnose. The views expressed are those of the author and should be attributed solely to the author. For medical questions, please consult your healthcare provider.
This article has been read 3K+ times. Feelin' the love!