This CBD Face Oil Is Going to Be the New Star In Your Skincare Routine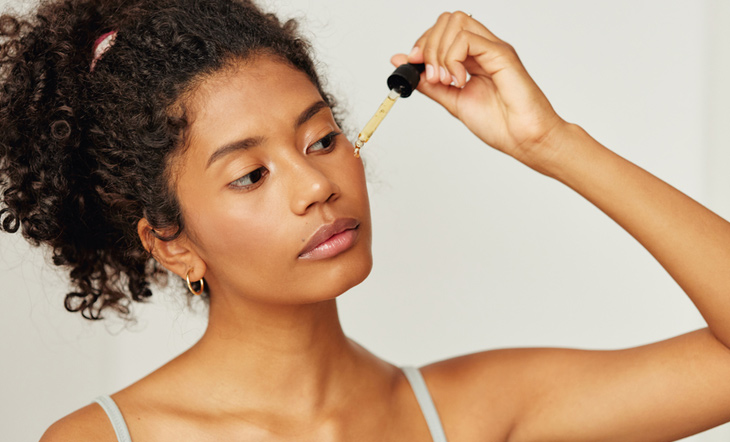 CBD for stress, CBD for pets, and now CBD for skincare?! The rumors are true . . . the benefits of CBD expand beyond just everyday health and have now graced the skincare industry.
cbdMD, one of our favorite CBD brands, recently launched their Botanicals line with a full range of skincare products, from eye cream to facial oil, soothing body lotion, moisturizing face masks and more – all containing broad spectrum CBD extracts and made with ingredients that are cruelty-free, paraben-free, gluten-free, and non-GMO.
cbdMD uses superior broad spectrum CBD formula (meaning it's THC-free*, and packed with cannabinoids, terpenes, essential oils, and nutrients with no chemicals or perfumes) in their Botanicals CBD skincare line.
We've been using some of these products to see the results for ourselves. After testing for the past few weeks, one of our favorite products is definitely their CBD facial oil.
Want more information on CBD? Read: The Uses, Health Benefits, and Common Misconceptions Explained


We Tried the cbdMD CBD Facial Oil and This Is What Happened
The CBD facial oil contains 500mg of broad spectrum CBD extracts in a one-ounce tincture along with 24 botanicals that are meant to moisturize, nourish, and protect your skin.
The ingredients include hemp extracts sourced from the US, in addition to turmeric (a dream ingredient for skincare and a widely underrated ingredient for its vast range of uses and benefits), Vitamin C and E, and argan oil. These ingredients work together to brighten and moisturize, as well as soothe and calm skin.
When we read about these ingredients, we knew we had to try out this CBD facial oil for ourselves! Would it work as effectively as it sounded? Would it feel heavy or clog pores? How would it work under a moisturizer or foundation? These were some of the questions we wanted to know.
After several weeks of use, we have answers. cbdMD's facial oil feels at once deeply hydrating and also lightweight. It absorbs into the skin quickly, and leaves your face feeling nourished, moisturized, and radiant.
You can add (as we did) moisturizer and/or makeup over it with no problem – in fact, one of our testers with a tendency to get the midday forehead shine reported that adding this facial oil to her morning routine actually decreased the shine!
Remember our question about clogging pores? In fact, the opposite is true – according to some studies, it turns out CBD may assist in fighting acne (which explains why cbdMD's Botanicals line features a clear skin moisturizer, toner, and blemish spot treatment) by reducing our skin's production of sebum (the oil our bodies produce that can cause forehead shine, clogged pores, and acne).
Your skin can absorb CBD, so it doesn't sit on top of your skin like some skincare products do. According to the cbdMD site, regular use will enhance the CBD benefits over time. In our experience, we found this to be true with this facial oil.
This brings us to the science behind CBD and skincare. Because while we loved using this product and found how much it compliments our skincare regimen, we also wanted to understand the how in how it actually works.


These Are the Benefits of Using CBD for Skincare
Cannabidiol, often referred to as CBD, is a naturally-occurring chemical compound found in hemp. It's an active ingredient in the cannabis plant (along with THC – the part that gets you high).
For anyone concerned with the legality or risk of being exposed to THC, cbdMD is tested for quality and purity in third-party labs and all products are considered THC-free (*it's important to note that some CBD products can contain trace amounts of THC).
And when it comes to looking for what constitutes high-quality CBD, experts recommend looking for broad- or full-spectrum cannabidiol (CBD). The cbdMD website states that they use a "superior broad spectrum CBD formula in every product batch."
With how popular and mainstream CBD has become, there's a growing amount of science-backed information coming out on the benefits of CBD for your skin.
Dr. Joshua Zeichner, director of Cosmetic and Clinical Research in the Department of Dermatology at Mount Sinai Hospital in New York, states that CBD reduces inflammation, contains powerful antioxidants, and can help relieve common skin issues.
And perhaps the best part is that dermatologists say CBD is a great option for all skin types. Dr. Adarsh Mudgil, a double board-certified dermatologist, explains that, "There is likely no harm in continuing to use a CBD-infused product you like."
Dr. Mudgil goes on to say that if you do experience a reaction from a topical CBD product, it's probably from another ingredient and not the CBD itself.


CBD for Skincare: The Takeaway
In addition to the research and experience of trying these products for ourselves, we also appreciate the price points of the Botanicals CBD skincare line from cbdMD. While some CBD and skincare brands charge a considerably higher price point, cbdMD offers quality products at a reasonable price.
It's always a great feeling to find a new skincare product that's powerful and high-quality, with pure and simple ingredients that you can trust and are backed by science.
If you're interested in learning more about cbdMD or the products from their Botanicals line, you can visit their website here.
All included information is not intended to treat or diagnose. For medical questions, please consult your healthcare provider.
This article has been read 555 times. Share it and spread the love!